Trump Could Sit Out General Presidential Debates, Doesn't Trust Debate Commission: Report
President Donald Trump may not participate in next year's general election debates because of his alleged lack of confidence in the Commission of Presidential Debates, reported The New York Times.
Unnamed sources familiar with the conversations Trump has been having with advisers told The New York Times Trump is more interested in who the moderator of the debate would be than he is of who he may be facing, although advisers were not prepared to discuss the debate question until next year.
Trump's history with debates has been checkered, at best. In July, Trump tweeted that he came out the victor in his 2016 debates against Hillary Clinton.
"As most people are aware, according to the Polls, I won EVERY debate," Trump tweeted, "including the three with Crooked Hillary Clinton, despite the fact that in the first debate, they modulated the sound on me, and got caught."
The Commission on Presidential Debates admitted that "there were issues regarding Donald Trump's audio that affected the sound level in the debate hall" during the September 2016 debate. But as Newsweek previously reported, the polls did not call Trump the winner.
Polls after the debates showed Clinton as the winner of those contests, with survey results giving Clinton the edge with a range of five to 40 points.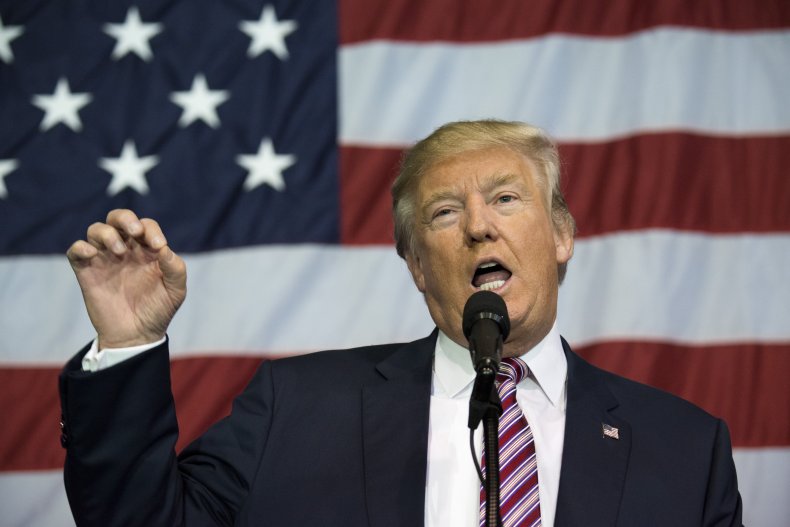 Those debates only happened after Trump complained about their timing, tweeting that it was "unacceptable" that the debates were scheduled at the same time as football games.
"As usual, Hillary & the Dems are trying to rig the debates so 2 are up against major NFL games," Trump said. "Same as last time w/ Bernie. Unacceptable!"
Trump's claims caused Clinton's campaign chairman John Podesta to literally call "shenanigans."
"It is concerning that the Trump campaign is already engaged in shenanigans around these debates," Podesta said in an August 2016 statement. "It is not clear if he is trying to avoid debates, or merely toying with the press to create more drama."
"Either way, our campaign is not interested in playing along with a debate about debates or bargaining around them," Podesta continued. "The only issue now is whether Donald Trump is going to show up to debate at the date, times, places and formats set by the commission last year through a bipartisan process. We will accept the commission's invitation and expect Donald Trump to do the same."
Trump's "shenanigans" included inviting three of the women who had accused former president Bill Clinton of sexual misconduct to the second debate in St. Louis, Missouri.
"I was going to say something extremely rough to Hillary, to her family," said Trump during the debate. "And I said to myself, 'I can't do it.' I just can't do it. It's inappropriate. It's not nice."
Newsweek reached out to the White House for comment but did not hear back by publication time.