Trump Could Stop Jeff Sessions Getting his Alabama Senate Seat Back, GOP Operatives Say
Although Republicans are confident they can win back the Alabama Senate seat they lost last year, they aren't certain Jeff Sessions will be the one to do so.
Sessions served as a Senator for the southern state for 20 years, from 1997 until early 2017, when he joined President Donald Trump's administration as attorney general. The seat has since been taken over by a Democrat, after Doug Jones beat the GOP's Roy Moore, who was accused of sexual misconduct by nine women, in a special election late last year.
Despite Sessions' long history serving as a senator for Alabama, some GOP operatives have suggested he may not be supported by the White House. Considering Sessions high profile ouster from the Trump administration, some believe the president may oppose his former attorney general and back a different Republican.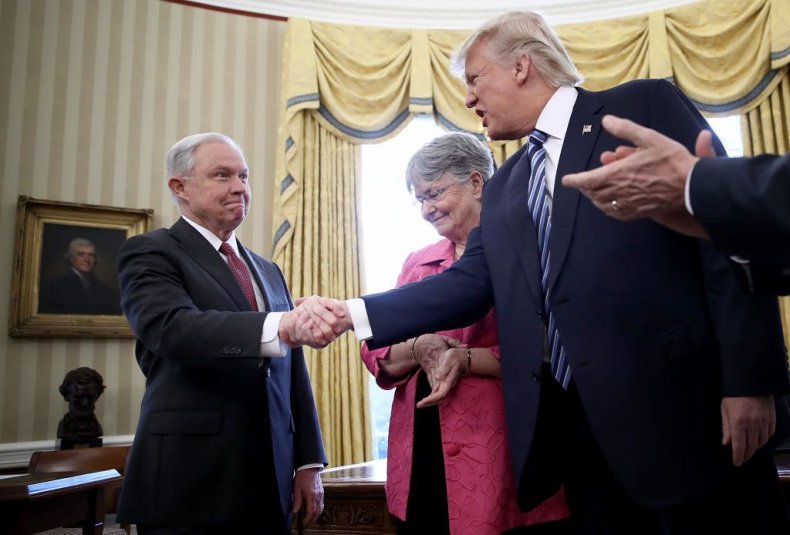 "If Sessions wants to run I expect them [the White House] to pick them a candidate and bash Sessions for a year-and-a-half," Steve Raby, an Alabama Republican strategist, told Politico.
However, many GOP operatives also believe Sessions remains deeply popular in the state and could win with or without the president's backing.
"[Alabamians] love Trump here but don't pick on our boy Jeff Sessions," Republican strategist Chris Brown told Politico.
Raby agreed, saying: "If Jeff is good in the way he approaches it, we will defend one of our own."
Sessions resigned as attorney general at the beginning of November, with The New York Times reporting that he was forced out by Trump. The president had a tense relationship with the former Alabama senator, who recused himself from overseeing an investigation into links between Trump's presidential campaign team and Russia in the 2016 election. That decision led to Robert Mueller's appointment as special counsel to lead the probe.
As for Sessions, at 71, he hasn't revealed whether or not he plans to run for his former Senate seat. Jones' current term won't end until 2021, meaning the political field could change significantly long before the campaigns heat up. But some potential GOP contenders have already said they would reconsider running against Sessions.
"I think there are a number of potential candidates that will want to understand what Attorney General Sessions' intentions are with respect to the race before they make any decisions," Clay Ryan, the chief lobbyist for the University of Alabama and a veteran of the state's politics, said.
State Senate President Pro Tempore Del Marsh, who is actively considering a run for the seat, said he'd reconsider if Sessions throws his hat into the ring. "I've always had a good relationship [with Sessions] and I would have to think real hard if I would run against him if he were to seek it again," Marsh said.
Terry Lathan, the state Republican Party's chairwoman, pointed out that Alabama's Republicans would be torn between supporting a president they love and a Senate candidate they've also long respected.
"The president is highly appreciated for his conservative policy. He's just slaying it as far as we're concerned," Lathan said. "But I also know how much people admire and respect Jeff Sessions."