Trump Could Visit Border 'Soon' As Pressure Builds on Biden to Tackle Crisis
Congressional Republicans are visiting the U.S.-Mexico border to take stock of the immigration situation for themselves, and it's possible that former President Donald Trump could be making a trip in the future.
Immigration and border security was a staple of Trump's campaign and presidency, and President Joe Biden worked swiftly to dismantle the policies of his predecessor. With record-high numbers of children now in border custody, Biden has faced heavy criticism for his approach to immigration, and Republicans continue to venture to the southern border as a contrast to Biden's lack of a trip.
"I could see him doing that soon," Jason Miller, a senior advisor to Trump, told Michael Berry on his podcast on Thursday, when discussing whether the former president could make a trip to the border. "Not immediately but I could see a trip, some point in the future here, but it is something that [former] President Trump is really concerned about."
Trump visited the border wall during his final days in office and the reason he hasn't gone since, according to Miller, is because he wanted to let Biden "fail on his own." Miller added that there was a "very fine line" between criticizing someone on policies and showboating. He also said that Trump didn't want his trip to give Biden an opportunity to downplay the situation—which Miller called an "absolute disaster"—and say that Trump was "making a scene out of this."
Newsweek reached out to the White House for comment, but did not receive a response in time for publication.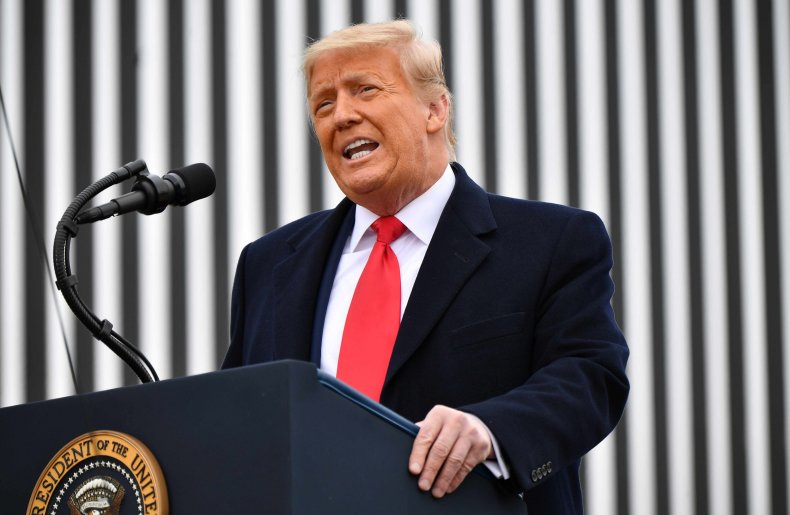 In a Sunday statement, Trump called for his top campaign promise, the border wall, to be completed, saying that he handed Biden the "most secure border in history." He criticized Biden for turning a "national triumph into a national disaster" and charged the administration for causing "death and human tragedy."
Biden and Vice President Kamala Harris are expected to make a trip to the border. The president has defended his approach on the basis that it's humanitarian and that he's told people not to come across the border. No unaccompanied minors under the age of 18 will be turned away, Biden said on Thursday, but most families should be sent back.
"We're sending back the vast majority of the families that are coming. We're trying to work out now with Mexico their willingness to take more of those families back," Biden said.
A U.S. Immigration and Customs and Border Protection report in February found that about 59 percent of migrant families were allowed to remain in the U.S. pending a final decision on their removal. The majority of single adults crossing the border, 79 percent, were sent back in February.
Biden rolled back Trump's immigration policies after taking office, a point critics hone in on when looking at the number of people currently trying to cross the border. However, during a press conference on Thursday, Biden pushed back, saying that the Trump policies weren't "helping at all" and it's normal for there to be a surge in migrants in the first quarter of the year because of favorable weather conditions.
As far as doing away with Trump's policies of separating children from parents, Biden said he will make "no apology for that," or abandoning his predecessor's Remain in Mexico policy.
"I make no apologies for ending programs that did not exist before Trump became president that have an incredibly negative impact on the law, international law, as well as on human dignity," Biden said.
On Berry's podcast, Miller said that Trump told him the situation at the border wouldn't have happened "on my watch." The senior advisor also said the surge isn't surprising, since Biden supports offering a pathway to citizenship for certain people who are undocumented. Miller likened that support to sending up a flare to people who want to come to the U.S.
Officials are struggling to find housing for the number of people coming across the border, and have faced criticism from journalists for restricting access to facilities. Biden committed to transparency once his policies were in place, but didn't provide a timeline during Thursday's press conference for when that would happen.