Trump Country: President's Approval Ratings Show He's Less Popular in Election Swing States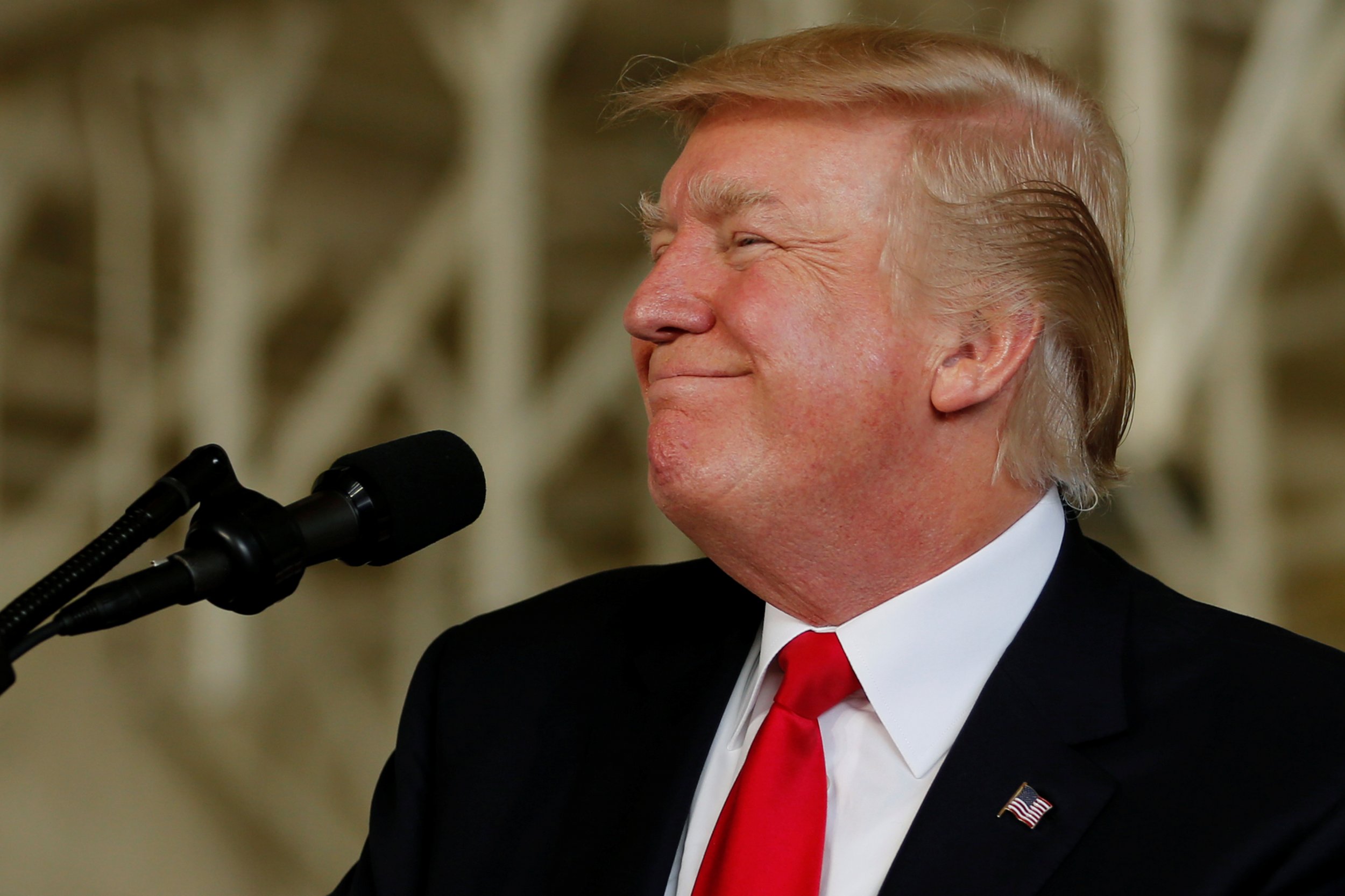 President Donald Trump's approval rating has largely trended downward since he took office—and there's been no real sign that things are set to turn around. But a new poll released Monday did show that people in certain states—those who backed him overwhelmingly in November—still generally approve of the job he's doing. In the ever-important election swing states, though, he is falling behind.
The latest survey from Gallup broke down the president's popularity in each state. While the average national approval rating for Trump—as calculated by data-centric site FiveThirtyEight—has never approached even 50 percent, it remains above that benchmark in 17 states. They're all states that safely went for Trump in the election: West Virginia, North Dakota, South Dakota, Montana, Wyoming, Alabama, Oklahoma, Kansas, Kentucky, Arkansas, Idaho, Nebraska, Tennessee, Louisiana, Alaska, South Carolina and Utah.
West Virginia is the state most firmly aboard the Trump train, Gallup found, with 60 percent of Mountain State residents approving of the president and just 35 percent disapproving. North and South Dakota aren't far behind, at 59 percent and 57 percent approval, respectively.
Vermont residents led the other end of the spectrum, giving Trump the lowest approval rating of any state, at just 26 percent. Next lowest were Massachusetts, at 29 percent approval, while California and Maryland recorded 30 percent approval. Just 31 percent of Trump's home state, New York, approved of his job performance, according to Gallup.
The swing states that helped hand Trump the presidency, meanwhile, didn't appear to be thrilled with the former reality-TV star's performance. More folks disapproved than approved of Trump in Ohio (48 disapproval-47 approval), Pennsylvania (52-43), Wisconsin (52-43), Michigan (52-42), North Carolina (53-42) and Florida (51-42). Trump won Ohio in November with 52.1 percent of the vote, Pennsylvania with 48.8 percent, Wisconsin with 47.9 percent, Michigan with 47.6 percent, North Carolina with 50.5 percent and Florida with 49.1 percent.
Somewhat surprisingly, Trump's approval rating was also well underwater in the reliably red state of Texas, with 51 percent disapproving to just 42 percent approving. Trump won Texas with 52.6 percent of the vote.
Trump's popularity has suffered mightily in the wake of the Republican push for an unpopular health care plan that would replace Obamacare while leaving tens of millions of Americans without coverage, according to Congressional Budget Office scores for the many versions of the bill.
There's also the ongoing investigation into Trump's connections to Russia—which the intelligence community says interfered in the '16 election—and the many reports that have revealed previously undisclosed contacts between the GOP nominee's campaign and the Kremlin. Most recently, it was reported the president's son met last June 2016with a Kremlin-connected lawyer, as well as a former Soviet counterintelligence officer, with the stated goal of obtaining dirt on Democratic presidential nominee Hillary Clinton.
Meanwhile, Trump's son-in-law turned senior adviser, Jared Kushner, is scheduled to meet with the Senate Intelligence Committee Monday to talk about his four meetings with Russian officials during the campaign. Kushner says the meetings were not improper.