Trump Banters at Republican Jewish Coalition, Tells Pro-Israel Crowd, 'You're Gonna Be Happy'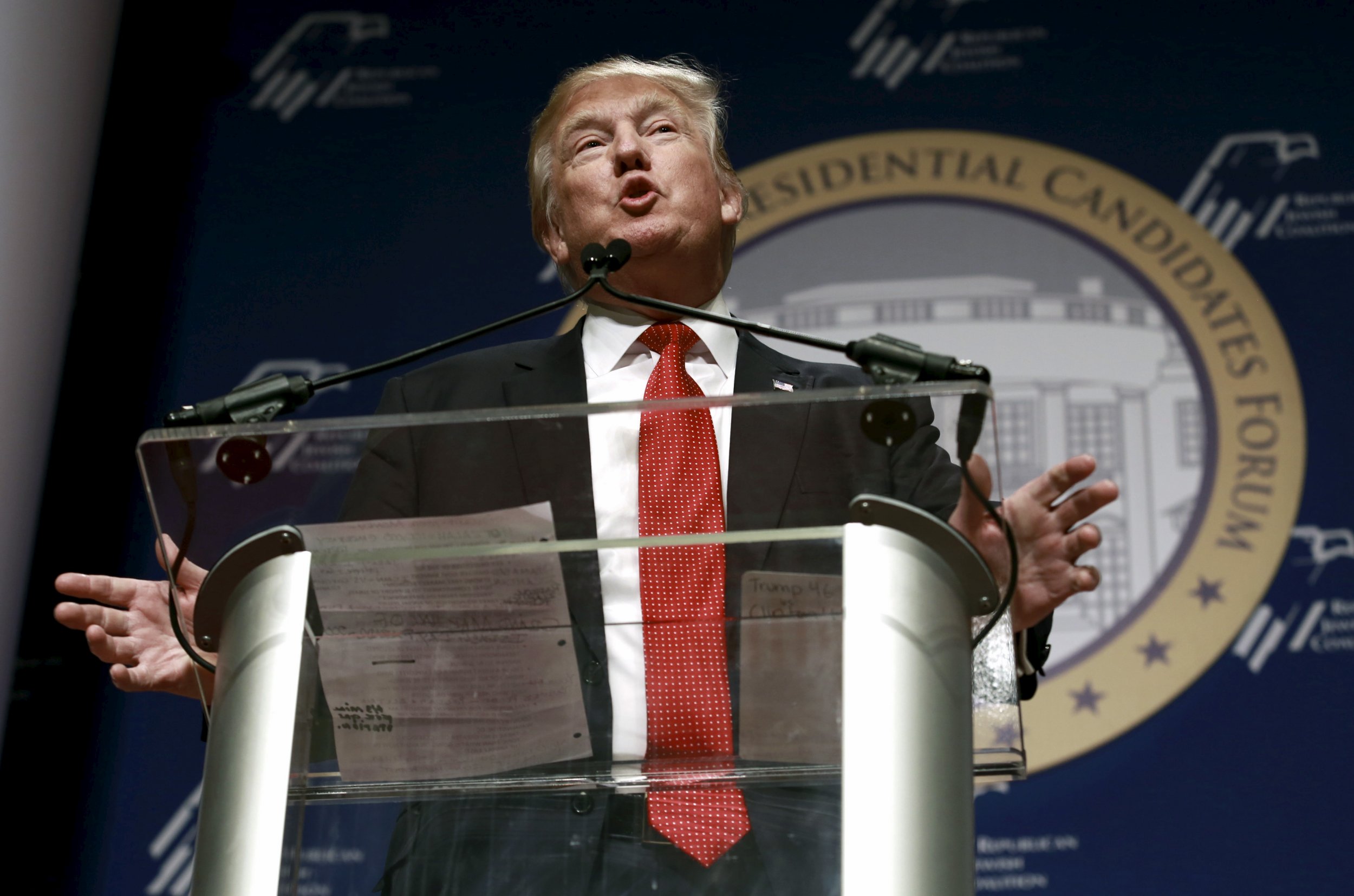 Donald Trump sounded like he was doing a Robert De Niro impersonation during a rambling speech at the Republican Jewish Coalition's (RJC) Presidential Forum Thursday afternoon.
After Trump dodged a question about whether he favored negotiating for a divided Jerusalem, and received boos in response, he essentially told his listeners to fuhgeddaboudit.
"Don't worry about it...relax," he said. "If I get in, you're gonna love me."
He promised Jewish Republicans at the forum that he would negotiate a deal with Iran that would include the return of U.S. prisoners being held in the country.
"I promise you, if I win, before I take office, those prisoners are gonna be back," he said.
Iran is holding three American prisoners accused of spying: a journalist, a Christian missionary and a former U.S. Marine. The promise—to conduct foreign policy before he actually assumes office—is a tall one, right up there with a 60-foot U.S.-Mexico border wall.
Trump has been one of the hardest of the hard-liners in criticizing the Iran nuclear deal approved by the Obama administration earlier this year, and his campaign rhetoric focuses on his own ability to strike good deals, rather than what he thinks makes the current one so bad.
"John Kerry is the worst negotiator I've ever seen," Trump declared, in part because, he said, the secretary of state hasn't read Trump's business book The Art of the Deal. Trump also said someone "who's never bought a car" shouldn't be doing any negotiating for the U.S., an apparent joke about Kerry's elite image.
While making fun of Kerry, he also made some not so politically correct jokes at the expense of his audience.
"Is there anyone in this room who doesn't negotiate deals?" he asked. "Probably more than any room I've ever spoken."
At one point, Trump also told the room "you're probably not going to support me" because he isn't taking campaign contributions.
The RJC crowd applauded Trump's ironclad rhetoric on Iran, but when it came to Israeli-Palestinian relations the tone flipped.
Part of deal-making, Trump said during a brief question and answer session, is trying to make "everyone happy." But other candidates at the presidential forum, like Senators Lindsey Graham and Marco Rubio, who took much stronger pro-Israel stances, got warmer receptions.