After Trump Claims COVID Will 'Disappear,' Fauci Says Virus 'Not Going to Spontaneously Go Away'
Anthony Fauci, the director of the National Institute of Allergy and Infectious Diseases, has said COVID-19 will not "spontaneously go away." His comments stand in contrast to those made by President Donald Trump, who has repeatedly suggested over the course of the pandemic that the virus will "disappear."
Fauci, a top immunologist and member of the Trump administration's coronavirus task force, made the remarks on a podcast hosted by Microsoft co-founder and billionaire philanthropist Bill Gates and Parks and Recreation actor and activist Rashida Jones, which aired Monday.
The episode was published on an important day in the COVID pandemic, as Moderna claimed its vaccine was almost 95 percent effective in preventing the disease, a week after Pfizer made a similar announcement. China and Russia have also reported positive vaccine news in the past few days.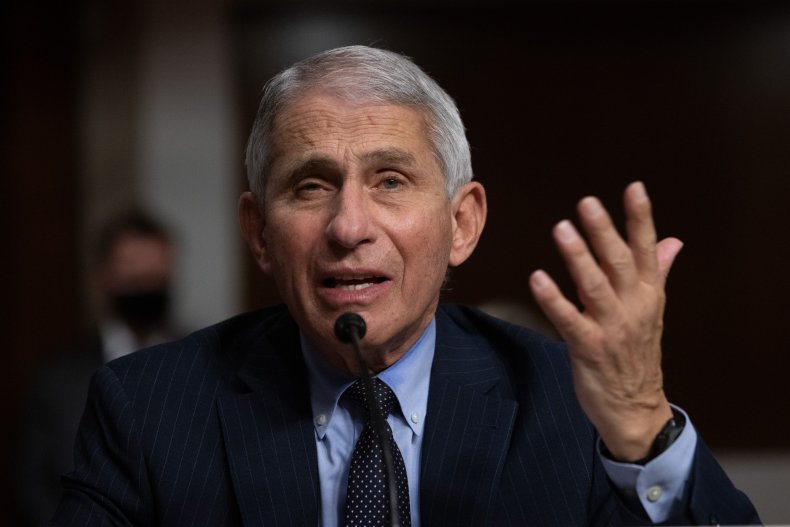 Meanwhile, the U.S. has reached its own COVID milestones in recent days, smashing records for coronavirus infections, including a new daily high of 177,224 cases on Friday, according to Johns Hopkins University.
Jones asked Fauci for his take-home message for listeners as they awaited the roll-out of vaccines.
Fauci said: "It's not going to spontaneously go away, I think that's what we need to understand."
His words differed to those of Trump, who has admitted to downplaying the threat of COVID in order to prevent people from panicking. Most recently, he told a campaign rally in Florida in October that "even without the vaccine, the pandemic's going to end. It's gonna run its course. It's gonna end."
In early October, he told supporters at the White House COVID was "going to disappear. It is disappearing."
Trump told Fox News in July: "it's going to disappear. Before it disappears, I think we can knock it out before it disappears."
In the interview with Jones and Gates, Fauci said he has repeated the same health advice so many times that he fears people may be growing bored, but said people should wear masks, keep their distance from others and avoid crowds, be outdoors as much as possible, and wash their hands.
"We have seen what happens when you don't do that by the very unfortunate experiences that have become very public now in the United States," he said.
Fauci said people are tired of the pandemic, describing the experience as "almost like a distortion of time."
He went on: "I want to tell people, don't give up, this is going to end, science is going to help us with a vaccine and therapy and if we pay attention to public health measures we can gain control of it.
"The thing you don't want to happen is that people say 'I've done this so long, I'm tired of it, to heck with it, I'm just going to go out there and do what I want to do.' That would only make this be more prolonged."
In a separate interview on Monday, Fauci said it may be possible for vaccines to be distributed to a small portion of the U.S. population in December.