Rudy Giuliani Compares Trump's COVID-19 Response to 9/11: 'You Don't Just Spit Everything Out to People'
Rudy Giuliani has defended Donald Trump's response to the coronavirus pandemic, saying that when he was New York City mayor during 9/11, he "never told people everything" about the aftermath of the terrorist attacks.
Trump is under fire for downplaying the disease publicly which he admitted to in an interview with Watergate journalist Bob Woodward, for his new book Rage. In a recording of the conversation, Trump said he did not want to "create a panic," despite his private concerns.
However Giuliani, who is Trump's personal lawyer, suggested that this discrepancy between private concerns and public pronouncements was the mark of leadership.
In an interview with Fox News on the 19th anniversary of the attacks on the Twin Towers, Giuliani said that as mayor during a time of trauma, "I never told people everything about September 11.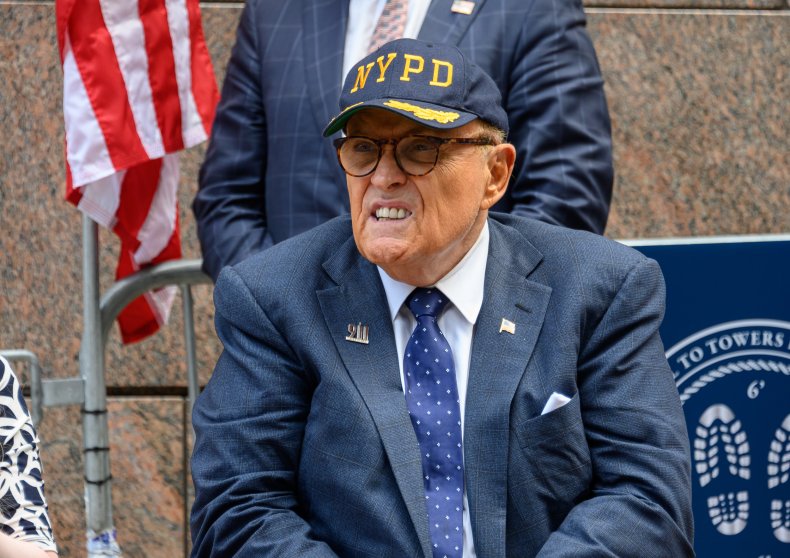 "I didn't tell them how many people died. I said it's too much for you to bear right now. I never told them what was really going on at ground zero, how terrible it was, what we were really recovering," he told anchor Sean Hannity.
"I didn't tell them that New York City was in danger of being flooded for three weeks because the slurry wall had been breached and if we didn't get that fixed and if we had had a hurricane—we had an evacuation plan ready—but I wasn't going to frighten them with that."
"If you're a leader, you take things on you, you don't just spit everything out to people. The president did a terrific job," he added.
Giuliani then described how back in March and April the governors of New York, New Jersey and California had praised the level of federal co-operation, "before they were all forced to become political hitmen."
"President Trump had about as good of a response as any president could possibly have had under those circumstances," he added.
The fallout from Woodward's book has been continuing, with calls from Democrats condemning the news that Trump knew about the disease's dangers as early as February 7.
Meanwhile, Republican senator Susan Collins (R-Maine) who has previously criticized Trump, said in her first debate with Democratic challenger Sara Gideon on Friday. "I believe that the president should have been straightforward with the American people.
"The American people can take hard facts and he had an obligation to be straightforward with them and to tell all that he has known."
In a statement to Newsweek on Friday, the White House denied that Trump had misled the public or concealed information that cost lives.
"During times of crisis, people want a leader who will make decisive actions in a calm manner and as the President noted he didn't want to induce unnecessary panic and was seeking to calm the nation," a spokeswoman said.