In his first public address since the U.S. election whose result he is still fighting against, President Donald Trump has said only "time will tell" who will be in the White House come January.
During a press conference in the White House Rose Garden on Friday, Trump spoke about his government's pandemic vaccine program, Operation Warp Speed, saying that his administration would not go into lockdown.
He described how a national lockdown costs $50 billion a day, as well as "hundreds of thousands of jobs."
"I will not go—this administration will not be going into a lockdown. Hopefully, whatever happens in the future, who knows, which administration, I guess time will tell," Trump said.
"I can tell you this administration will not go to a lockdown," he said, adding, "it will not be a necessity. Lockdowns cost lives and they cost a lot of problems."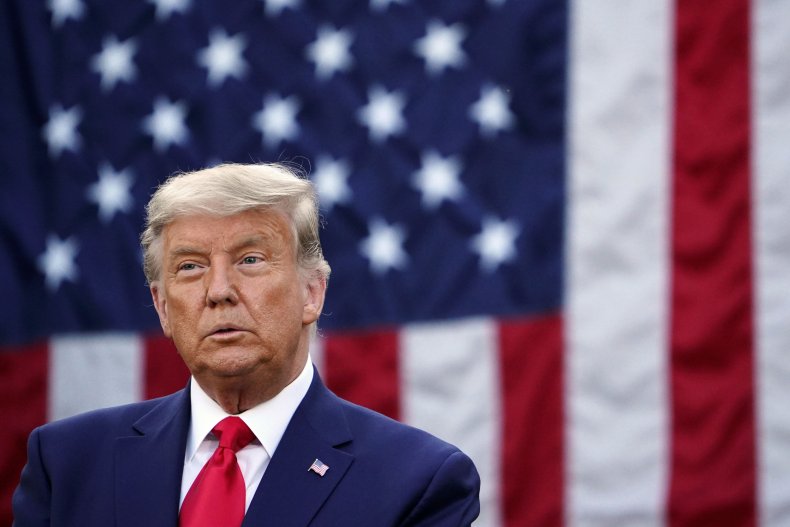 "The cure you have got to remember cannot be worse than the problem," he added.
Following days of tweets in which he has made claims without evidence about voter fraud, it appears to be the first time Trump has not publicly insisted that he won the election, a claim repeated this week by White House Press Secretary Kayleigh McEnany and Secretary of State Mike Pompeo.
News outlets speculated that Trump's comment was a hint, albeit without a concession to President-elect Joe Biden, that Trump is accepting his defeat.
Trump's update on his government's coronavirus response follows the longest time in his presidency where he has not spoken in public. He did make a public appearance at Arlington National Cemetery for a Veteran's Day event on Wednesday.
The Rose Garden press conference, attended by Vice-President Mike Pence and coronavirus task force coordinator Deborah Birx, came after a day a single-day record of more than 160,000 new cases of the disease was recorded.
Trump took credit for Pfizer's vaccine breakthrough, saying "as a result of Operation Warp Speed, Pfizer announced on Monday that its China virus vaccine was more than 90% effective."
"Pfizer said it wasn't part of Warp Speed, but that turned out to be an unfortunate misrepresentation," he said.
The pharmaceutical giant has said it was involved in Operation Warp Speed only as a supplier, but did not get any government funding to develop the drug. However the U.S. government has pledged nearly $2bn in orders for 100 million doses of the drug, covering Pfizer's own spend on its development.
"Our administration will make it possible to provide the vaccine by Pfizer free of charge," Trump added.
The graphic below provided by Statista shows the number of hospitalizations from the coronavirus in the U.S.