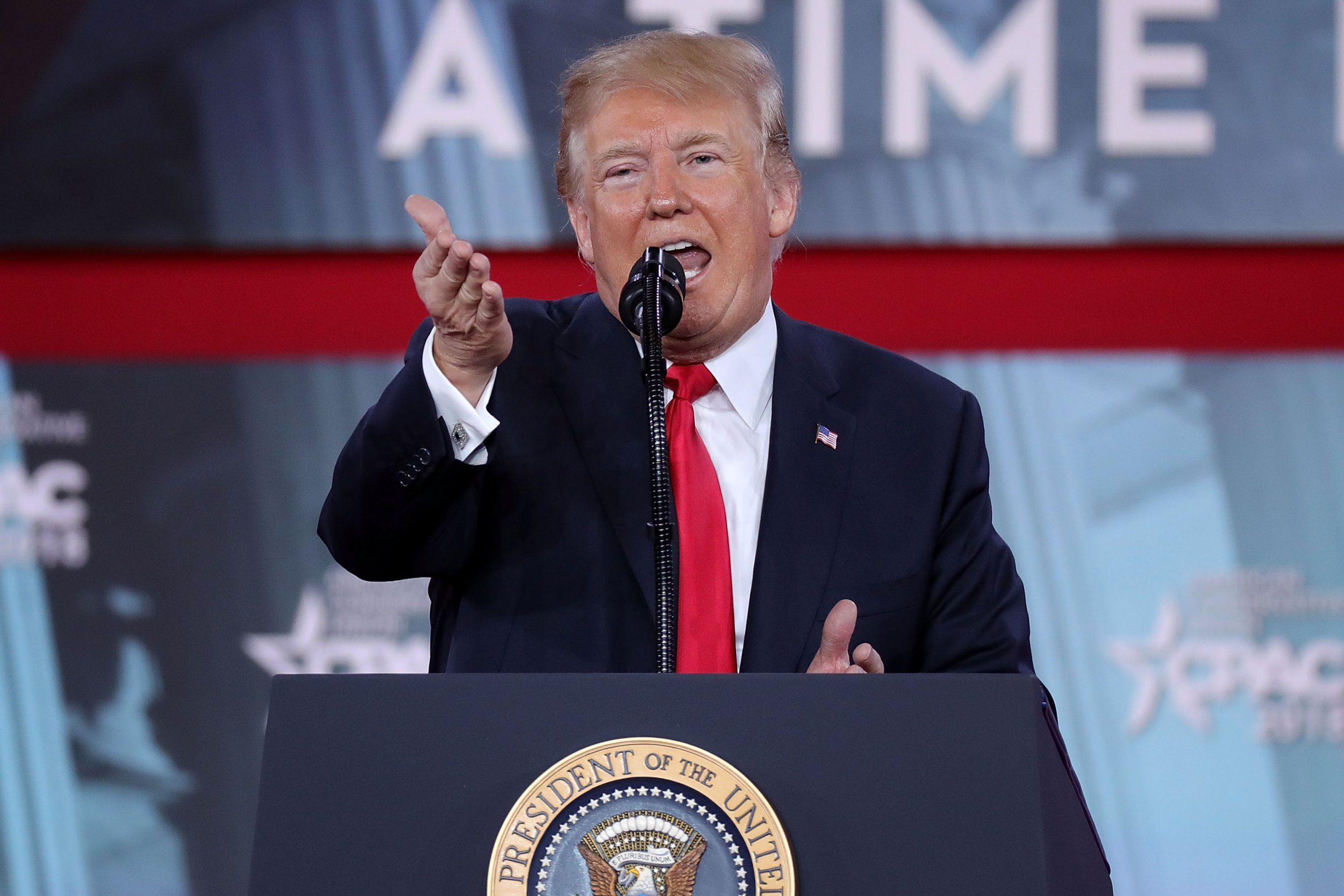 Seven years ago, in his first appearance at the Conservative Political Action Conference, Donald Trump was booed. On Friday morning, he was the recipient of loud, raucous cheering as he delivered the keynote address at the annual gathering of conservatives in National Harbor, Maryland.
The speech had the feel of a campaign rally, especially after Trump declared that his prepared remarks were "a little boring" and indicated that he would be speaking extemporaneously. He did so to the audible delight of the audience. There were chants of "lock her up" and "build the wall." A mention of CNN elicited the unsurprising shout of "fake news."
"That was not scripted, guys," said Representative Mark Meadows, Republican of North Carolina, a close associate of Trump, in a subsequent panel discussion. "About 90 percent of that was just from his heart."
Speaking for well over an hour, Trump delighted the packed ballroom at the Gaylord National Resort & Convention Center with his freewheeling speech. This was the president in his favorite mode: as campaigner. He recounted his electoral victories in the upper Midwest, taunted congressional Democrats and promised that Republicans would not be complacent in the 2018 midterm elections.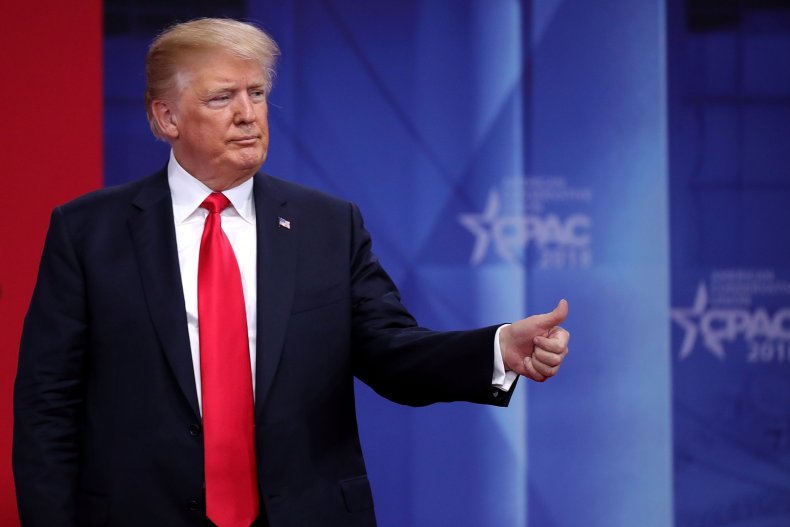 The crowd was plainly energized, even as both the Trump administration and the Republican Party face significant challenges, with the former subject to multiple investigations into electoral meddling and obstruction of justice while the latter faces a potential Democratic wave in November. Shortly after the president's speech, news broke that Rick Gates, one of the top advisers to his 2016 presidential campaign, was expected to plead guilty Friday to charges in the special counsel's Russia investigation.
None of that mattered to those who listened to Trump's promises that he would protect "your Second Amendment," build a border wall with Mexico and continue to strip away federal regulations. Nor was there any sense from supporters that Trump's first year in office was short on legislative achievements. Much like his predecessor, Barack Obama, Trump has governed by executive order, an approach he criticized as a private citizen.
"It was fabulous," said Erin Montgomery, communications director of America First Action, a Republican super PAC. "I can't think of anything that he omitted. He covered everything." Montgomery was especially heartened by Trump's tough approach to immigration, which culminated with his reading of "The Snake," a xenophobic song written in 1968.
"I feel completely energized right now," said Dan Pelosi, a Republican activist from Suffolk University ("no relation at all" to House Minority Leader Nancy Pelosi, Democrat of California, he assured). "He still wants to keep his campaign promises," Pelosi said, evincing no disappointment over setbacks like the failed effort to repeal the Affordable Care Act, a key campaign promise. "To me, as a voter, that keeps me wanting to come back and vote for him and support him."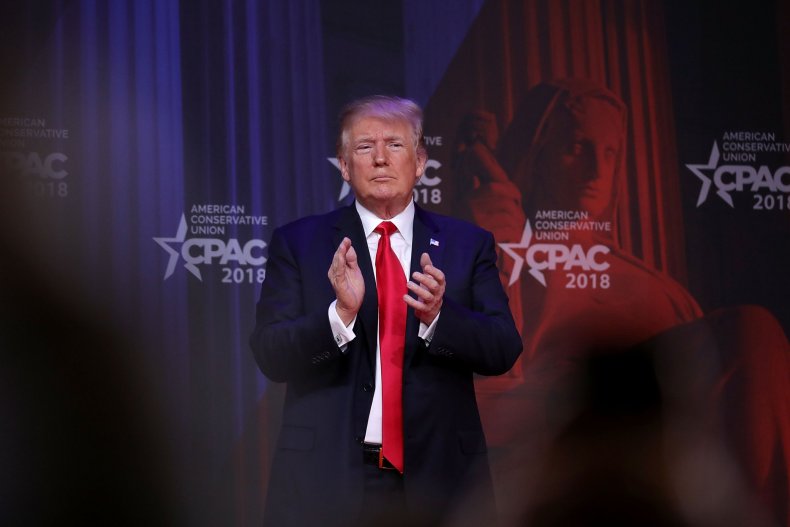 Reminding conservatives to vote in the 2018 congressional election was a theme to which Trump returned on several occasions during his speech. Energizing the Republican base will be critical to Republican prospects in November. On Friday afternoon, Trump showed that he remained beloved by conservatives, who have largely tuned out criticisms of his administration.
Silviya Toncheva, an attendee from Hawaii, had what amounted to gentle criticism. "I did not expect it's going to be so long," she said. The speech lasted for about 70 minutes; other CPAC speeches were half that length, if not shorter. "He talked almost about everything," Toncheva said. Like many others, she supported his strict immigration policies. She also approved of his approach to "the shooting," an apparent reference to the massacre of 17 teachers and students in Parkland, Florida, last week. Trump proposed arming some teachers.
"I think he's real smart," Toncheva said, "And he's been doing a good job."
Bradley Struss praised the president for his "lighthearted" speech, which included a joke about his famous combover, as well as many wisecracks and asides. At one point, Trump polled the audience on what they liked more, last year's tax reform package or Second Amendment rights.
Daralyn Armbuster, meanwhile, found comfort in Trump's "commonsense" approach to politics. "He thinks like I do," she said. Trump's historically low approval ratings did not bother her; nor did the array of Democrats seemingly determined to stifle his presidency.
Armbuster found a simple solution to any such despairing political developments: "I just don't listen to the news anymore."