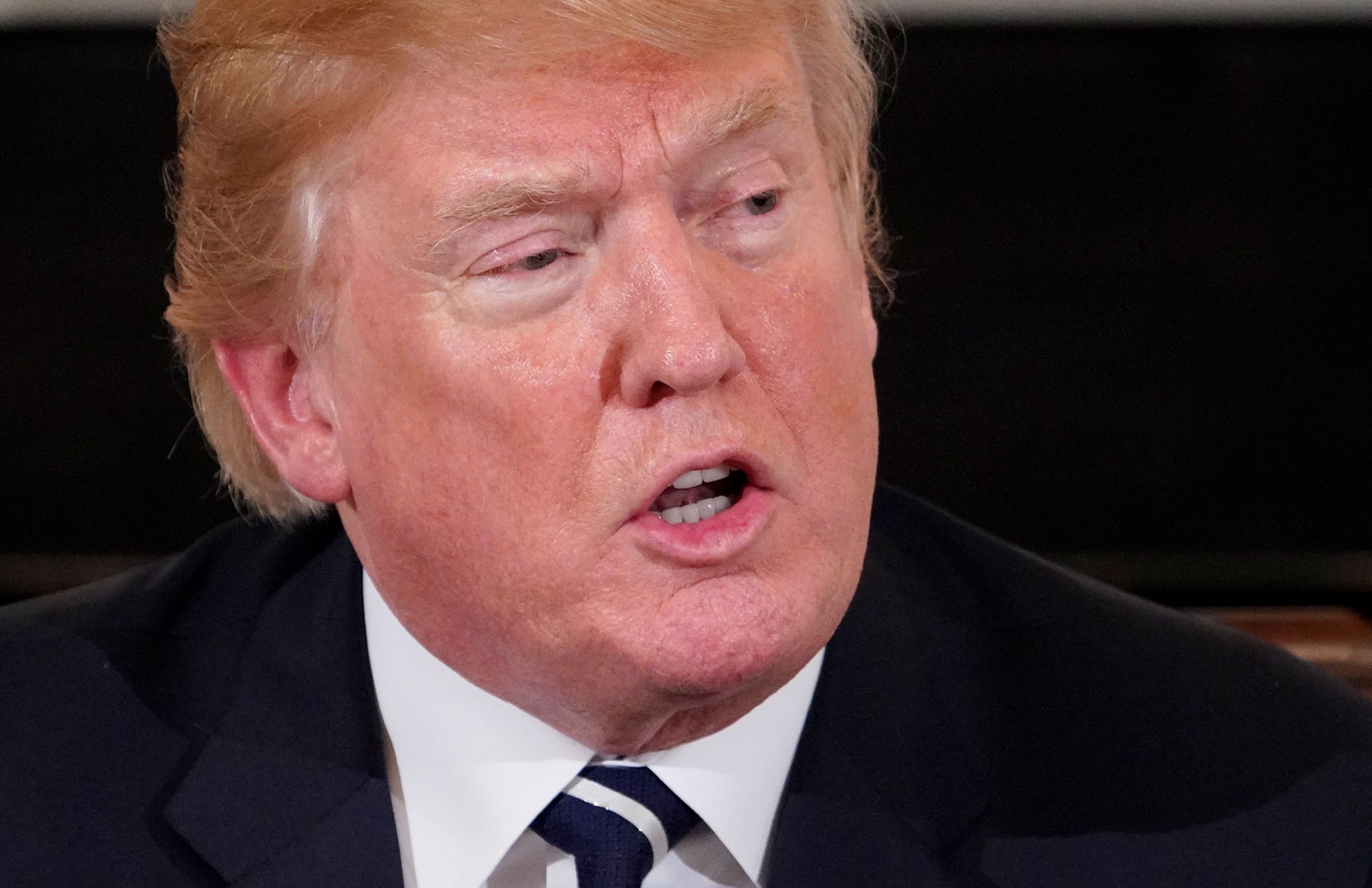 President Donald Trump's polarizing move to ban travel by people from several Muslim-majority countries set into motion a year of "hate-filled rhetoric," Amnesty International said.
In its annual audit of the world's human rights in 159 countries, Amnesty issued a scathing attack on the Trump administration's immigration policy, saying that it imposed discrimination as a "transparently hateful move." Trump entered the White House with a declaration to make a "safe, strong and proud" America.
"Amid a global refugee crisis in which more than 21 million people have been forced to flee their homes due to war and persecution, the USA took extreme steps to deny protection to people in need," the report's preface said.
In the aftermath of the San Bernardino shootings, which were carried out by a self-radicalized married couple, Trump called for "a total and complete shutdown of Muslims entering the United States." He has since sought to make good on his campaign promises.
"His actions have a very serious snowball effect across the world," Amnesty International Secretary-General Salil Shetty told Newsweek. "This rhetoric has converted into policy actions that have been very harmful for the most marginalized people in the world."
Shetty highlighted how the U.S., once a champion of human rights, has "significantly moved backwards" with the administration's decisions and propelled a divisive climate.
Just weeks into his presidency, Trump signed an executive order that froze all refugee admissions, while barring people initially from seven Muslim-majority countries (the number was later changed to six) from entering the United States for 90 days and all refugees for 120 days.
It created an international uproar as critics said it spun the country's narrative as being anti-immigration. On the ground, though, protests erupted as legal battles raged over the constitutionality for the travel ban.
The initial order lowered the cap of an acceptance to 50,000 refugees in 2017, compared to the 110,000 limit by former President Barack Obama.
"To be clear, this is not a Muslim ban, as the media is falsely reporting. This is not about religion—this is about terror and keeping our country safe," Trump said amidst backlash.
Over the course of the last year, Trump has pushed for implementation of his ban, which continues to be challenged. Most recently, the third version blocked entry of most people from Chad, Iran, Libya, Somalia, Syria and Yemen, along with North Korea and certain government officials from Venezuela.
Last week, the Fourth U.S. Circuit Court of Appeals' 9-4 vote found the ban to be "unconstitutionally tainted with animus toward Islam." The Fourth Circuit is the second federal appeals court that struck it down.
While Trump has called his restrictions a protective measure from terrorism by Islamic militants, Amnesty International has said Trump has made "policies that were discriminatory or otherwise contradicted international human rights principles."
The human rights watchdog also pointed to Trump's campaign promise of a U.S.-Mexico border wall, attacks on the rights of women and girls, the LBGT community, and gun violence, as additional factors contributing to the grim picture in the U.S.
The year also showed movement as the administration's policies propelled people to take action. "However, 2017 also demonstrated the enduring willingness of people to stand up for their rights and for the values they want to see in the world," the London-based Amnesty International said.
The International Women's Day March, focusing on the U.S. and seen throughout world cities, became "one of the largest protest events in history," while the #MeToo movement encouraged survivors of sexual harassment and assault to confront abusers. The movement represented a larger shift in power dynamics as advocates rallied against sexism and discrimination.