Soldiers deployed to the U.S. southern border in anticipation of a caravan of Central American migrants have not been briefed on hundreds of criminal suspects allegedly traveling with the convoy itself, despite the Pentagon aiding the Department of Homeland Security with intelligence support along the southwest border.
Last week, DHS claimed that "over 270 individuals along the caravan route have criminal histories, including gang membership."
However, on Tuesday, a senior Defense Department official told Newsweek that the Pentagon had yet to receive any intelligence from DHS pointing to 270 high-risk migrants traveling with the caravan.
"While there is a chance of people with some kind of criminal record to be traveling with the convoy," the defense official said, speaking on the condition of anonymity due to Pentagon media regulations. "The current threat matrix does not offer any concrete indication of that."
While the U.S. military seems to be in the dark, the White House has also touted the DHS' numbers, with Director of Strategic Communications Mercedes Schlapp mentioning the 270 figure last Friday during an interview on the border situation with Fox & Friends.
"What we're seeing right now is you're having this influx of illegal aliens, you're talking about 1,000 to 2,000 illegal aliens crossing our border daily," Schlapp said. "I mean we're talking about a daily caravan coming into America.
"Then you have the larger caravan, where they have documented about 270 criminals part of that caravan, putting women and children on the front line," Schlapp continued. "And we're not going to allow them to come and invade our country."
The White House told Newsweek via email that Schlapp received the information from DHS. However, it's not clear how DHS has concluded that there are over 270 individuals that have criminal histories, including those with known gang members.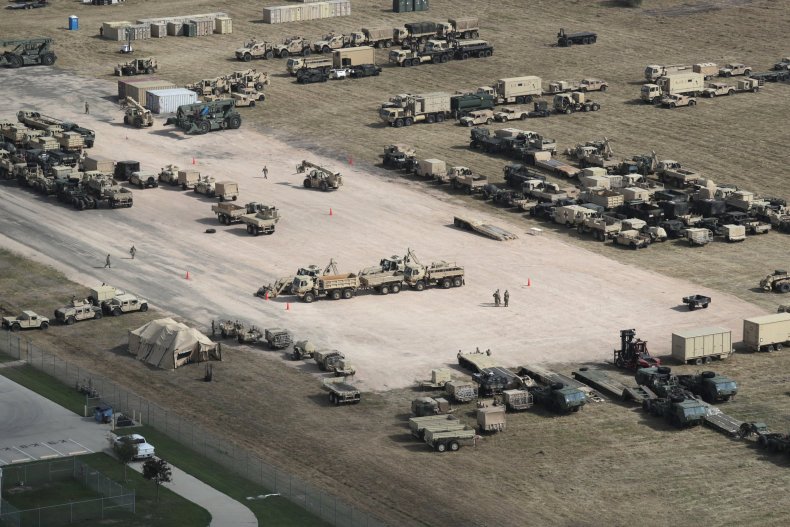 Newsweek sent multiple requests to DHS asking how the agency arrived at the figure and whether it had shared its information with DoD. DHS declined to give any information, asserting that such data was law enforcement sensitive.
It is unclear how DHS had preemptively identified at least 270 migrants in the caravan and determined they have criminal backgrounds and are ineligible to request asylum when migrants traveling to the southern border had yet to reach any port of entry.
"From an immigration standpoint, migrants in the caravan have not yet presented themselves to DHS, so there's no paperwork, no personally identifiable information to even begin to start the vetting process to include biometrics which identifies with certainty the individual presenting themselves to the U.S.," a former senior DHS official, who asked not to be named out of fear of retribution, told Newsweek ​
The official, who worked at DHS over the past three presidential administrations said that it's questionable how DHS was able to obtain personally identifiable information on individuals within the caravan and match that information against other government agency databases to determine a specific number of criminals within the caravan with time
To put this into perspective, the security vetting of allied foreign U.S. military translators who have served honorably alongside U.S. forces in Iraq and Afghanistan under the special immigrant visa program has a wait time of one to two years.
"I hesitate to accept DHS's findings due to the expediency with which they were announced and the accuracy of the claim given these individuals have not presented themselves formally for an immigration benefit or asylum," said the senior official.
"Once they have presented themselves or filed papers, DHS would have jurisdiction and be able to capture biometrics to match an individual with any background information they claim to have to make such allegations of criminal background or national origin.
On Thursday, the Trump administration tightened its stance on migrants seeking asylum in the U.S. by issuing a new rule that would prevent them from seeking asylum unless they enter the country through a designated port of entry. Many migrants who cross the border illegally after fleeing violence and persecution in their home country, file for asylum immediately.
"They're flooding our country, we're not letting them in, but they're flooding our country," President Donald Trump said on Friday outside the White House before boarding Marine One, adding that congressional Democrats need to vote to change current immigration laws.
The rule changes, set to publish Friday in the Federal Register, will invoke executive authorities the Trump administration used in 2017 to institute the "travel ban."
The figure of 270 criminals first appeared on the agency's website in a release titled, "Myth vs. Fact: Caravan."
While the release does not indicate where the information comes from, it does reference an October 29 NPR interview with Geronimo Gutierrez, the Mexican ambassador to the U.S., describing the caravan members as "very violent," adding, "Unfortunately, some of the people in the caravan have been very violent against authority, even though they have offered the possibility of entering in compliance with immigration law and refugee status."
DHS also cited a radio broadcast with Mexico's Interior Minister Navarrete Prida, who claimed that criminal organizations had infiltrated the caravan, saying: "I have videos from Guatemala that show men dressed in identical clothing, sporting the same haircuts, handing out money to women to persuade them to move to the front of the caravan…We know, for a fact, that some members of the caravan threatened [Mexican] Migration Institute personnel and we have images showing many of them preparing Molotov cocktails."
The department has claimed that it continued "to see individuals from over 20 countries" from nations including Somalia, India, Haiti, Afghanistan, and Bangladesh.
It made no mention of Middle Eastern countries, which Trump had previously claimed members of the caravan had traveled from, before later admitting there was "no proof" of that being the case.
DHS declined to respond to a question from Newsweek asking what other countries were among the department's 20-nation list.
As of January, DHS said they are facing a "crisis-level backlog of 311,000 pending asylum cases," with the backlog surging by more than 1750 percent over the last five years. The rate of new asylum applications has more than tripled.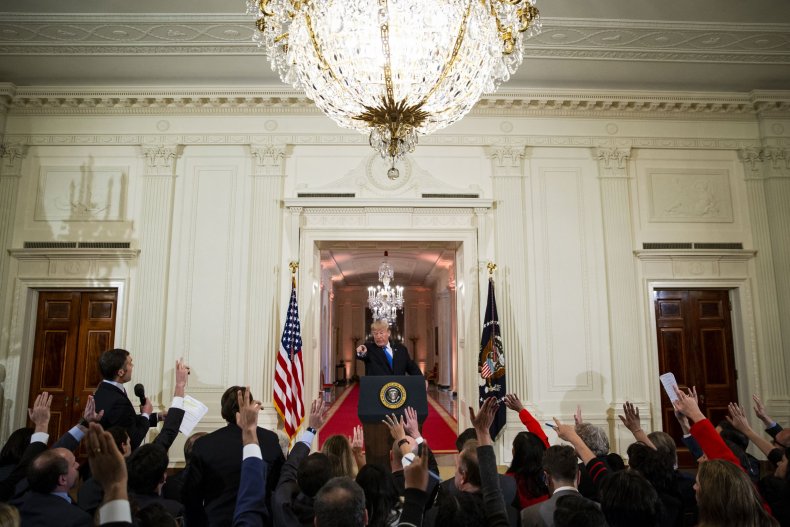 Todd Rosenblum, a former senior-level executive with both DHS and the DoD, as acting assistant secretary of defense for homeland defense and America's security affairs and as deputy undersecretary of intelligence, told Newsweek that there is no reason why DHS would withhold information from the Pentagon on the 270 criminals it has alleged are traveling with the caravans headed towards the U.S.
"If they are foreign nationals, there's no reason they couldn't share information at any point with the DoD," he said.
However, Rosenblum said that he was "dubious" about the 270 figure in the first place. "You know, you could define criminality any way you want," he said. "Everyone who enters the country and overstays a visa is a criminal in our system."
"So, when they say 270 criminals, my guess is that, in fact, they have identified people who have previously entered the U.S."
Rosenblum said that if DHS "had something clearer, that was fact-based, they would say it," adding, "I'm pretty convinced that this is all hype," the former DHS and DoD official said. "If they had something scarier to say, they would say it."
Rosenblum said that he believed DHS had released the number in a bid to support Trump's rhetoric about the caravan, which he has branded as an "invasion."
"The [Trump] administration is constantly trying to make this some dangerous threat of potential terrorists," he said. "[DHS] would like to say there are terrorists among them, narco-traffickers, organized crime, leftist-funded groups doing all this stuff and they're throwing everything against the wall," said Rosenblum.
"But the fact that they're about to say there's up to 270 people they claim have criminal records in this group of people…that's a really weak hook to hang out hat on for why this should be called an 'invasion.'
"They're just looking for anything to justify it," Rosenblum added.
A day after the midterm elections, the Pentagon announced they would no longer call the U.S. military mission at the southern border "Operation Faithful Patriot."
"We are not calling it 'Operation Faithful Patriot,' we are calling it 'border support,'" Pentagon spokesman Lieutenant Colonel Jamie Davis told CNN on Wednesday. Davis did not provide a reason for the name change.
When asked about the decision to send U.S. forces to the border last week, Defense Secretary James Mattis said, "We don't do stunts."
The White House press credentials of CNN's Jim Acosta were revoked on Wednesday after a heated back and forth with the president after Acosta challenged Trump characterizing the caravan of migrants as an "invasion."
"I consider it an invasion, you and I have a difference of opinion, Trump said. When asked if he had demonized migrants, Trump said, "No, not at all, I want them to come into the country, but they have to come in legally."