Trump Criticizes John Kasich On Day of Kasich's DNC Speech
President Donald Trump criticized former Republican Ohio Governor John Kasich Monday before Kasich's remarks at the 2020 Democratic National Convention (DNC).
Although he is still a member of the Republican Party, Kasich has been an outspoken critic of Trump. Kasich, who ran against Trump in the 2016 presidential election, chose to endorse presumptive Democratic presidential candidate Joe Biden's campaign in the 2020 race. After suspending his presidential campaign, Kasich did not give Trump his endorsement. In 2019, Kasich broke ranks with his Republican counterparts by saying Trump should be impeached.
Speaking to reporters on Monday, Trump called Kasich a "loser."
"He was a loser as a Republican and he'll be a loser as a Democrat," Trump told reporters aboard Air Force One. "Major loser as a Republican. I guess you can quote me on that. John was a loser as a Republican. Never even came close. And as a Democrat he'll be an even greater loser."
"People don't like him, people don't trust him, his healthcare in Ohio was a disaster," Trump added. "He hasn't done too well with Trump. He's been easy pickings."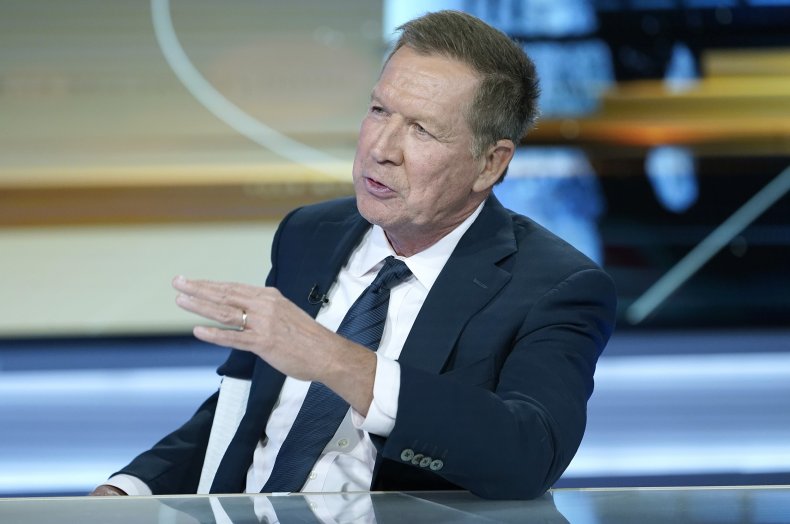 Newsweek reached out to Kasich for comment.
Kasich said his appearance at the DNC transcended party lines.
"I'm a lifelong Republican, but that attachment holds second place to my responsibility to my country," Kasich said during his Monday remarks at the DNC. "That's why I've chosen to appear at this convention. In normal times, something like this would probably never happen, but these are not normal times."
Kasich said in his pre-taped comments that no individual or political party had all the answers. "But what we do know is that we can do better than what we've been seeing today, for sure," Kasich said. "And I know that Joe Biden, with his experience and his wisdom and his decency, can bring us together to help us find that better way."
Some Democrats have been critical of Kasich's appearance at the DNC. New York Representative Alexandria Ocasio-Cortez pointed toward Kasich's pro-life political stance in a Monday tweet to question whether he could properly represent Democratic views.
As Ohio governor, Kasich signed a bill making second-trimester abortions a fourth-degree felony. Physicians who performed the procedures could be imprisoned for up to 18 months.
"It's great that Kasich has woken up & realized the importance of supporting a Biden-Harris ticket," Ocasio-Cortez wrote. "I hope he gets through to GOP voters. Yet also, something tells me a Republican who fights against women's rights doesn't get to say who is or isn't representative of the Dem party."
Kasich responded by saying in a Monday interview that Ocasio-Cortez doesn't necessarily represent the Democratic Party, calling her "just some member of it."