Trump Critics Attempt to Tank President's Rally Again by Requesting New Hampshire Tickets
Critics of President Donald Trump have once again decided to troll one of his signature rallies, with social media users urging his opponents to book multiple tickets to his upcoming New Hampshire event.
"I just ordered two tickets for Trump's MAGA rally on July 11 in Portsmouth, NH. Too bad I won't be attending! It took me just 30 seconds to register. It would be a real shame if thousands of other people who didn't intend to show signed up for tickets," Jon Cooper, the former chair of the Democratic Coalition, tweeted on Monday, tacitly encouraging his followers to follow his example.
A message was also shared in the 60,000-strong Facebook group Blue Revolution. "You know what to do," the post read, sharing a link to the reservation page. "Get couple tickets, comment 'DONE' below."
"Zanche has ordered 10 tickets," author Joyce Carol Oates wrote on Twitter, sharing a photo of her cat.
Newsweek reached out to the Trump campaign for comment but did not hear back in time for publication.
The effort by Democrats and Trump critics comes after a similar undertaking by TikTok users ahead of the president's June 20 rally in Tulsa, Oklahoma. Trump campaign officials had bragged that they received more than 1 million ticket requests for the Tulsa event, but only about 6,200 people attended, according to the local fire marshal. The facility could have fit up to 19,000. TikTok users and K-pop fans took credit for suppressing the turnout, although the campaign said this was not possible.
"Reporters who wrote gleefully about TikTok and K-Pop [Korean pop music] fans—without contacting the campaign for comment—behaved unprofessionally and were willing dupes to the charade," Trump campaign manager Brad Parscale said in a statement after the rally.
"Registering for a rally means you've RSVPed with a cellphone number and we constantly weed out bogus numbers, as we did with tens of thousands at the Tulsa rally, in calculating our possible attendee pool. These phony ticket requests never factor into our thinking," he said.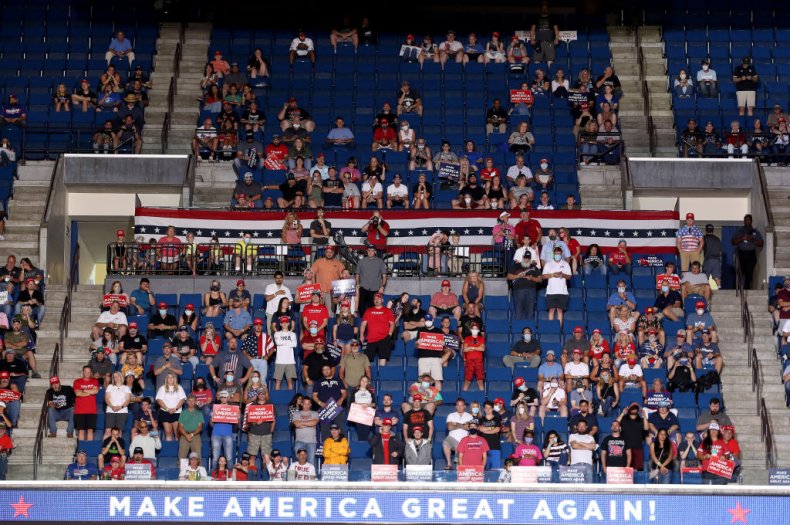 As Parscale noted, the reservation page requires people to input a phone number so they can confirm their tickets. One number can reserve two tickets. "All tickets are subject to first come first serve basis," the webpage explains.
Whether the new social media effort from Trump's critics will actually suppress turnout at the Saturday rally in Portsmouth remains to be seen. But those opposed to the president plan to try. Many posted advice and guidance on Twitter to those seeking to reserve multiple tickets.
"Get your tickets and don't go," one Twitter user wrote, sharing a link to the reservation page.
"Reserve two tickets and laugh knowing that's two seats not filled," another person wrote.