President Donald Trump said on Wednesday that his administration would soon roll out new guidelines that could put an end to flavored e-cigarettes after six reported deaths in the country. This could include pulling products off the market, with the exception of flavored tobacco.
The unforgiving world of social media blasted the president, however, saying he has taken six deaths more importantly than hundreds killed by gun violence this year, and the thousands killed on a yearly basis.
Health and Human Services Secretary Alex Azar said Wednesday it could take a few weeks to introduce a policy for pulling vaping products from vendor shelves, but that it's now a mission for the president.
"It'll take several weeks for us to put out the final guidance that will announce all the parameters around the enforcement policy, and then there will likely be about a 30-day delay to effective date, as is customary," Azar said from the Oval Office Wednesday alongside the president and first lady. Azar added, "at that point all flavored e-cigarettes other than tobacco flavor would have to be removed from the market."
Kansas health officials on Tuesday announced the sixth death in the United States from lung disease that was related to electronic cigarettes.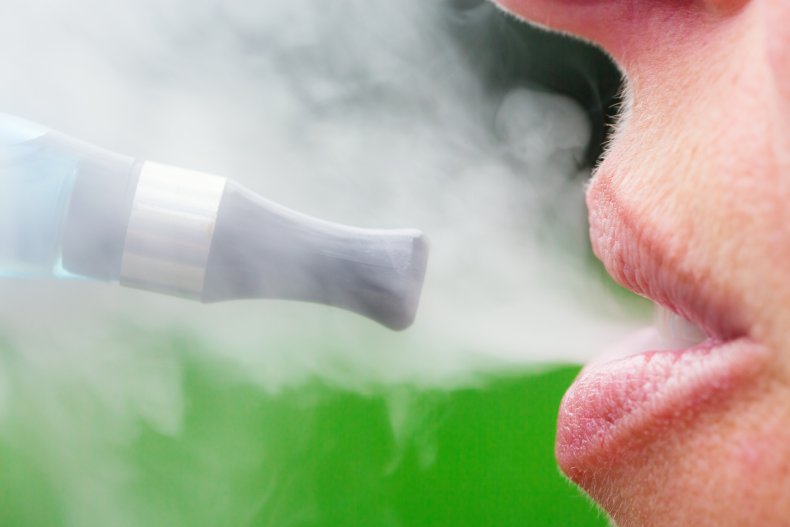 Inhaling such e-cigarettes, known as vaping, has become a popular way for people to continue a habit of inhaling flavored vapor — complete with the movement of the hand to mouth as if they were smoking — without the guilt or toxins of nicotine. However, some people have reportedly used vaping as a gateway into smoking nicotine products.
The U.S. Centers for Disease Control and Prevention, along with the Food and Drug Administration and health departments from various states, have begun investigating an outbreak of mysterious lung ailments from those who "vape."
This CNN report indicates there have been more than 450 cases of lung illnesses that link to vaping through 33 states.
First lady Melania Trump recently launched a "Be Best" campaign to help combat addiction and focus on children's health. She even tweeted about dangers of e-cigarettes.
"I am deeply concerned about the growing epidemic of e-cigarette use in our children," the first lady wrote. "We need to do all we can to protect the public from tobacco-related disease and death, and prevent e-cigarettes from becoming an on-ramp to nicotine addiction for a generation of youth."
Soon after the president's administration declared it would try to halt sales of flavored e-cigarettes, Trump's critics went after him for attempting to end this potential epidemic.
"YES, IT'S TRUE!! Melania, whose kid does not smoke, is worried about 6 people who died vaping, (according to #Bonehead, her spouse, the louse), but the HUNDREDS OF THOUSANDS who died in mass shootings and gun violence don't seem to bother her!," Bette Midler tweeted.
Then, Alyssa Milano sent this tweet on Wednesday:
Here are some other tweets attacking the president's aim to end vaping before gun violence: