Exclusive: Did Trump's Mar-a-Lago 'Cronies' Make Illegal Profits From the VA? Elizabeth Warren Seeks Answers
Senator Elizabeth Warren wants to know whether three Mar-a-Lago members and Trump associates who reportedly had wide-ranging control over the Department of Veterans Affairs illegally profited from insider roles at the agency, according to a document obtained by Newsweek.
The three men—Marvel Entertainment Chairman Ike Perlmutter, physician Bruce Moskowitz and lawyer Marc Sherman—have no official government roles as private citizens, yet documents obtained by ProPublica last year revealed the Trump associates had extensive influence when it came to offering opinions on job candidates, managing parts of the budget, providing input on various policies and heading a "multibillion-dollar effort to overhaul electronic health records for millions of veterans."
Warren, a Democrat from Massachusetts who has formed a 2020 presidential exploratory committee, has dubbed the men Trump's "Mar-a-Lago cronies." On Wednesday, she sent a letter to each of them requesting information regarding their influence within the agency. She previously demanded answers from government watchdog agencies about the matter, including one that specifically investigates the VA. The Government Accountability Office said last year it would not have the resources to begin investigating until around April.
"Although you reportedly had access to and influence over key agency decisions and decision-makers, you were reportedly not subject to any of the conflicts-of-interest and other ethics rules that apply to government employees," Warren wrote in her letter to the three men, which can be read in full at the bottom of this story.
"As a result, I am concerned that you may have had the opportunity to profit from your arrangement," she continued, "including possibly by engaging in trades or other actions to enrich yourselves or other third parties using nonpublic information that you obtained from VA officials."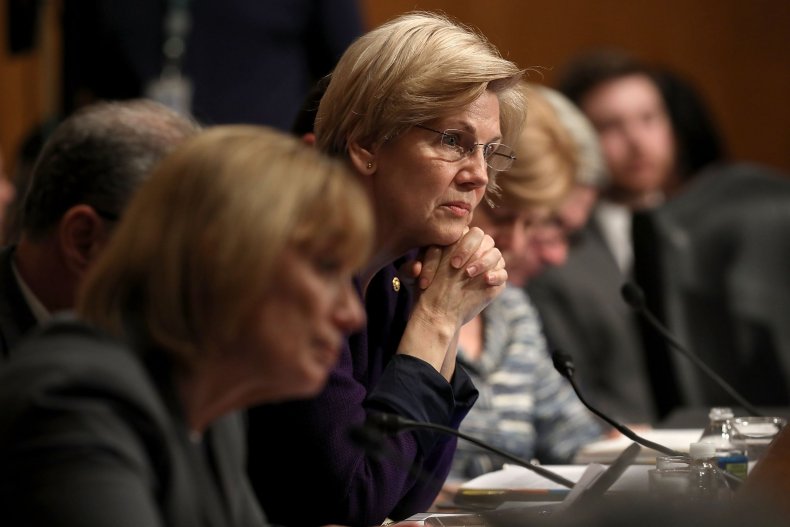 The health records overhaul included Perlmutter, Moskowitz and Sherman examining a confidential draft of a $10 billion government contract. In addition, according to emails reported by ProPublica, Moskowitz tried to convince the VA and Apple to use an app for the overhaul he had designed. Although a nondisclosure agreement regarding the contract was signed, it was edited by Sherman so that the three men could converse with each other, the president or other administration officials about it, according to ProPublica.
"Therefore, all three of you were apparently free to discuss nonpublic information—about potential agency financial transactions involving publicly-traded companies—with each other and White House officials," Warren told them.
In a prior statement to ProPublica, the trio denied that any profits arose from their involvement with the VA.
"None of us has gained any financial benefit from this volunteer effort, nor was that ever a consideration for us," they said. "The only benefit we gained was the satisfaction of helping America's veterans get the very best healthcare possible, in the most efficient and effective manner."
The Massachusetts senator questioned their alleged role in and knowledge of the multibillion-dollar contract that was eventually awarded to the publicly traded health care technology firm Cerner Corporation. In addition, she questioned the men's knowledge and role of VA decisions that affected the publicly traded companies of Apple, Johnson & Johnson and Marvel Entertainment.
"I am concerned that your involvement in internal VA deliberations and decisions regarding contracting and other functions provided you with access to nonpublic information that you could have used to make investment decisions and enrich yourselves, your friends, family members, business associates, or other third parties, and I am writing to seek assurances that you did not do so," Warren said.
She also asked for Perlmutter, Moskowitz and Sherman to list all publicly or privately traded companies they have "discussed, or obtained information about, from any former or current VA official since January 20, 2017."
Warren requested a response to her inquiry by no later than February 15.