Photo Of Trump in 'Crosshairs,' Red Laser Dots at Christmas Tree Lighting Spark False Assassination Fears Among Supporters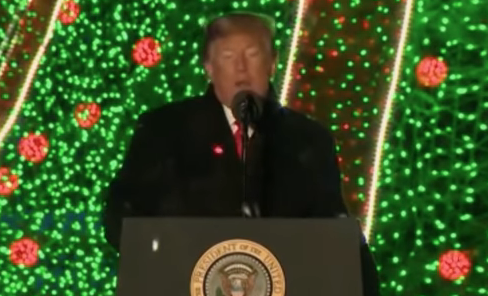 Several red laser dots flickered on President Donald Trump's chest and face during his Wednesday White House Christmas tree lighting speech, prompting paranoid supporters to falsely fear for his life.
Hundreds of conspiratorially minded backers of the president emerged on social media to express their fear for Trump's life after red laser dots appeared on his body, and later, a journalist posted a photo showing Trump in what at first appeared to be crosshairs. Journalist Tom Roussey of ABC affiliate station WJLA-TV in Washington D.C., apologized and deleted the photo he tweeted Wednesday showing Trump's back within the frame of the TV camera's lens.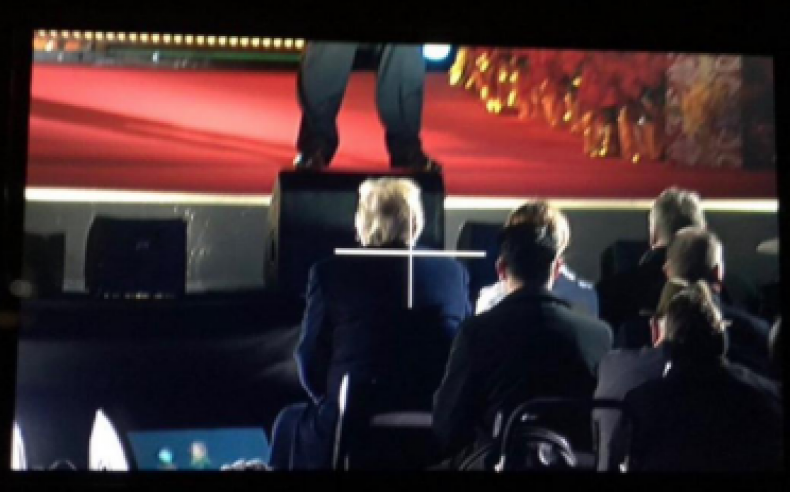 The meandering red dots on Trump and the podium in addition to Roussey's ominous photo immediately drew backlash from his supporters. Several of the distracting red dots lingered on Trump's face, chest and shoulders as he spoke at the official Christmas tree lighting ceremony. Responses ranged from "deep state" conspiracy theories to assassinate Trump, while other supporters said prayers for the president's safety.
Trump was introduced at the White House event as "the man who brought Christmas back to America."
Several news media figures covering the event blamed the red lights on red-eye reduction camera features and others said it was likely just ceremony attendees with laser pointers. But those logical responses did not deter hundreds of people watching the speech to float their own theories.
"I swear by God almighty if they kill Trump - I and many others will not sit idly by and have another JFK false narrative!" reads the top response on the right-wing website, The Gateway Pundit. "It will be the worst mistake the deep state has ever done."
Roussey issued an apologetic statement and deleted the Twitter photo appearing to show Trump inside crosshairs.
"It is the zoom lense [sic] of the camera but since people seem to be taking it another way I'm going to take it down. Certainly don't want anyone to think I would ever post anything that would give that impression," Roussey tweeted Wednesday after the ceremony picture was blasted on Twitter.
"I deeply apologize for a tweet I sent earlier tonight that understandably upset a lot of people," Roussey wrote in a statement. "I was hoping to get a nice picture of the President watching the Christmas tree ceremony, but my phone camera zoom wasn't good enough so we snapped a picture of the image we could see in our TV camera's lense [sic]. The lense [sic] has a cross in the middle of it. I didn't think too much of it until people started me on Twitter it looked like crosshairs on the President. I never delete tweets but I deleted that one because it made me sick to think I was giving that impression."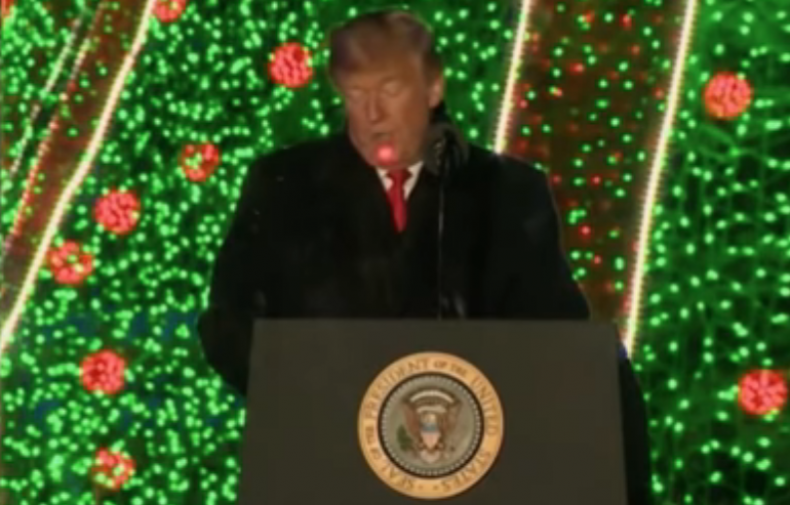 Top posts on Reddit's "r/The_Donald" dismissed Roussey's apology as him "feigning naïveté" about his intentions and prompted dozens of commenters to ponder what the response would be had the red dots similar to gun sights appeared on former President Barack Obama.