Trump Selling DC Hotel Could Pose 'Exact Same' Ethics Problems As Owning It: Bush Ethics Chief
The Trump Organization's admission on Friday it may be willing to sell Trump International Hotel in Washington, D.C., does not clear President Donald Trump from ethics criticisms he faces as the owner, a former White House ethics chief said.
"It's the exact same three problems we have already," Richard Painter, a chief ethics lawyer under former President George W. Bush, told Newsweek on Friday. "When you sell the hotel, it's the single massive transaction instead of all these smaller transactions that add up."
According to Painter, Trump's ethics conflicts as the owner of the hotel fall into three potential problem categories: campaign finance, emoluments and quid pro quo.
Billionaires like Trump are allowed to fund their own political campaigns, meaning gifts to them can become gifts to their campaigns. If Trump is funding his own campaign, Painter said, it is "critically important that this hotel is only sold at fair market value."
"The problem we've got now is who's going to buy this hotel and what are they going to pay for it," Painter said. "Because if someone overpays for the hotel, that person in effect is making a cash contribution to Donald Trump, which he then uses for his political campaign."
Trump Organization executive vice president Eric Trump said the business has hired real estate firm JLL and is hoping to make more than $500 million off the lease rights, The Wall Street Journal reported Friday.
"People are objecting to us making so much money on the hotel, and therefore we may be willing to sell," Eric Trump said in a statement provided to Newsweek by the Trump Organization.
The second ethics issue Trump faces owning the hotel rights is a potential violation of the emoluments clause when foreign government money is used to pay for stays there.
"If it's sold to a foreign government at any value, you can't do that," Painter said.
The third and final issue is quid pro quo, a concern that already arises with guests paying top dollar to stay at the hotel where they could get access to and possibly make requests of the president or his administration. However, there is no indication that members of the U.S. or any foreign government have used a stay at the hotel to gain access to Trump or his administration.
"They need to try to sell it to someone who's not trying to get official government action out of the Trump administration," Painter said.
In a live tracking of Trump's conflicts of interest released earlier this week, the watchdog group Citizens for Responsibility and Ethics in Washington (CREW) found 694 visits by Trump, executive branch officials, Congress members and foreign government officials to Trump International Hotel in Washington, D.C.
"President Trump should never have held the lease in the first place. Under the terms of the contract, it can't be held for the benefit of an elected federal official, so many of his conflicts of interest have stemmed from the decision to hold on to it," CREW spokesman Jordan Libowitz told Newsweek. "This could have easily been avoided by doing the right thing in the first place."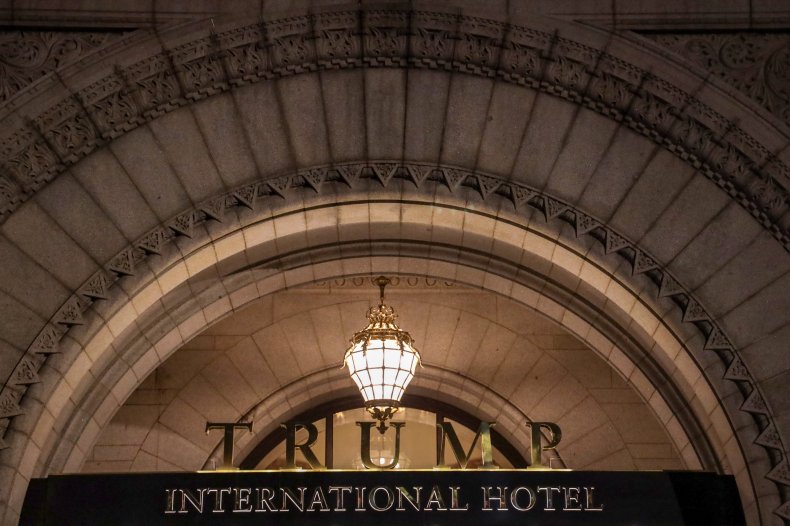 The White House did not immediately respond to a request for comment from Newsweek on Friday about the finances or potential ethics violations if the hotel is sold.
Painter said Trump may be facing pressure from Republican lawmakers to back off of the D.C. hotel in light of his recent initial decision to hold the Group of 7 (G7) summit at his Doral resort, and his impeachment inquiry.
"Better to do it now than never," said Painter, adding, "If a liberal Democrat takes that hotel off his hands, that would certainly look a lot better than someone else."