'Trump Death Clock' in Times Square Estimating Fatalities Caused by Delays in COVID-19 Response Hits 48,000
A billboard in New York's Times Square that displays a number its maker says reflects the fatalities caused by a delayed U.S. response to the coronavirus pandemic, has hit over 48,000 as of Tuesday.
Put in the heart of the city last week, the "Trump Death Clock" was the idea of filmmaker Eugene Jarecki, and is a nod to the billboard-sized National Debt Clock, which is also in New York.
Jarecki said the tally ticks up based on a formula that 60 percent of COVID-19 deaths would not have happened had the administration put in place social distancing and school closures a week earlier than it did—on March 9, instead of March 16.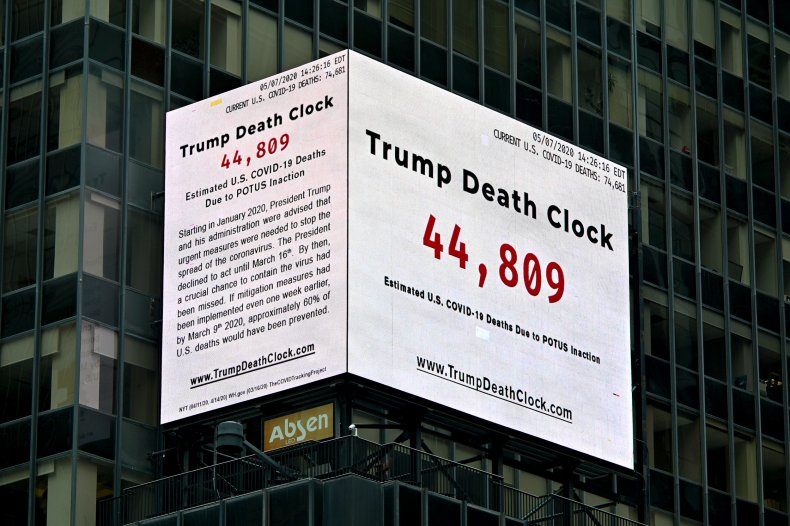 On the Trump Death Clock website, reads the message that in January, the administration of President Donald Trump had been advised that "immediate action was required to stop the spread of COVID-19."
It stated that Dr Anthony Fauci, who is part of the White House coronavirus team, said that "there was a lot of pushback to his advice."
"President Trump declined to act until March 16. Epidemiologists now estimate that, had mitigation measures been implemented one week earlier, 60 percent of American COVID-19 deaths would have been avoided," reads the message.
The theory that 60 percent of deaths could have been avoided if restrictions had been put in place a week earlier, was outlined in The New York Times by epidemiologists, Britta Jewell and Nicholas Jewell.
However using the formula could be seen as over-simplifying the complexity of the pandemic and being politically motivated. Newsweek has contacted the White House for comment.
Jarecki, who has won Peabody and Emmy awards for his documentaries, wrote in the Washington Post last week that it would be a "powerful statement" if his clock "could be displayed on billboards and projected on buildings in cities and small towns across America."
"This would begin to honor those who lost their lives and, in their memory, demand more responsive and responsible leadership," he added in the op-ed.
On Tuesday, the death toll across the U.S. had hit 80,684 according to Johns Hopkins University data, and the number on the Trump Death Clock, read 48,668.
As states are beginning to reopen, Trump highlighted on Monday how $11 billion would be distributed to states to facilitate testing and that the U.S. should pass 10 million completed tests this week.
"We have met the moment and we have prevailed," he said.
The infographic below, provided by Statista, shows the U.S. states with the most confirmed COVID-19 cases, as of May 11.