Oklahoma Man Threatens To Kill Trump, 'Every Cop In The State' If Wife Not Released From Jail, FBI Alleges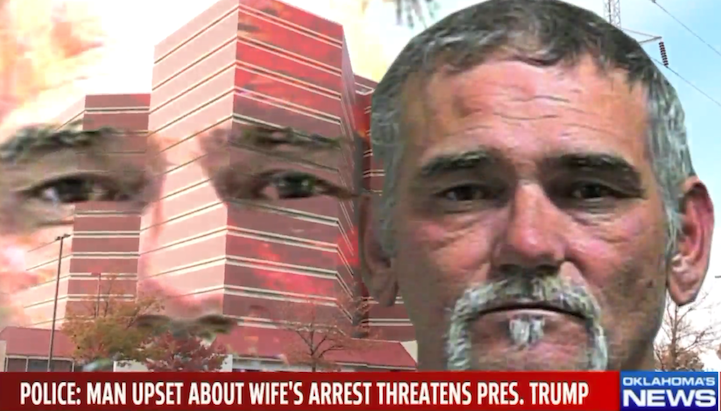 Several federal and state law enforcement agencies including the U.S. Secret Service and FBI arrested an Oklahoma man accused of threatening to "blow the f***ing White House up" and kill President Donald Trump if his wife wasn't released from jail.
Oklahoma County court documents revealed that Harold Wayne Vandenburg, 50, made several desperate calls to his jailed wife, Anissa, in which he threatened to "kill every cop in the State of Oklahoma" if she wasn't released from jail. Vandenburg, of Midwest City, was arrested during a traffic stop Friday night after state and federal investigators overheard him threatening to kill police, FBI agents, a specific Secret Service Task Force member and even President Trump in calls to the Oklahoma County jail.
Investigators allege Vandenburg reached out to a Durant funeral home to make pre-paid arrangements for his own death just days before his arrest.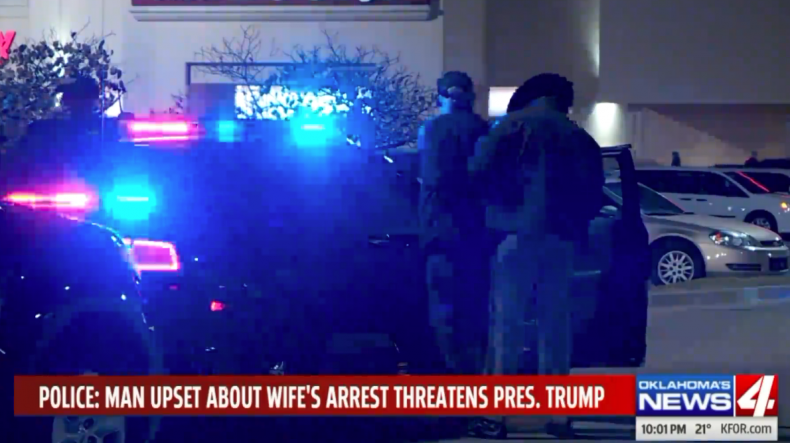 Court records first obtained by Oklahoma City news station KFOR-TV showed that Vandenburg made the threats during at least 18 calls to the jail between October 30 and November 8. The FBI, OHP, OCPD and Secret Service agencies all asked Vandenburg's trucking employer about his schedule in order to make the traffic stop arrest near I-240 and Pennsylvania Avenue Friday. Plainclothes officers and Oklahoma City Police K-9 bomb dogs surrounded and swept his semi-trailer amid Friday evening's rush hour.
"I am coming to the Oklahoma County Courthouse...I've got a gun, and I've bought me a f****** gun, and I am going hunting when I get back to Oklahoma City," Vandenburg allegedly told his wife, who was jailed in 2017 for exploiting and stealing thousands of dollars from an elderly patron of the Midwest City Moose Lodge.
"...[I am] going to kill every cop in the State of Oklahoma including the Federal Bureau of Investigation," Vandenburg continued, according to court documents. "I want those motherf****** to come and arrest me, because without you, I don't care about f****** living anymore."
His wife Anissa filed divorce papers in August but court records obtained by KOTV-DT in Tulsa showed the case status is pending because neither party showed up to court.
The day before his November 9 arrest, Vandenburg allegedly elevated his threats and targeted the president. "I'm going to blow the f****** White House up. I'm going to kill the f****** president of the United f****** States, that's what I am going to do. I'm going to kill that God d*** Trump, he's a sorry motherf*****."
"If anyone has the balls to come take this .45 from me they better be wearing a vest," he told his wife in another call, according to court documents.
Vandenburg was previously convicted of felony crimes, including assault and battery with a dangerous weapon and escape from a confinement in Atoka County, online arrest records show. His alleged threat to "blow a federal building up" was particularly cited by law enforcement, given Timothy McVeigh and Terry Nichols' 1995 bombing of the Alfred P. Murrah Federal Building in Oklahoma City that killed 168 people.