Trump Badgered in Spirited Republican Debate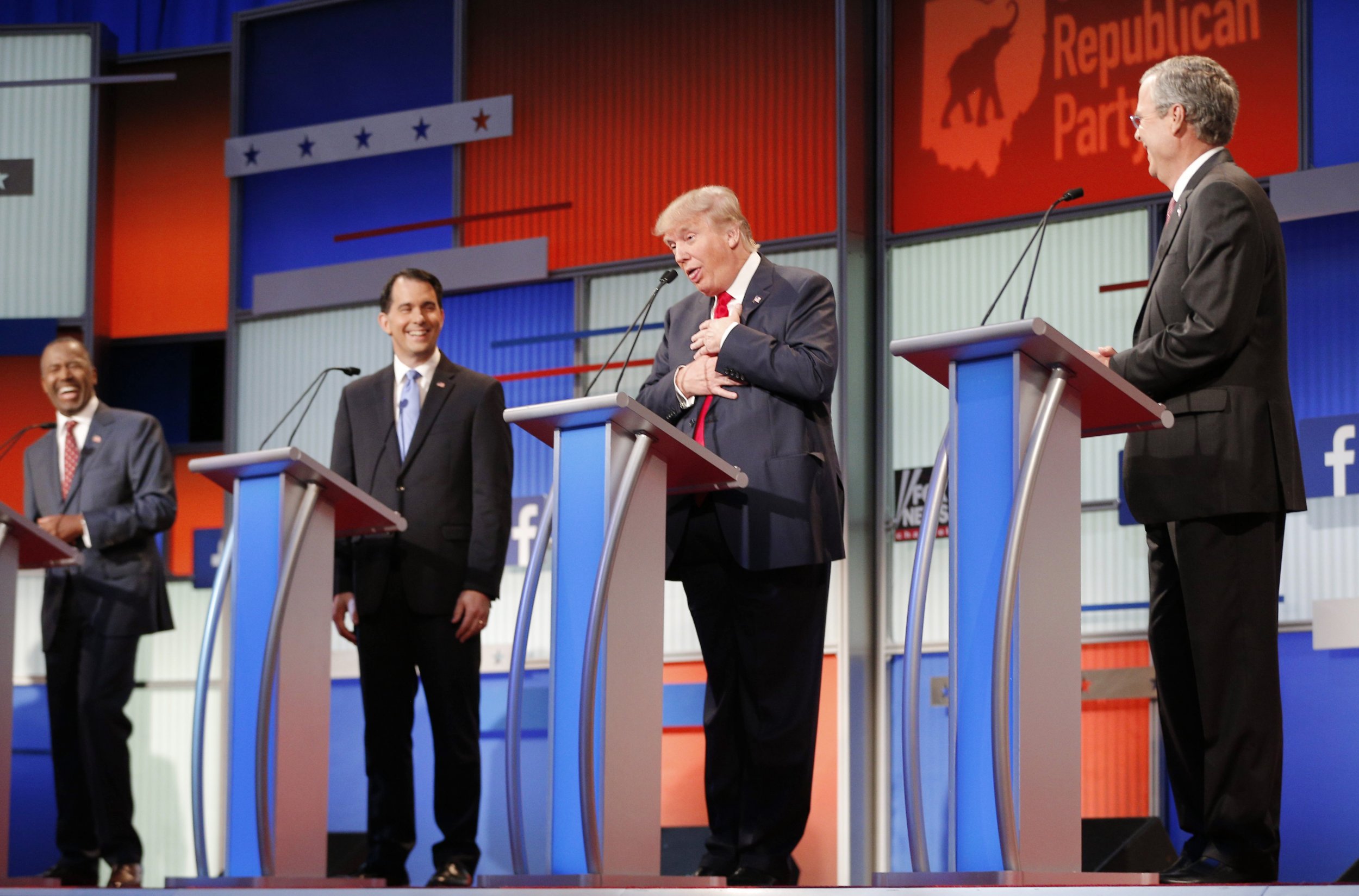 Businessman Donald Trump brought flashes of reality show drama to the stage at Cleveland's Quicken Loans Arena, but his bluster didn't completely drown out substantive policy discussion in the first Republican debate of 2016.
On issues ranging from privacy rights to Social Security to aid to Israel to education reform, real contrasts emerged between the 10 GOP candidates in the prime-time debate. They even got to take a few shots against one another.
Kentucky Senator Rand Paul led the charge on that front, attacking Trump almost immediately when the real estate tycoon refused to pledge he would not run as an independent if he lost the nomination (he was the only one). "I can totally make that pledge if I'm the nominee," Trump promised. But otherwise, no dice.
"He's already hedging his bets because he's used to buying politicians!" Paul cried. Paul also got into a sharp exchange with New Jersey Governor Chris Christie over the balance between national security and personal privacy, and whether American intelligence operatives should be allowed to access citizens' communications.
Trump clearly got fed up with the badgering. "I don't think you heard me," he told Paul at one point. "You're having a hard time tonight." He also hit back against intense questioning from Fox News moderators, who asked him pointed questions about his past comments disparaging women, his support of Democrats, his corporate bankruptcies and the fact that he once supported access to abortions.
"I've been very nice to you," he told Fox host Megyn Kelly, "although I could probably maybe not be based on the way you have treated me."
Some of the moderators' questions seemed to catch Trump off guard. His attempts to explain away his past Democratic party affiliation and pro-choice beliefs were rambling and unconvincing. His grasp of policy often seemed tenuous at best. That hasn't, however, held him back thus far in the campaign. And he displayed the characteristic bluntness that has won over so many voters sick of hearing rehearsed political talking points. "I've been challenged by so many people, and I don't frankly have time for total political correctness," he declared, to cheers. "And to be honest with you, this country doesn't have time either."
In his closing statement, Trump warned: "Our country is in serious trouble. We don't win anymore.… We can't do anything right."
Trump may have captivated attention with his unpredictability, but that didn't stop fellow candidates like Florida Senator Marco Rubio and former Florida Governor Jeb Bush from trying valiantly to talk up their credentials—and pitch themselves as the "serious" Republican alternative. Rubio, in particular, had a successful night, displaying his knowledge on foreign policy and the economy while hitting back at the notion that he's too inexperienced to be president.
Of all the top-tier candidates, Wisconsin Governor Scott Walker had what was probably the weakest performance, not because he did anything wrong but because he didn't say much that stood out. He mostly reiterated his typical remarks on the stump. It didn't help that at the halfway point of the debate, Walker had spoken for the least amount of time, according to a tally by NPR.
Bush, meanwhile, had moments where he sounded confident and in command, such as when talking about his plans to rev the economy and reach a sky-high 4 percent growth rate (which critics have panned as entirely unrealistic). At other times, he was halting and unsure, including during his defense of his service on a board with ties to Planned Parenthood and when assessing the war in Iraq, a question that has tripped him up in the past.
The debate also offered a boost to two "bubble" candidates, who just squeaked into the prime-time debate. The 10 participants were determined by national polls, and the seven Republicans who didn't make the cut appeared in a "happy hour" debate at 5 p.m. ET. Governors Chris Christie of New Jersey and John Kasich of Ohio were the lowest polling candidates on stage at 9 p.m. ET, but made the most of their time. Both came off at ease in front of the camera and in command of the policy minutiae, though they expressed positions that are going to cause them trouble with the party's conservative base.
Kasich, in particular, veered away from party orthodoxy, defending his decision to accept Medicaid funding provided as part of Obamacare and declaring that the Supreme Court has settled the question of same-sex marriage. "I just went to a wedding of a friend mine who happened to be gay," he said. That drew loud cheers from the home-state audience, but it may not go over nearly as well in states like Iowa or South Carolina, home to some of the early caucuses and primaries next year.
Of course, there was plenty on which all the candidates agreed—even Trump. And it started with what they dubbed the disastrous policies of President Barack Obama, abetted by 2016 Democratic front-runner Hillary Clinton. One of the final questions of the night was whether God had spoken to any of the candidates to offer guidance on their priorities, should they win the White House. "God has blessed us," Rubio responded. "He's blessed the Republican Party with some very good candidates. The Democrats can't even find one."