Trump Declares State of Emergency in Carolinas as Hurricane Florence Set to Hit With 'Life-Threatening Force'
President Donald Trump has declared a state of emergency in North and South Carolina ahead of Hurricane Florence's expected arrival later this week.
Florence has been classified as a Category 4 storm but is likely to develop into a Category 5 before it hits the U.S. East Coast with "life-threatening" force, according to the National Hurricane Center (NHC), prompting the president to issue the order.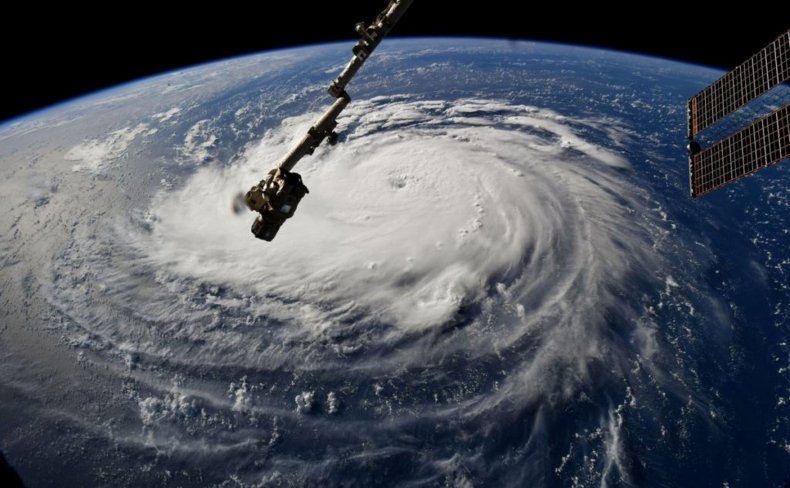 As part of the state of emergency, federal aid will be made available to tackle issues caused by the storm, with the administration stating the president "authorizes the Department of Homeland Security, Federal Emergency Management Agency [FEMA], to coordinate all disaster relief efforts."
According to the NHC, a hurricane watch is set to be issued on Tuesday, while "damaging hurricane-force winds" will be likely along sections of the coasts of North and South Carolina, and may spread inland into the Carolinas and Virginia.
Meanwhile, "life-threatening" freshwater flooding is also likely from an "exceptionally heavy rainfall event," which could also extend inland over the Carolinas and mid-Atlantic "for hundreds of miles."
As Florence continues to head toward the East Coast, South Carolina Governor Henry McMaster issued an evacuation order for the state's entire coast, in addition to numerous school closures, while school districts in North Carolina said they were monitoring the storm to decide whether classes would be held in the coming days.
In a series of tweets, the president urged residents of the Carolinas to stay safe and follow advice issued by local agencies.
"Was just briefed via phone by ‪@DHSgov ‪@SecNielsen and ‪@FEMA ‪@FEMA_Brock, along with ‪@VP Mike Pence and Chief of Staff, John Kelly on incoming storm which is very dangerous. Heed the directions of your State and Local Officials - and know that WE are here for you. Be SAFE!" the president tweeted.
"My people just informed me that this is one of the worst storms to hit the East Coast in many years. Also, looking like a direct hit on North Carolina, South Carolina and Virginia. Please be prepared, be careful and be SAFE!" he added. "Just had calls with South Carolina Governor Henry McMaster, North Carolina Governor Roy Cooper, and Virginia Governor Ralph Northam regarding the incoming storm. Federal Government stands by, ready to assist 24/7."
Trump Declares State of Emergency in Carolinas as Hurricane Florence Set to Hit With 'Life-Threatening Force' | U.S.