Trump Declines to Say Whether He'll Accept 2020 Election Results in Fox News Interview
President Donald Trump declined to say whether or not he will accept the results of the presidential election in November during an interview broadcast by Fox News Sunday.
"I have to see. Look ... I have to see," Trump told Fox News anchor Chris Wallace when he asked if the president would accept election results if he lost. "No, I'm not going to just say yes. I'm not going to say no, and I didn't last time either."
During the interview, the president dismissed polls that show him trailing presumptive Democratic presidential nominee Joe Biden by significant margins – with many showing him down by double digits nationally.
"First of all, I'm not losing, because those are fake polls. They were fake in 2016 and now they're even more fake. The polls were much worse in 2016," the president said.
"They got it all wrong in 2016. They've been wrong on every poll I've ever seen," Trump insisted.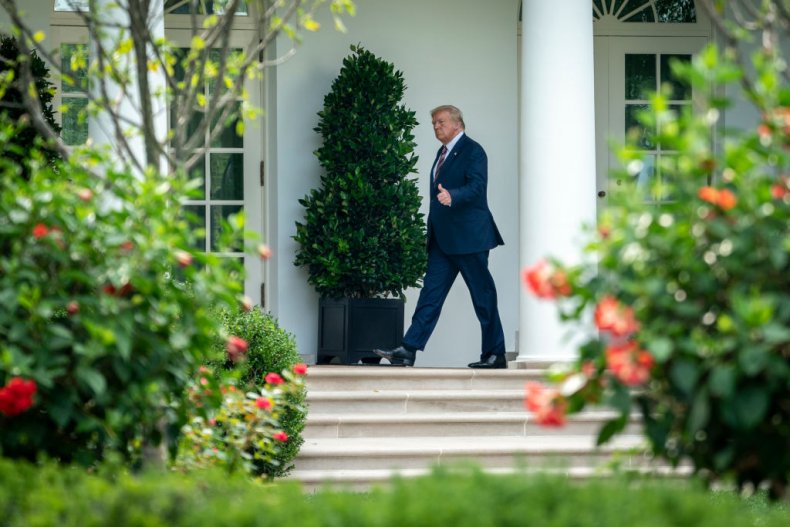 Newsweek reached out to the White House for further comment on the interview, but did not receive a response by the time of publication.
Some Democrats, including Biden, have raised concerns that Trump may refuse to leave office if he does not win in November. During a June interview with The Daily Show host Trevor Noah, Biden said he was concerned Trump will "try to steal this election."
"I am absolutely convinced they [the military] will escort him from the White House with great dispatch [if he refuses to leave]," Biden added.
Trump dismissed the concerns in an interview with Fox News a couple days later. "Certainly, if I don't win, I don't win," he said, saying that he'd simply "go on, do other things."
Tim Murtaugh, communications director for the president's re-election campaign, also rejected Biden's remarks. He referred to them as "another brainless conspiracy theory."
As Trump noted in his latest Fox News interview aired Sunday, most national polls did show former Democratic presidential candidate Hillary Clinton ahead in 2016. But the president managed to pull off a series of wins in key battleground states – including Wisconsin, Michigan, Pennsylvania and Florida – propelling him to victory in the Electoral College.
Currently, Biden is leading Trump by double digits in multiple national polls conducted this month. A poll published Sunday by ABC News/The Washington Post showed Biden ahead by 15 points, with the former vice president backed by 55 percent of registered voters compared to 40 percent who support Trump. Meanwhile, the Real Clear Politics averages of state-level polls have shown Biden ahead of Trump by more than 7 points in Michigan, approximately 7 points in Pennsylvania, more than 6 points in Florida, and about 6 points in Wisconsin.