President Donald Trump criticized the Academy Award for Best Picture being given to the South Korean film Parasite at a campaign rally in Colorado Springs, Colorado on Thursday before admitting that he had not seen the movie.
Director Bong Joon-ho's dark comedy won four Academy Awards during this year's ceremony, the most awards handed out to an individual film.
"By the way, how bad were the Academy Awards this year?" Trump asked. "Did you see them? And the winner is a movie from South Korea. What the hell was that all about?"
"We got enough problems with South Korea with trade," Trump added. "On top of it, they give them the best movie of the year. Was it good? I don't know."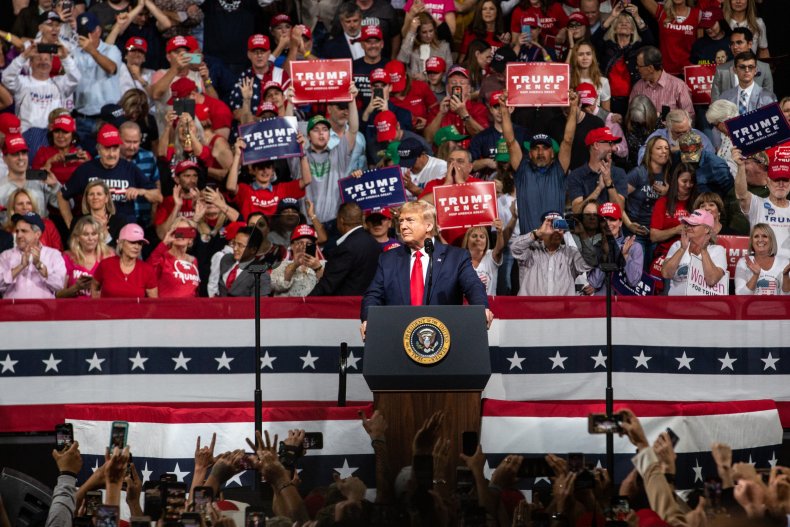 "Can we get, like, Gone With the Wind back, please?" Trump continued. "Sunset Boulevard. So many great movies."
Trump also wondered if a movie from South Korea had ever won the Best Picture Academy Award before. It had not. Parasite was the first non-English language film to be named best picture. The film also took awards for best directing, best international feature film and best original screenplay.
Gone With the Wind swept the Academy Awards in 1940 with a total of eight Oscars, including best picture. Depicting the effect of the American Civil War on the south, the film was the first movie filmed in color to win the best picture Academy Award.
Hattie McDaniel became the first African-American to win an Academy Award for her role in Gone With the Wind as a domestic servant in antebellum Georgia. However, the film has recently been reevaluated by some as inherently racist.
The Orpheum, a theater in Memphis, Tennessee, removed Gone With the Wind from its summer screening schedule after complaints from moviegoers.
"As an organization whose stated mission is to 'entertain, educate and enlighten the communities it serves,' the theater said in a statement, "the Orpheum cannot show a film that is insensitive to a large segment of its local population."
Trump referred to supporting actor Academy Award winner Brad Pitt a "little wise guy" for Pitt's comments about the impeachment trial during his Oscar acceptance speech. Pitt won for Once Upon a Time in Hollywood.
"Then you got Brad Pitt," Trump said. "I was never a big fan of his. He got up and said little wise guy statements. He's a little wise guy."
"They told me I only have 45 seconds up here, which is 45 seconds more than the Senate gave John Bolton this week," Pitt said during his Oscar speech. "I'm thinking maybe Quentin [Tarantino, director of Once Upon a Time in Hollywood] does a movie about it and in the end, the adults do the right thing.'
Pitt explained his comments to reporters after his speech saying, "I think when gamesmanship trumps doing the right thing, it's a sad day, and I don't think we should let it slide."