Did Trump Just Help Netanyahu In Israel's Election Tomorrow By Designating Iran Revolutionary Guard a Terrorist Organization?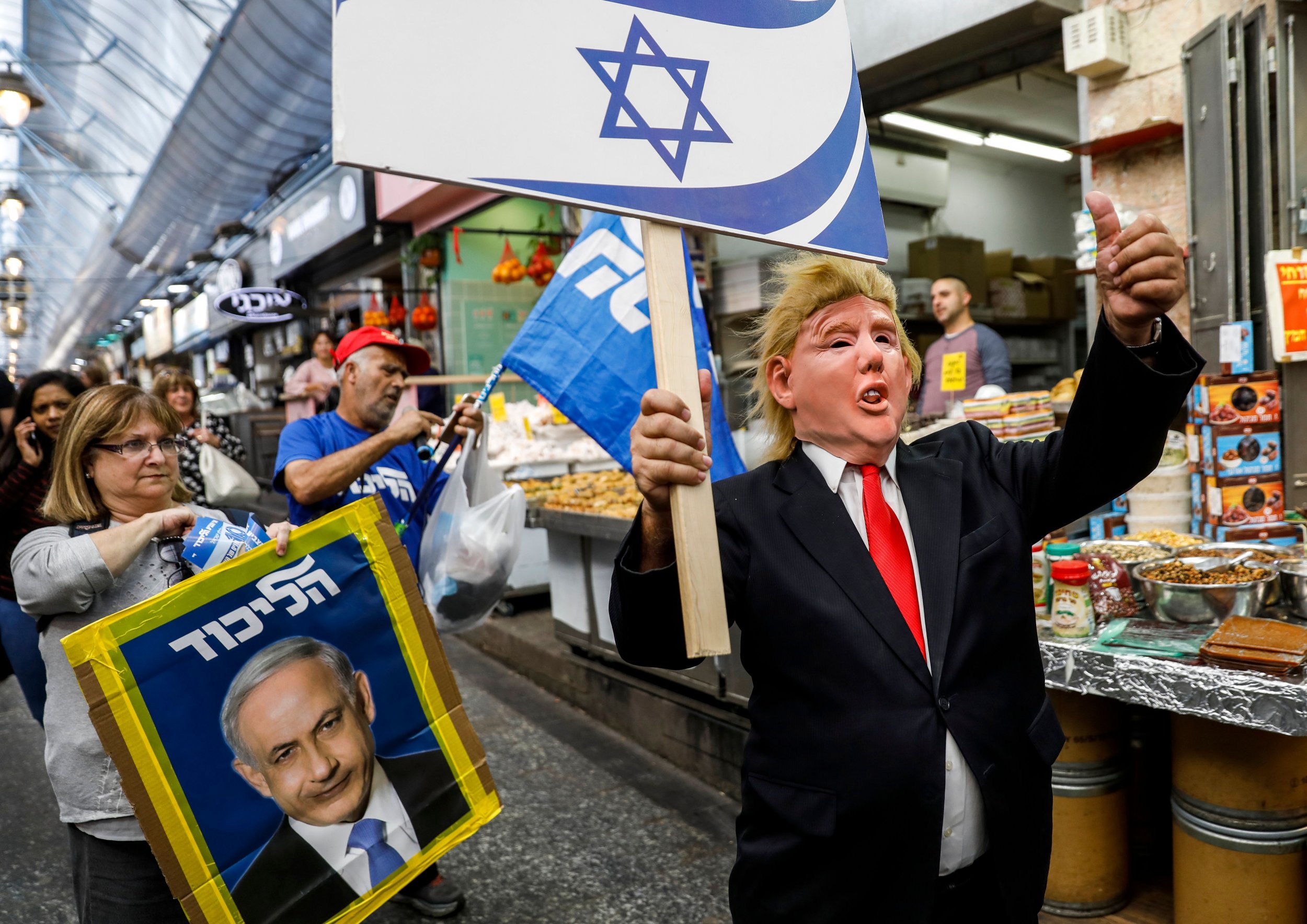 President Donald Trump formally announced Monday that the U.S. will designate Iran's Islamic Revolutionary Guard Corps as a Foreign Terrorist Organization, just one day ahead of the Isreali national election.
This is the first time the United States has ever recognized part of a government as a terrorist organization. The distinction is a big win for Israeli Prime Minister Benjamin Netanyahu, who is currently facing possible indictments for bribery and breach of trust, and is running in a tougher-than-usual reelection race that will be decided on Tuesday.
The conservative leader took to Twitter to take credit for the announcement and thank Trump for "answering another of my important requests." In a later tweet in English, Netanyahu wrote to the president that "once again you are keeping the world safe from Iran aggression and terrorism."
The move will likely give Netanyahu a boost ahead of the elections.
"The timing appears connected to the elections, even if the subject has been under discussion for some time," Raz Zimmt, a Tel Aviv University expert on Iran, told the Los Angeles Times.
Last month, Secretary of State Mike Pompeo visited Netanyahu in Israel and Trump received the prime minister at the White House. Trump also announced that he would recognize the disputed Golan Heights as Israeli territory, another boon to Netanyahu. The prime minister remarked that he had plans to gift Trump with a case of "of the finest wine" from the region before quipping of his pending indictments that he hoped officials "wouldn't open an investigation."
President Barack Obama, meanwhile, refused a visit from Netanyahu prior to the Israeli leader's last election saying, "he needs to be far away enough from the election that it doesn't look like in some ways we're meddling or putting our thumbs on the scale."
Iran Foreign Minister Mohammad Javad Zarif accused Trump and his administration on Sunday of being "Netanyahu Firsters," and said that those pushing for the policy change "fully understand its consequences for US forces in the region. In fact, they seek to drag [the] US into a quagmire on [Netanyahu's] behalf."
In announcing the designation, Trump said it will "expand the scope and scale of our maximum pressure on this Iranian regime... If you are doing business with the IRGC, you will be bankrolling terrorism."
But IRGC-related businesses dominate the economic landscape of Iran; there are numbers of shopping malls, apartment buildings and bazaars associated with the organization. Any number of citizens or corporations who do business with those organizations could now be considered by the U.S. to be aiding terrorism.
"By designating IRGC as an [Foreign Terrorist Organization] we effectively criminalize the entire population of Iran," wrote Jonathan Cristol, fellow at the World Policy Institute. "This also puts Baghdad in an extremely difficult position; and makes it near impossible to maintain deconfliction lines with Iran in Syria."
The IRGC was founded by Iran after the 1979 revolution in order to defend Iran's Islamic Republic (in addition to the regular army that defends the country's borders). The IRGC currently has 150,000 active personnel, and consists of ground, navy and air forces. The group works to suppress dissent in its own country and is also said to work with throughout the Middle East to exert its influence.
The army is ideologically driven and is thus interwoven deeply into everyday Iranian society. The guard is said to control about one-third of Iran's economy and the guard has billions of dollars in business ties internationally. Even President Donald Trump once invested in a hotel in Azerbaijan with alleged links to the IRGC.
Democratic presidential candidate Beto O'Rourke weighed in on the election from the campaign trail this weekend, calling Netanyahu a racist. "The U.S.-Israel relationship is one of the most important relationships we have on the planet," said O'Rourke in Texas. But, he added, "it must be able to transcend a prime minister who is racist as he warns of Arabs coming to the polls who want to defy any prospect for peace, as he threatens to annex the West Bank and who has sided with a far-right racist party in order to maintain his hold on power."
If he wins tomorrow, Netanyahu will become the longest-serving prime minister in Israeli history.