Trump Defeats Democratic Rivals, Support for Impeachment and Removal Drops in New National Polls
As Wednesday's final vote approaches in the impeachment hearings for President Trump, two recently released polls have brought good news.
A USA Today/Suffolk University Poll has a lead on his top rivals in the 2020 Presidential race.
The poll says he'd beat South Bend, Indiana Mayor Pete Buttigieg by nine percentage points, Massachusetts Senator Elizabeth Warren by eight, five points on Vermont Senator Bernie Sanders. He has the slimmest margin of victory over former Vice President Joe Biden, whom he tops by three points.
Eleven to 15 percent of those polled named other third party candidates as their preferred presidential option.
Male voters preferred the president, and while Democratic candidates were more successful with responders 18 to 34, Trump carried voters 35 and older.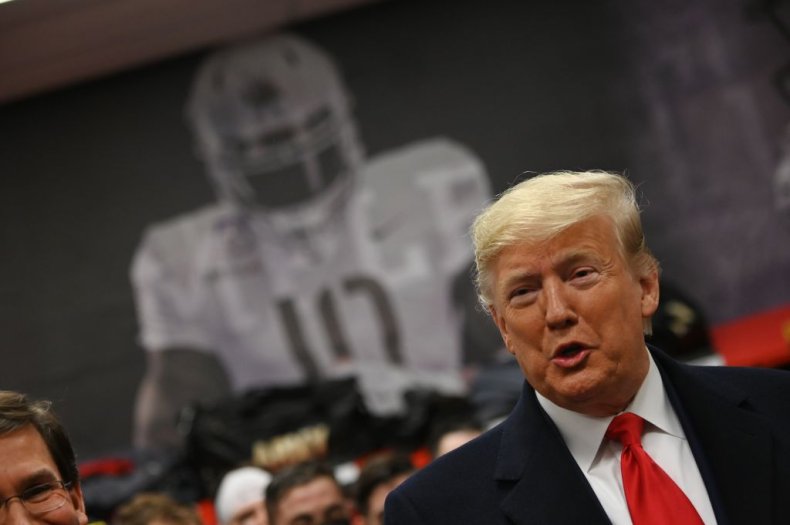 Meanwhile, a CNN/SSRS poll showed that support for impeachment of the president has begun to decline. Forty-five percent of those polled support the president's impeachment and removal from office, while 47 percent oppose it. This represents a 5 percent drop compared to polls taken in November by CNN.
Nine percent of those responding said they have no opinion on the president's impeachment.
The poll results broke down along party lines once again; 77 percent of interviewed Democrats supported impeachment. Meanwhile 5 percent of all Republicans polled support impeachment—compared to 10 percent in the November poll.
But the majority of responders still feel that the president abused the power of his office to gain information about a political opponent to help his position for his 2020 reelection campaign. Over half—51 percent—of those polled believe he did, while 43 percent disagree.
Those polled are more evenly split on whether or not the House has enough evidence to impeach the president. Forty-eight percent of those polled say they don't have enough evidence, while 47 percent of those polled say they have.
Voters are nearly split three ways on whether or not impeachment will hurt Trump's chances of being re-elected; 32 percent of voters say the impeachment will help Trump, 25 percent think it will hurt him and 37 percent say that it won't make a difference either way.
In general, this poll matches the results of other recently-held polls about the president's impeachment, such as Fox's recent poll which shows that 50 percent of Americans approve of the president's impeachment.
The USA Today poll surveyed 1,000 registered voters between the dates of December 10 and December 14. The margin of error is plus or minus 3 percentage points.
The CNN poll spoke with 1,005 adults between December 12 and December 15. Its margin of error is 3.7 points plus or minus.