Fox News Guest Alan Dershowitz: Anybody Who Compares Donald Trump to Hitler is a 'Holocaust Denier'
Harvard Law School professor Alan Dershowitz said people who compare President Donald Trump to Nazi leader Adolf Hitler were "holocaust deniers" during an interview on Fox News Tuesday.
Amid a discussion about Holocaust awareness and the media comparing Trump to Hitler on Fox & Friends, Dershowitz criticized those who have made the dark comparison and preached holocaust awareness.
"Some in the media have made a daring and dark comparison, comparing President Trump to Hitler," Fox News co-host Rachel Campos-Duffy said. "He was even accused of following Hitler's playbook to divide the country."
"This as a shocking new study finds many Americans don't even know basic facts about the Holocaust. In fact, 41 percent of Americans and 66 percent of millennials don't know what Auschwitz was," Fox News co-host Dean Cain added before Dershowitz explained why political comparisons to Hitler were false analogies.
"Everybody is compared to Hitler. Everybody is compared to the Holocaust. Israel defending itself against Gaza rockets—oh, they're Nazis. Anybody who compares Trump or anybody else to Hitler essentially is a Holocaust denier because what they're saying [is], 'well, there were no gas chambers, there was no Auschwitz, there was no plan to kill six million Jews.' They minimize it," the professor said.
"To say that anything that happened since then is comparable to the Holocaust and certainly to compare the American political system to anything that happened in the Holocaust is just outrageous."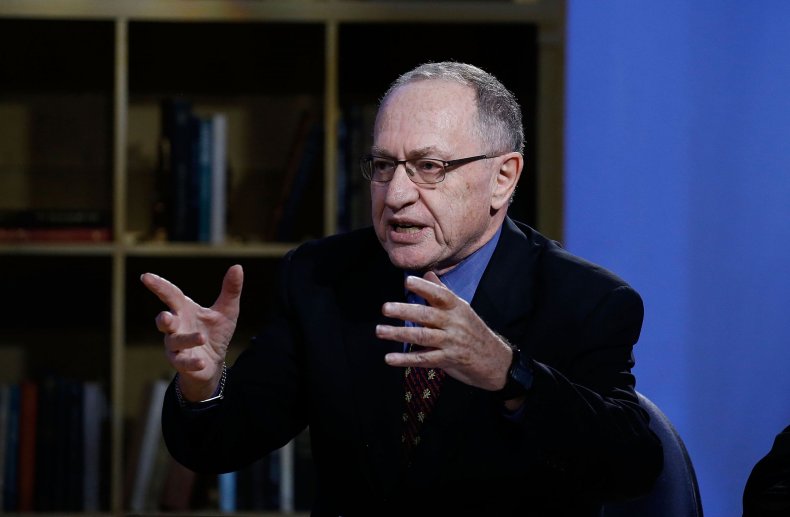 Dershowitz then spoke of the importance of educating youth about "what actually happened" during the Holocaust. "If we really want 'Never Again' to become a reality, we have to teach our students what actually happened, and how American democracy, no matter where you stand on the current president, bears no relationship to what happened in Germany in the 1930s," he said.
Jane Fonda is among those that have compared the president to the Nazi dictator. Last November, the American actress, writer and political activist urged citizens to vote during the midterm elections by suggesting there were parallels between Trump and Hitler. "If you have read anything about the rise of the Third Reich and Adolf Hitler, you will see the parallels," she said at a women's media awards ceremony in New York, according to Variety.
"Attacking the media is the first step in the move towards fascism. The cornerstone to democracy is an independent, democratic media. And it's under attack in a major way because bad guys are running it all. We have to make sure it doesn't continue."
Last week, Dershowitz expressed his disappointment over certain networks, perceived as critical of Trump, no longer inviting him to comment on news developments due to his political stance.
"It's a tragedy that the media have become so divided. Today there are Trump channels and anti-Trump channels," Dershowitz told C-SPAN's John McArdle. "You want to get the anti-Trump news you turn to CNN and CNBC. You want to get the pro-Trump news you turn to Fox."