Trump Defends Immigration Ban as 'Not About Religion'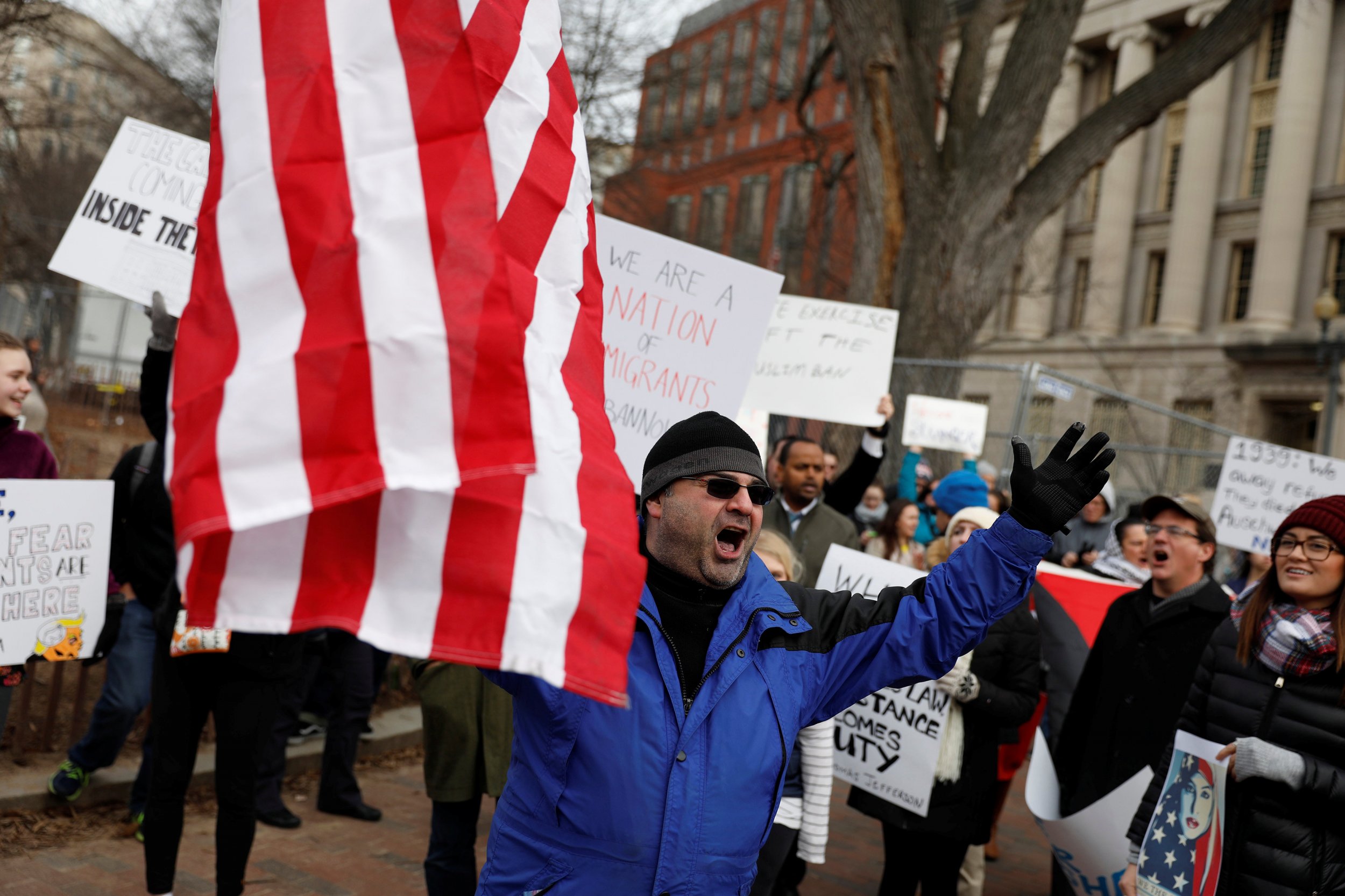 President Donald Trump on Sunday defended his move to ban entry of refugees and people from seven Muslim-majority nations and said the United States would resume issuing visas for all countries in the next 90 days as he faced rising criticism at home and abroad and new protests in U.S. cities.
Trump signed the directive on Friday, but the policy appeared to be evolving on the fly. Democrats and a growing number of Republicans assailed the move amid court challenges and tumult at U.S. airports. Trump's critics have said his action violated U.S. law and the U.S. Constitution.
Outside the White House, where some viewing stands from Trump's Jan. 20 inaugural parade still stood, several thousand protesters denounced him, carrying signs such as "Deport Trump" and "Fear is a terrible thing for a nation's soul." Tens of thousands turned out at protests in cities and airports in New York, Los Angeles, Boston, Houston, Dallas and elsewhere.
Trump, a Republican, on Friday put a four-month hold on allowing refugees into the country, an indefinite ban on refugees from Syria and a three-month bar on citizens from Iran, Iraq, Libya, Somalia, Sudan, Syria and Yemen. Border and customs officials struggled to put Trump's directive into practice. Confusion persisted over details of implementation, in particular for the people who hold so-called green cards as lawful U.S. residents.
Senator Bob Corker, the Republican chairman of the U.S. Senate Foreign Relations committee and a Trump supporter, said the president's order had been poorly implemented, particularly for green card holders.
"The administration should immediately make appropriate revisions, and it is my hope that following a thorough review and implementation of security enhancements that many of these programs will be improved and reinstated," Corker said.
Trump defended his action.
"To be clear, this is not a Muslim ban, as the media is falsely reporting," Trump said in a statement on Sunday. "This is not about religion—this is about terror and keeping our country safe. There are over 40 different countries worldwide that are majority Muslim that are not affected by this order."
He added: "We will again be issuing visas to all countries once we are sure we have reviewed and implemented the most secure policies over the next 90 days."
White House Chief of Staff Reince Priebus said people from the seven countries who hold green cards would not be blocked from returning to the United States, as some had been following the directive.
"As far as green card holders moving forward, it doesn't affect them," Priebus said on the NBC program "Meet the Press."
Priebus added that these green card holders would be subjected to "more questioning" by U.S. Customs and Border Patrol agents when they try to re-enter the United States "until a better program is put in place over the next several months."
U.S. Senators John McCain and Lindsey Graham, prominent Republican foreign policy voices, said in a joint statement that Trump's order may do more to help recruit terrorists than improve U.S. security.
"Ultimately, we fear this executive order will become a self-inflicted wound in the fight against terrorism," they said, adding the United States should not stop green card holders "from returning to the country they call home."
"This executive order sends a signal, intended or not, that America does not want Muslims coming into our country," the added.
Trump blasted the two senators in a Twitter statement, calling them "sadly weak on immigration."
In a another Twitter message earlier on Sunday, Trump said the United States needed "strong borders and extreme vetting, NOW."
"Christians in the Middle-East have been executed in large numbers. We cannot allow this horror to continue!" added Trump.
Trump's tweet did not mention that many more Muslims have been killed in the bloody Syrian civil war and other violence in the targeted countries.
Chuck Schumer, the top Democrat in the Republican-led U.S. Senate, seized on the mixed messages from Trump's administration after Priebus' comments.
"We need clarification. But it shows you, above the bad nature, the horrible nature of these (orders), the incompetence of this administration," Schumer told a news conference. "One hand doesn't know what the other is doing."
A senior administration official said green card holders would be subject to a rescreening but it had not been determined where and how those screenings would be carried out. Specific guidelines were being put together, the official said, adding: "They could be screened in many different ways and in many different places."
"I think banning refugees, banning immigrants, banning religions like Islam or any other religion, is un-American," said Will Turner, 42, draped in a U.S. flag among a crowd of several thousand people in front of the White House chanting: "No hate, no fear, refugees are welcome here."