Trump Defends Kushner With Story Citing Unnamed Sources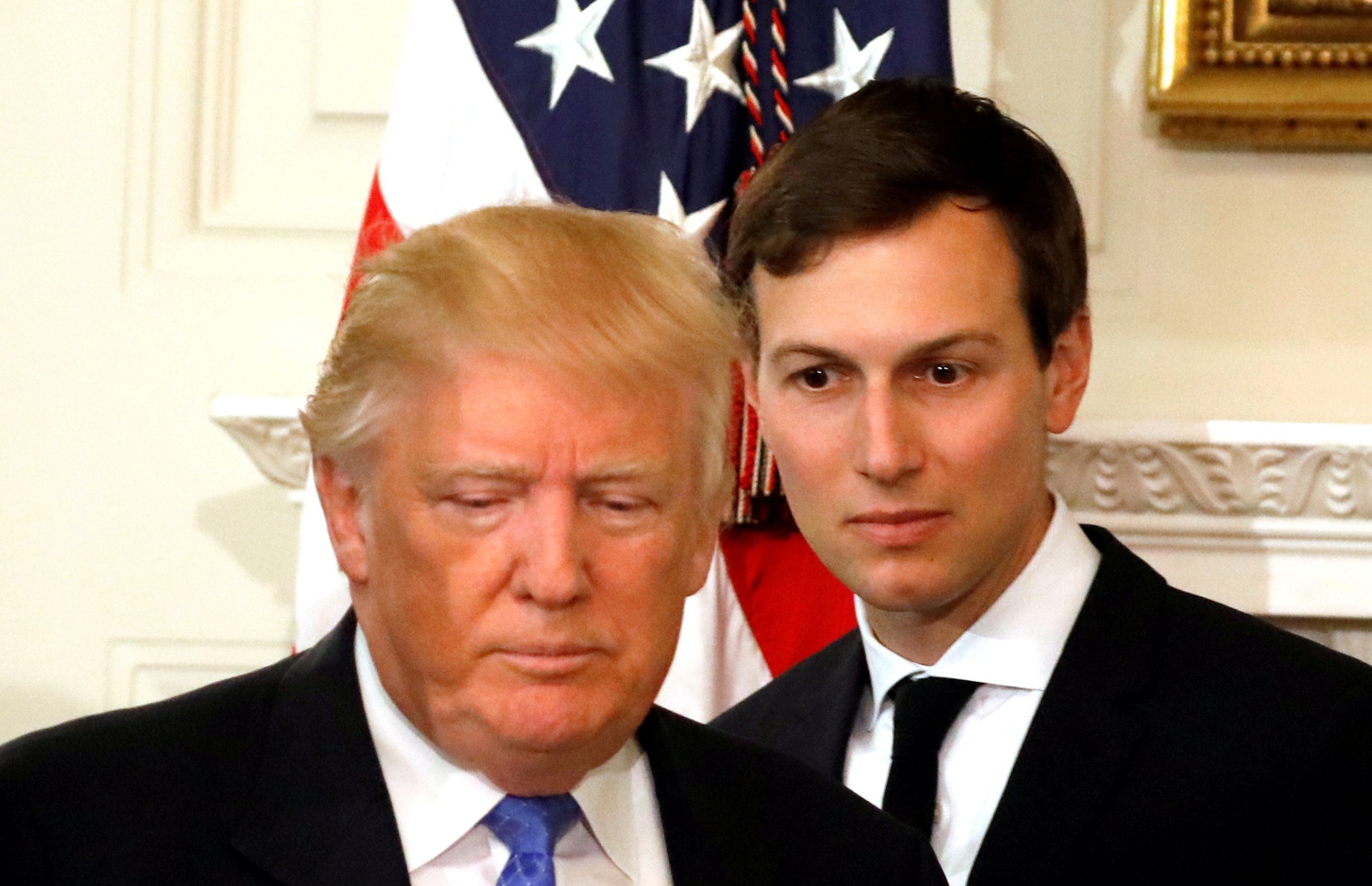 President Donald Trump on May 28 fired off five tweets denouncing the "Fake News Media," most notably warning his 30 million followers to be wary of reports that cite unnamed sources. "Whenever you see the words 'sources say' in the fake news media, and they don't mention names...." Trump tweeted. "it is very possible that those sources don't exist but are made up by fake news writers. #FakeNews is the enemy!"
One likely reason for Trump's Twitter screed against the media was a Washington Post report that his son-in-law and adviser, Jared Kushner, attempted to set up back-channel communications to the Kremlin after Trump was elected president. On Tuesday morning, Trump retweeted a Fox News report claiming to have debunked the report. It cited only "a source familiar with the matter."
The Post report claims that Kushner, in a December meeting with Russian Ambassador Sergey Kislyak, discussed setting up a "secret and secure communications channel" between the transition team and the Kremlin. The report was particularly incendiary considering Kushner was named a "person of interest" in the FBI's investigation of the Trump campaign's ties to Russia.
The Post spoke with "people familiar with the matter," "officials," "current and former U.S. intelligence officials" and other unnamed sources in reporting the story. Trump's tweets on Sunday were ostensibly in response to the allegations, which were published Friday.
Related: Trump's communications director, Mike Dubke, quits as shakeup looms
The Fox News story Trump retweeted on Tuesday claims that the December meeting between Kushner and Kislyak focused on Syria, and that it was the Russians, not Kushner, who brought up the idea of establishing a secure communications channel. The story says the channel would have only been "a one-off for a call about Syria." The report comes entirely by way of unnamed sources, and it doesn't even include a byline.
It's anything but surprising that Trump contradicted himself. In the few months since he was inaugurated, many have pointed out how previous tweets or comments have directly contradicted his actions in office. His retweet Tuesday morning is far from the first time he has relied on unnamed sources to advance his agenda. In 2012, he famously tweeted that "an extremely credible source" told him Barack Obama's birth certificate was "a fraud."
Despite Trump's campaign to convince America that Obama was born in Kenya and thus ineligible to serve as president, it's possible—if not likely—he didn't even believe this to be true. On May 28, former New York Observer editor-in-chief Elizabeth Spiers tweeted that Kushner told her that Trump "doesn't really believe" that Obama was not born in the United States, and that he only propagated the conspiracy because "he knows Republicans are stupid and they'll buy it."
The circle of corruption, it moves us all.