Trump Defends Playing Golf, Says Media 'Park Themselves Anywhere They Can to Get a Picture'
President Donald Trump defended the fact that he has regularly played golf during his tenure in the White House, inaccurately claiming that his predecessor, former President Barack Obama, "played more and much longer."
Trump played golf at his property at the Trump National Golf Club in northern Virginia on Saturday, which CNN reported was the 276th time the president has visited one of his golf course properties since entering the White House. The president has actually reportedly played golf more than twice as many times as Obama, according to CNN's analysis.
"I know many in business and politics that work out endlessly, in some cases to a point of exhaustion. It is their number one passion in life, but nobody complains. My "exercise" is playing, almost never during the week, a quick round of golf. Obama played more and much longer rounds, no problem," Trump tweeted on Sunday morning.
"When I play, Fake News CNN, and others, park themselves anywhere they can to get a picture, then scream 'President Trump is playing golf.' Actually, I play VERY fast, get a lot of work done on the golf course, and also get a 'tiny' bit of exercise. Not bad!" he wrote.
Newsweek reached out to the White House for further comment, but did not receive a response by the time of publication.
The president has faced significant scrutiny of his golfing excursions, largely because he was highly critical of Obama for golfing during his presidency.
"He may play more golf than any human being in America, and I'm not sure that's good for the President," Trump tweeted in January 2015.
"President Obama played golf yesterday???" the president tweeted in 2013 following a spat of tornadoes hitting the Midwest.
In 2011, during an interview with Fox News, Trump criticized Obama for playing golf as Japan was hit by a major earthquake. "The image of him on a golf course, while Japan is in that kind of trouble," he said at the time. "This is catastrophic trouble, I think is totally inappropriate."
Due largely to Trump's previous criticism of Obama's golfing, his regular excursions to his personal golf courses has drawn consistent media attention. The president has golfed multiple times amid the ongoing novel coronavirus pandemic, even as well over 134,000 people have died in the U.S. and new infections continue to surge.
During his 2016 campaign, Trump claimed he would not have time to play golf after if won the presidential race. "I'm going to be working for you, I'm not going to have time to go play golf," he told supporters.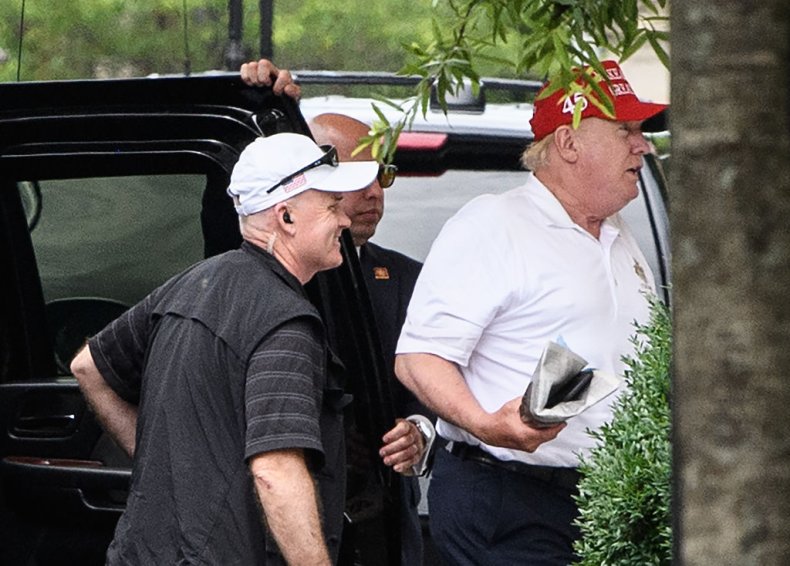 Some were quick to criticize and fact-check Trump's tweets about golfing on Sunday morning.
"This is — of course — another lie. Trump has played twice as many rounds as Obama had played by this point in his presidency," Brian Klaas, an associate professor in global politics at University College London, tweeted in response. "But the main problem is that, for years, Trump relentlessly attacked Obama for playing golf. Now he does it twice as often and thinks criticism is unfair."
Steve Harman, White House bureau chief for Voice of America News, also fact-checked the president's claim.
"During his presidency, @realDonaldTrump has been on the grounds of his golf courses or played golf elsewhere 275 times," Harman tweeted. In a follow-up post, he wrote: "During his first term in office, @BarackObama played golf 113 times."
Trump Defends Playing Golf, Says Media 'Park Themselves Anywhere They Can to Get a Picture' | U.S.