Trump Defends 'Send Her Back' Chanters with Retweet of Katie Hopkins, Far-Right Commentator Who Called Migrants 'Cockroaches'
President Donald Trump continued to defend himself and his supporters after racist chants broke out at his North Carolina campaign rally earlier this week, releasing a torrent of tweets and retweets Saturday morning that attempted to justify his inaction when those in attendance began to yell "send her back" in reference to Somali-born Congresswoman Ilhan Omar.
In his latest attempt to defend himself, however, Trump once again elevated the voice of Katie Hopkins, a far-right British commentator who has likened immigrants to rodents and cockroaches, encouraged law enforcement to racially profile the public and once tweeted a racist slur at a black man.
"As you can see, I did nothing to lead people on, nor was I particularly happy with their chant — just a very big and patriotic crowd. They love the USA!," Trump wrote, adding his commentary to a post from Hopkins with his 62 million twitter followers.
The original tweet from Hopkins asserted that "Send her back is the new lock her up," a reference to the rallying cry Trump and his supporters used in 2016 to disparage opponent Hillary Clinton. Lest anyone think she was criticizing these chants, Hopkins concluded with the note "Well done to #TeamTrump."
A video attached to Hopkins' tweet shows the incendiary moment from Wednesday's rally, during which Trump accuses Omar of "launching vicious, anti-semitic screeds." The crowd then launches into the "send her back" chant, while Trump stands silently at the podium, allowing the chorus to grow.
The stunning moment irked some Republican lawmakers and, according to reports, those within Trump's inner circle. In the days since, the president has waffled between supporting those in attendance and distancing himself from their cries.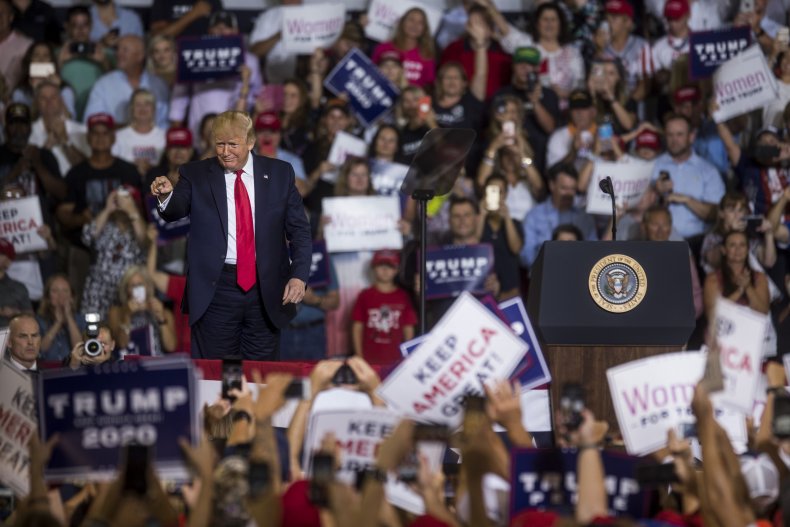 In other Saturday morning tweets, Trump retweeted a 2-minute video spiel from Hopkins in which she argued, nonsensically, that a vote against Trump was a vote in favor of ISIS. The president also shared a tweet of Hopkins' that criticized London law enforcement and London Mayor Sadiq Khan, and yet another post in which Hopkins said, "How I wish we had such leadership in the U.K," referring to Trump.
It's not the first time the president has seemingly legitimized the perspective of the commentator. Earlier this month, he pushed forward her praise of far-right leaders, sparking another backlash.
As critics noted, the president dramatically expands Hopkins' reach on the social media site with each share. For the most part, her missives garner between a couple hundred and a couple of thousand likes; those retweeted by the president have earned tens of thousands. She currently has just under 1 million followers on the social media platform.
On Saturday, the term "Katie Hopkins" began to trend on Twitter, with scores of prominent users decrying the president's tacit endorsement.
George Conway, an attorney and notorious Trump critic who is married to White House Counselor Kellyanne Conway, was among the many social media users on Saturday to decry the elevation of Hopkins' writings.
"So the President is the United States is (again) retweeting a woman who once wrote a column saying migrants were "cockroaches" and "feral humans" and "spreading like the norovirus," and once tweeted, "Racial profiling is a good thing. Call me racist, I don't care."
Of course, whether the criticism bothers Trump remains to be seen. The Democrat-controlled House of Representatives passed a resolution last Tuesday condemning the president for his "racist tweets" about four Democratic congresswomen of color, including Omar, but the censure apparently has done little to stymy his inflammatory use of the social media platform.