President Donald Trump on Tuesday deflected questions about the 25th Amendment and said that it will "haunt" President-elect Joe Biden's administration.
"The 25th Amendment is of zero risk to me but will come back to haunt Joe Biden and the Biden administration," Trump said while speaking in Texas near the Mexico border wall. "As the expression goes, 'Be careful what you wish for.'"
On Monday, House Republicans blocked an attempt by Democrats to pass a resolution calling on Vice President Mike Pence to invoke the 25th Amendment, which outlines a procedure to replace the president, in the event that he is unfit to serve.
Trump also spoke about the articles of impeachment House Democrats filed against him on Monday for "incitement of insurrection."
A majority of House members are needed to vote in favor of impeaching the president to pass it to the Senate, where 17 Republican Senators will also need to vote in favor to reach the two-thirds majority, required for conviction. Prior to the riots at the Capitol, Trump made repeated claims of widespread voter fraud in the 2020 election and called for his supporters to help him fight back, which many believe helped incite the violence last Wednesday.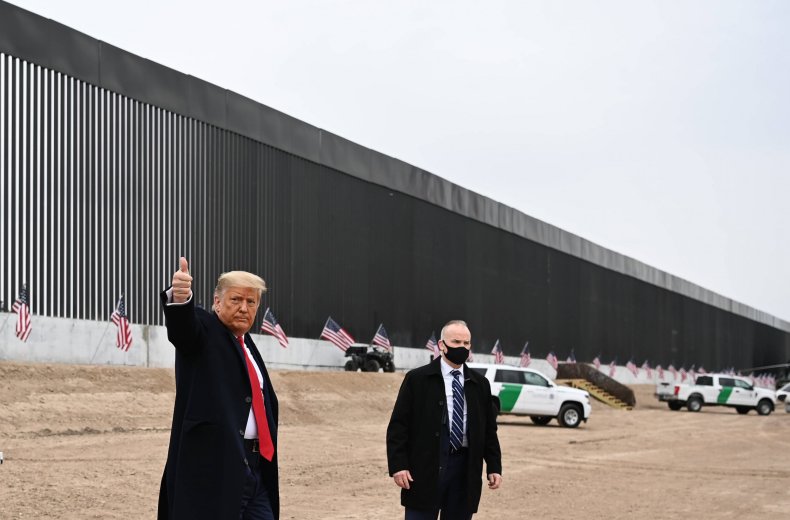 "The impeachment hoax is a continuation of the greatest and most vicious witch hunt in the history of our country and is causing tremendous anger and division and pain far greater than most people will ever understand," Trump said. "Which is very dangerous for the U.S.A. especially at this very tender time."
Trump's comments come amid political unrest following the January 6 riots at the U.S. Capitol, when his supporters breached the building in protest of a congressional session to certify Biden's win in the 2020 presidential election.
As his speech continued, Trump touched on the Capitol riots and said, "Millions of our citizens watched on Wednesday as a mob stormed the Capitol and trashed the halls of government."
He continued, "As I have consistently said throughout my administration, we believe in respecting America's history and traditions, not tearing them down. We believe in the rule of law, not in violence or rioting."
Over 70 people have been charged in connection with the riots, and on Tuesday, acting attorney general for the District of Columbia, Michael Sherwin, said that at least 170 cases have been opened but investigations could take months to complete.
Newsweek reached out to the White House and Biden's transition team for comment.