Trump Delivers on Promise to Advance Religious Freedom Abroad | Opinion
This week, President Trump issued a historic executive order that ensures international religious freedom will be a major piece of his legacy. The new directive gives the U.S. government more tools than ever before to advance religious freedom globally and to penalize foreign nations that perpetrate or allow religious persecution.
From now on, the U.S. government's recommendations about foreign assistance will include explicit consideration of a country's record on religious freedom. Tying human rights to foreign relations is precisely what human rights activists have been demanding for decades. Western leaders have long been called out for prioritizing national and economic interests over human rights. Now "America First" Trump, of all leaders, is going to put his money where his mouth is, tying diplomatic and economic decisions to international human rights considerations.
And the administration has been clear about its concern to protect all religious minorities, not just a select few. At the United Nations, for example, the U.S. mission has advocated extensively for the rights of Yazidis in Iraq and Syria, Uighurs and Falun Gong minorities in China, Rohingya in Burma, Jehovah's Witnesses in Russia and Cao Dai in Vietnam, among others.
Critics of the executive order's provisions to consider religious freedom records in the context of economic assistance have claimed that it could harm relations with U.S. allies, like Egypt and India, who have bad religious freedom records. They also argue that this carrot and stick approach lacks evidence of success. But these arguments are exactly what the human rights community has been fighting against for so many years. Until standing up for human rights has a real cost, talk of human rights is hollow rhetoric.
The executive order will provide serious executive teeth to the legislative structure established by the International Religious Freedom Act (IRFA), a bipartisan law passed by Congress in 1998 and unanimously strengthened and amended in 2016. IRFA established an assessment tool that is used by the U.S. State Department to create lists of the worst violators of religious freedom. The executive order directs the secretary of State and secretary of the Treasury to consider countries' rankings on these lists when making recommendations about foreign relations, in general, and financial assistance, in particular. The order specifically allows for the use of visa restrictions and sanctions.
IRFA also allows financial sanctions to be used against religious freedom violators, but such sanctions have been rare and almost exclusively double-hatted—initially put in place for other reasons and then later also counted as religious freedom sanctions. Now, executive agencies will be specifically directed to consider such measures, as well as reductions in foreign assistance, when dealing with countries that score poorly on the religious freedom rubric.
In a more subtle but potentially equally impactful move, the order also seeks to create a more religious freedom-literate foreign service, requiring diplomats to receive extensive training and incorporate religious freedom concerns into their dealings with their host countries. The order also requires the heads of U.S. embassies abroad to create comprehensive plans for improving religious freedom and supporting prisoners of conscience in their host countries, and creates a $50 million minimum budget for programming to advance international religious freedom.
This week's order is the most significant accomplishment on the Trump administration's already-impressive resume of international religious freedom. At the National Prayer Breakfast in February, the President claimed that he was "standing up for persecuted Christians and religious minorities all around the world, like nobody has ever done." This claim may have seemed like empty bravado to those who have not been closely following international religious freedom issues, but the administration has indisputably centered attention on religious freedom around the world in numerous and vital ways.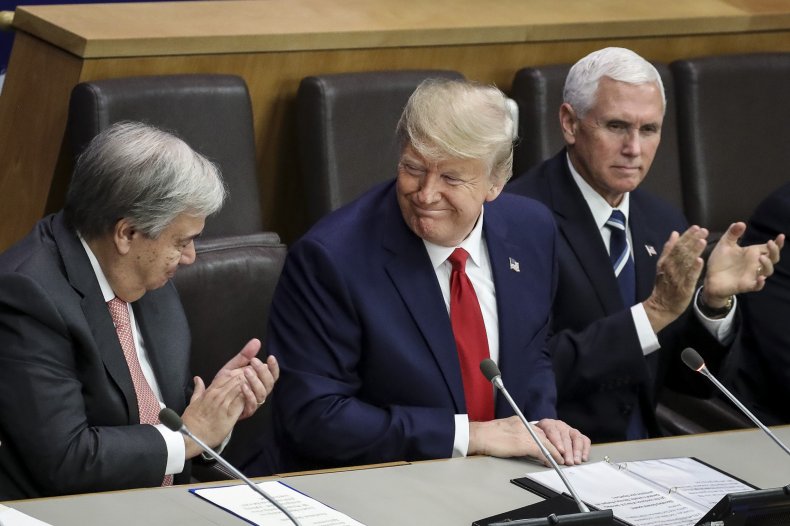 Three years ago, the administration launched the first-ever Ministerial to Advance Religious Freedom, which brought together hundreds of government officials and civil society actors from every continent. Last year, the administration vowed to vastly expand Washington, D.C.'s widely attended religious freedom roundtables for civil society actors—called the International Religious Freedom Roundtable—by launching 100 such forums around the world. And earlier this year, the administration hosted the first meeting of its newly created International Religious Freedom Alliance, a group of 29 countries—and counting—dedicated to working together at the highest levels of government to advance religious freedom policies worldwide.
The administration has drastically expanded the reach of religious freedom advocacy globally, and it has done so in a way that ensures these efforts will outlive the Trump administration and will not be fully reliant on future U.S. administrations' own commitment to this issue. For example, the administration has taken major steps to decenter itself from its flagship international religious freedom event by allowing Poland to host this year's third annual Ministerial to Advance Religious Freedom.
This new directive has been in motion for some time. The administration was eager to get it signed into law shortly after the president's remarks at the U.N. on religious freedom back in September, but the order has been pushed back for a variety of reasons. With its comprehensive scope, the drafting and approval processes involved many months of coordination between numerous governmental departments and agencies, including the State Department, Domestic Policy Council, Department of Justice, U.S. Agency on International Development, the National Security Council, Treasury and Health and Human Services. After the final draft received government-wide clearance, it was set to be signed on March 23 to mark the six-month anniversary of Trump's U.N. speech, only to be put on further hold as COVID-19 swept the nation.
The world will now watch to see how this new, more comprehensive approach to advancing international human rights takes shape. But only the most pessimistic observer could fail to be hopeful about the possibilities for defending the rights of the oppressed and persecuted.
Kelsey Zorzi is president of the U.N.'s NGO Committee on Freedom of Religion or Belief and director of advocacy for global religious freedom for ADF International.
The views expressed in this article are the writer's own.