Trump Demands End to Flag Burning as Protests Rage, Statues Fall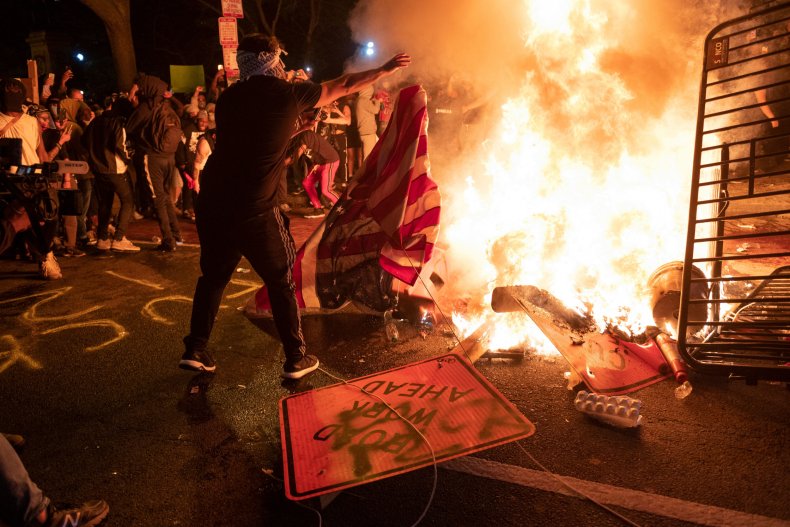 Amid deep unrest that has prompted the toppling of historic statutes and violent clashes between protestors and police, President Donald Trump has revived a long-standing debate over whether it should be legal to burn the American flag in public displays.
"We ought to come up with legislation that if you burn the American flag you go to jail for one year," Trump said to applause during a campaign rally in Tulsa, Oklahoma, on Saturday. "We oughta do it. They talk about Freedom of Speech—I'm a big believer in Freedom of Speech—but that's desecration. That's a terrible thing they're doing."
It's not the first time Trump has called for a ban on burning the American flag, which the U.S. Supreme Court deemed protected symbolic speech in rulings three decades ago.
But ongoing protests that broke out after the killing of George Floyd in Minnesota,—which have included multiple American flag burning demonstrations just yards from the White House—have thrust the issue back onto the list of Trump's chief grievances.
He urged Congress on Twitter late Tuesday evening to "do something about the lowlifes that burn the American Flag."
"It should be stopped, and now!" he wrote.
Several lawmakers through the years have proposed Constitutional amendments to get around the Supreme Court's decision and officially make flag burning and other desecration illegal, but none has ever gotten enough support to be passed onto states to consider for adoption.
Last year, Trump voiced support for one such proposal from Republican U.S. Sen. Steve Daines from Montana, tweeting that he was "all in" for "an Amendment for a strong BAN on burning our American Flag."
"A no brainer!" Trump tweeted in June 2019.
The proposed amendment, which would require approval from 38 state legislatures, would give Congress the power to prohibit flag burning.
"Our United States flag is a timeless symbol of liberty that tells the story of America, the story of our enduring pursuit of freedom," Daines said in a Flag Day news release on the amendment. "Remembering the sacrifices of all who carried its colors into battle, our nation should always render the flag the honor and dignity it is due."
Aside from seeking new protections for the American flag, Trump also has signaled he supports a hard-line approach and seeking the harshest penalties possible for people who destroy historical monuments.
Across the country, monuments to Confederate generals, slaveholders and other historical figures have been toppled or defaced by protestors.
Under a federal law that Congress passed in a bipartisan vote in 2003, anyone who "willfully injures or destroys, or attempts to injure or destroy, any structure, plaque, statue, or other monument on public property commemorating the service of any person or persons in the armed forces of the United States shall be fined under this title, imprisoned not more than 10 years, or both."
"I've made clear that any rioters damaging federal property and defacing our monuments will face severe and lengthy criminal penalties," Trump told a rally crowd in Phoenix, Arizona on Tuesday. "Ten years."
Law enforcement, armed with pepper spray and large shields, fought off demonstrators who had chains and were trying to overturn a statue of Andrew Jackson, the nation's third president, during a chaotic event in Lafayette Square outside the White House on Monday.
"We heard they were going to take down the statue of Andrew Jackson—a beautiful statue in Lafayette Park," Trump told a group of supporters in Arizona. "We sent people there, and law enforcement did an incredible job."