Trump Denies Conversation With General Milley About Coup, 'Never Even Gave A Thought'
Former President Donald Trump has denied that he ever had a conversation about a coup with Gen. Mark Milley, chairman of the Joint Chiefs, after reports emerged that the highest-ranking U.S. officer feared Trump would attempt a coup to maintain the presidency.
"Despite the fact that the 2020 Presidential Election was Rigged and Stolen, and while numerous people, including the outside public, were saying we should bring in the Military, I never even gave it a thought," Trump wrote in a Friday statement.
"Never once did I have a discussion with [Milley] about bringing in the Military, or a 'coup,' which makes sense, because I lost total confidence in him and the way he handled himself on our little walk to the church," he said, referring to a walk the two took together as part of a larger group to St. John's Church in June 2020.
The trip to the church received widespread criticism because U.S. Park Police and National Guard troops using tear gas and pepper spray dispersed a crowd of protesters at Lafayette Square before Trump and Milley and the others walked through the park to get to St. John's.
On Friday, Trump stated that there was never an attempt of a coup, although a pro-Trump mob stormed the Capitol in a deadly attack on January 6 as part of an effort to overturn the results of the 2020 presidential election in Trump's favor.
"There was no talk of a coup, there was no coup, it all never happened, and it's just a waste of words by fake writers and a General who didn't have a clue," Trump said.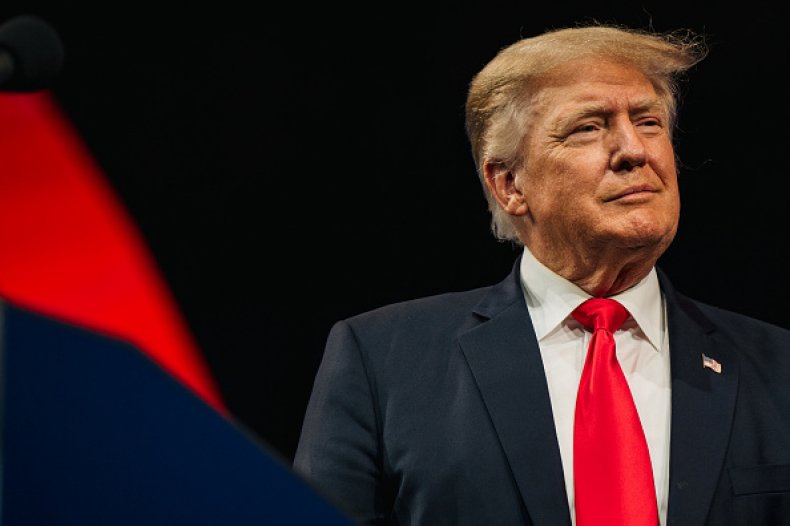 His remarks come after claims from an upcoming book by Washington Post reporters Carol D. Leonnig and Philip Rucker—I Alone Can Fix It—claimed that Milley feared that Trump would attempt a coup. The book also alleges that the top general and other Joint Chiefs planned to individually resign instead of carrying out unconstitutional orders from Trump in the wake of the election.
Trump's Friday statement is the second time he has fired back at the book's claims this week.
On Thursday, Trump dismissed the book's assertion and said that while he isn't Into coups," Milley would be the "one of the last people I would want to do [a coup] with."
"The way I look at Milley, he's just a better politician than a general, trying to curry favor with the Radical Left and the absolute crazy people espousing a philosophy which will destroy our Country!" Trump said.
The former president nominated Milley to his position back in 2018.
Newsweek reached out to the Department of Defence but did not receive a response in time for publication.