Trump Denies Mark Meadows' Claim That He Had COVID During Biden Debate, 'Fake News'
Former President Donald Trump is disputing claims made by his former chief of staff Mark Meadows, who alleged that Trump had tested positive for COVID-19 ahead of last year's presidential debate with then-Democratic nominee Joe Biden.
"The story of me having COVID prior to, or during, the first debate is Fake News. In fact, a test revealed that I did not have COVID prior to the debate," Trump said in a Wednesday statement.
In his new memoir, The Chief's Chief, Meadows wrote that Trump had tested positive three days before the first presidential debate with Biden despite the fact that both candidates were required to provide a negative test within 72 hours before the event.
The former Trump official said that because the test was completed with an old model kit, the test was repeated with the Binax test, which came back negative.
According to The Guardian, which obtained a copy of Meadows' book ahead of its publication next week, Trump took the second test as "full permission to press on as if nothing had happened."
Three days after the September 29 debate with Biden, Trump announced on Twitter that both he and former First Lady Melania had tested positive for the virus.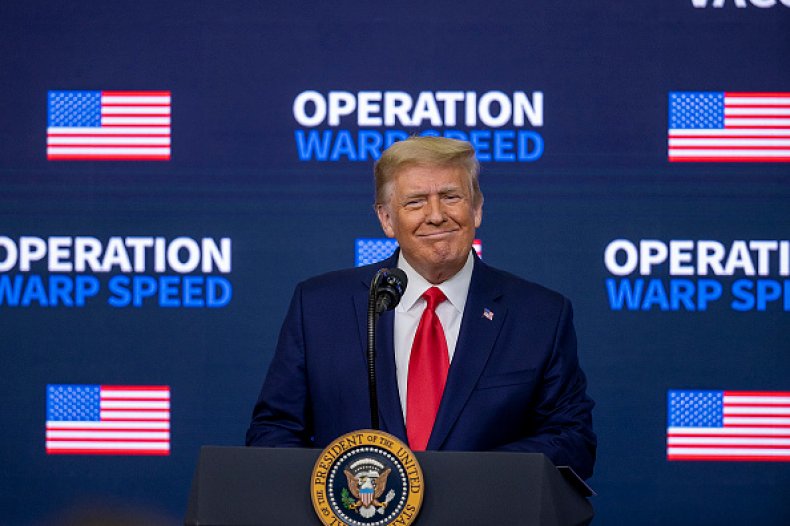 Fox anchor Chris Wallace revealed after the debate that neither Trump nor Biden had been tested at the hall as both campaigns arrived too late to have completed a test. Wallace said organizers relied on an honor system where the campaigns would ensure each of their candidates produced a negative test.
Trump's recent comments were a shift from previous statements he made about Meadows' new book.
Back on October 13, Trump praised Meadows and promoted his memoir, urging his supporters to pre-order a copy of the book "If you want to learn about politics, truth, our great administration, and exciting achievements that took place in government."
"Mark Meadows, our great Chief of Staff during some very exciting White House years, has written a new book entitled The Chief's Chief," Trump said in a statement.
"Seriously, it's a fantastic book, and Mark Meadows and his wonderful wife are great people," he added.
In his memoir, Meadows said he "didn't want to take any unnecessary risks" after the first positive test came back and instructed everyone in Trump's inner circle "to treat him as if he was positive," but said he also held off from revealing the result of that test to the public because he "didn't want to alarm the public if there was nothing to worry about – which according to the new, much more accurate test, there was not."
Newsweek reached out to the Biden administration for comment but did not hear back before publication.