Trump Denies Melania Is Refusing to Return to White House if He Wins in 2024
Former President Donald Trump denied former first lady Melania Trump plans not to join him in the White House if he runs and wins the presidential election in 2024.
Trump hasn't officially confirmed he'll make another bid for the White House and he's unlikely to officially launch another presidential campaign until after the 2022 midterms. However, he's consistently teased a 2024 campaign since leaving office and it sparked rumors that Melania wasn't interested in reprising her role as the first lady.
When Fox & Friends host Brian Kilmeade asked Trump about Melania allegedly saying she wouldn't return to Washington, D.C., the former president denied that was the case, saying, "no, that's not true."
"More fake news," Trump said during Thursday's interview. "She was a great first lady, she did a great job. She loves the people, they love her."
Several outlets have reported that Melania isn't interested in returning to public life and is enjoying being out of the national spotlight. Someone close to the first lady during her time in the White House told CNN that being the first lady again is "not what she wants." Melania, according to the anonymous source, considers her time in the White House a chapter that's "over."
"You're not going to see her at rallies or campaign events, even if he 'officially' says he's running again," another person told CNN. "Instead it's going to be Lara [Trump] or [Kimberly] Guilfoyle. They have that same urge Trump has to [run] again; Melania absolutely does not."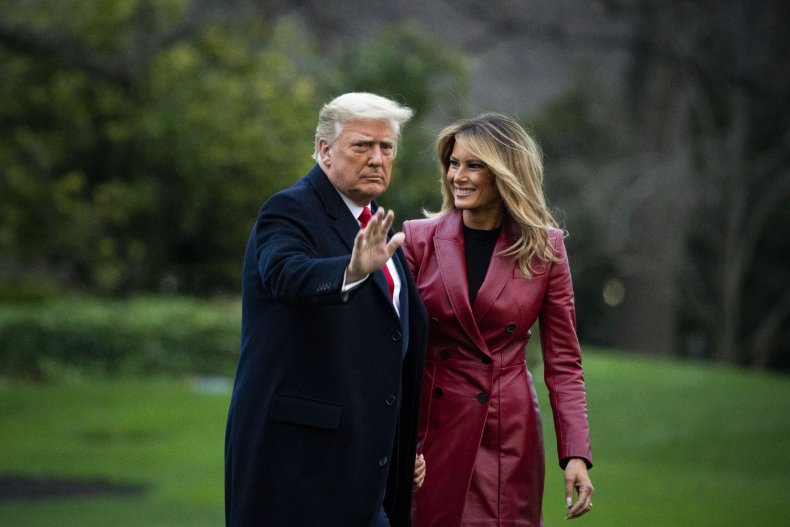 Another source, who also remained anonymous, told People that Melania was "relieved" when Trump's term in office ended because the "media glare is not for her."
Trump's been a bit cagey about whether he'll make another bid for the White House, often relying on the comment that people will be "very happy" with his decision and dismissing that other Republicans could beat him for the nomination. His most telling admission about a White House run came during a Newsmax interview when he said the only reason he wouldn't run is if a doctor advised against it.
During Thursday's Fox & Friends interview, Trump lambasted President Joe Biden for "ruining" the country and said he would have been more successful if he'd "gone to the beach" when he assumed office. When asked if he was the person to "fix" the country, Trump didn't explicitly say he was, but pointed to his polling numbers.
Trump's decidedly the strongest candidate Republicans have for the 2024 nomination, regularly coming out on top of polls with GOP voters. He's also seen some of his highest polling numbers in Iowa and is often neck and neck with Biden in hypothetical matchups.
"I'm not going by polls but I'm just saying I did it before," Trump told Fox & Friends, referring to him "fixing" the country.