Trump Denies Postal Service Threats, Says Democrats Can Negotiate Funding
President Donald Trump, who has spent recent weeks voicing his opposition to mail-in voting, doesn't support additional funding for the U.S. Postal Service that Democrats say is necessary to ensure secure elections during the coronavirus pandemic.
But on Thursday evening, he walked back remarks that were taken as a threat of intentionally sabotaging postal operations to his political advantage this fall.
"If we could agree to an overall bill, which is much bigger than the post office, then that would be fine," Trump told reporters.
During a telephone interview that aired on Fox Business earlier in the day, Trump said that if the postal service doesn't get an additional $25 billion that Democrats are seeking in the next coronavirus relief package, then the agency wouldn't have the capacity to successfully handle mail-in ballots anticipated as states try to give voters alternatives to curb the spread of COVID-19.
"They need that money in order to have the post office work so it can take all of these millions and millions of ballots," Trump told Fox Business' Maria Bartiromo. "If they don't get those two items, that means you can't have universal mail-in voting because they're not equipped to have it."
Democrats are also seeking $3.5 billion for elections resources for the fall, which he has repeatedly called "fraudulent" and falsely claimed is funding to implement nationwide, universal mail-in voting.
"They want $3.5 billion dollars for something that'll turn out to be fraudulent, that's election money basically," he said during the Fox Business interview. "Universal mail-in ballots."
During Trump's Thursday evening press briefing, he attempted to offer a window for some USPS funding, though he continued to stress his opposition to plans for voting by mail this fall. He said he wouldn't veto additional funding for the postal service and turned back to the ongoing feud between the White House and Democratic leaders over coronavirus relief talks.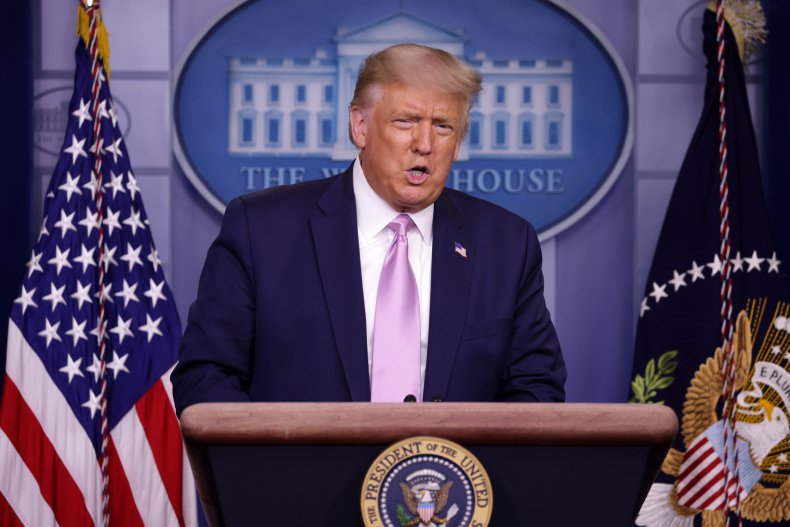 "If the bill isn't gonna get done then that would mean the post office isn't going to get funded and that would also mean the $3.5 billion also isn't going to be taken care of," he said, explaining his earlier remarks as an inevitability rather than a threat. "So I don't know how you could possibly use these ballots."
He seemed to give a window into using some amount as a bargaining chip to bring Democrats back to the table after negotiations crumbled earlier this month.
"I can understand the post office and if we could agree to an overall bill, which is obviously a much bigger number than just the post office, then that would be fine, but they have the post office as one of their requests," Trump said. "Whether it's the post office or the $3.5 billion for universal mail-in ballots, they're not willing to make a deal. These are two points within a very big deal."
Trump again said main his issue with the Democrats' proposal has been additional funding to aid cities and states whose budgets have been wrecked by the coronavirus pandemic. While many states of both political leanings are feeling the fiscal crunch, based on budget tracking from the National Conference of State Legislatures, Trump claims that the plan would be more beneficial to Democrat-led places that have been mismanaged.
Trump still stressed that he's against universal mail-in voting but supports absentee voting, an application based form of mail-based voting that also relies heavily on the strained postal service.
"One of the reasons the post office needs all that money is they'll have all these millions of ballots coming from nowhere—nobody knows from where and when they're going," he said. "They also want $3.5 billion for ballots themself. Why it's so much, I don't know, but that's what the Democrats want."