Trump Denies Pressing FDA on Oleandrin for COVID-19, As MyPillow CEO Says President Was 'Enthusiastic'
President Donald Trump has denied pressing the Food and Drug Administration (FDA) to approve the plant extract oleandrin as a treatment for COVID-19.
The extract is being pushed to administration officials as a coronavirus therapeutic by Trump backer and MyPillow CEO Mike Lindell—who recently took a stake at Phoenix Biotechnology (PB), a company that produces oleandrin—as well as Housing and Urban Development (HUD) Secretary Ben Carson. The substance is currently unproven for this purpose.
Lindell—who was appointed to the Phoenix Biotechnology board last week—told Axios that during an Oval Office meeting in July involving himself, Carson, the president and Andrew Whitney, an executive at the company, Trump said that the FDA "should be approving" oleandrin as a coronavirus treatment.
Lindell also told CNN that the president's response toward oleandrin—an extract of the highly toxic Nerium oleander plant—was "enthusiastic."
"He was enthusiastic, as he is on everything that's going to help people," Lindell told CNN, adding that the president wanted the FDA to "do its course."
On Monday, the president confirmed to a reporter on the White House South Lawn that he had heard about oleandrin but denied that he had pressed the FDA to approve it.
When the reporter asked Trump if oleandrin was a potential therapeutic he would support, the president responded: "Is it something that people are talking about very strongly? We'll look at it.... We're looking at a lot of different things."
"I will say, the FDA has been great. They are very close—we're very close to a vaccine, very close to a therapeutic. I've heard that name mentioned. We'll find out. I can get back to you later. Okay?"
A member of the White House Coronavirus Task Force told CNN that oleandrin had never been bought up at any of their meetings, even when Carson was in attendance.
To date, no peer-reviewed studies have been published in scientific journals assessing the efficacy of oleandrin as a COVID-19 therapeutic. It has not been approved by the FDA for this purpose.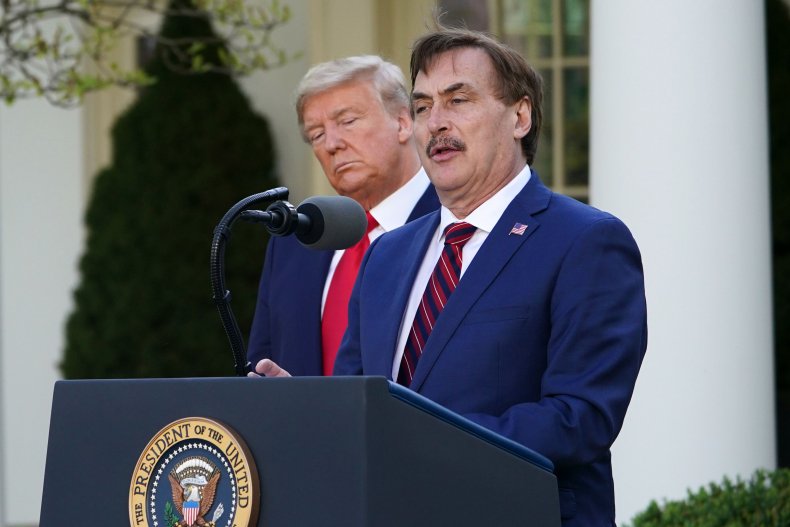 One pre-print—meaning non-peer-reviewed—paper describing test-tube research conducted by a team from the University of Texas at Galveston found that the plant extract inhibits the virus in monkey kidney cells. Two of the listed authors of the study are employed by Phoenix Biotechnology.
Lindell—who is chairman of the Minnesota Trump campaign and a personal friend of both the president and Carson—said he first heard about oleandrin in April after being contacted by Whitney.
The MyPillow founder reportedly helped to arrange the July Oval Office meeting with Trump during which Whitney discussed the issue of oleandrin being used as a treatment for COVID-19, according to The Washington Post.
Some senior officials in the Trump administration have expressed their concern that a "dubious" product is being pushed at the highest levels of the American government in the middle of a pandemic.
Michael Caputo, Department of Health and Human Services spokesperson, told CNN: "I'm quite certain the president strongly supports every possible safe and effective COVID treatment. As always, let's see where the trials take us."
Some research suggests that oleandrin could potentially be useful as a treatment for various cancers, including those of the colon, pancreas and prostate.