Trump Denies Writing Foreword in Mitch McConnell Memoir Praising Him As 'Ace in the Hole'
Former President Donald Trump has claimed he did not write the foreword for the 2019 edition of Mitch McConnell's memoir that is attributed to him.
Trump's foreword calls McConnell an "ace in the hole" and says that he "couldn't have asked for a better partner" than the Kentucky Senator while in Washington D.C. But now Trump disputes writing any of it.
In a story published Monday in The Washington Post, Trump said he didn't pen the positive words for The Long Game, McConnell's book.
Trump told the Post he said to McConnell when asked about providing the foreword: "'Why don't you write it for me and I'll put it in, Mitch? Because that's the way life works.'"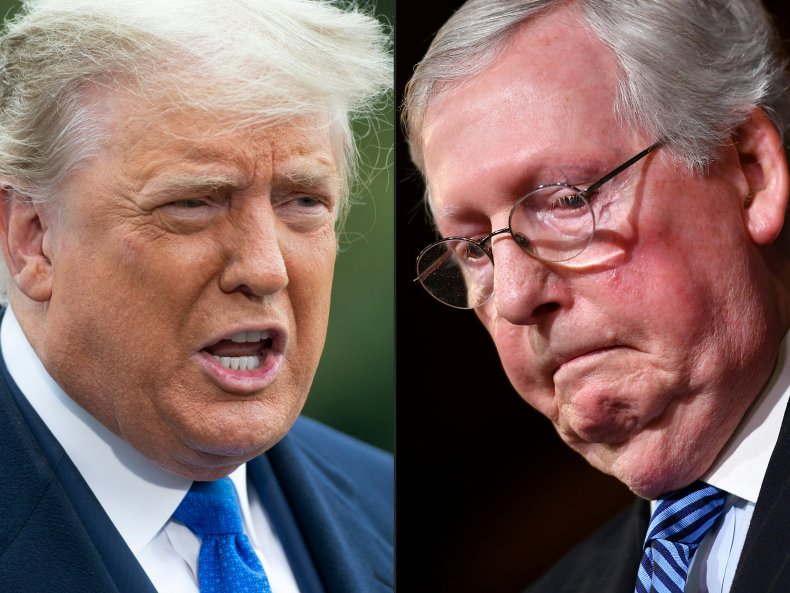 McConnell's memoir was written when the Kentucky Republican was the Senate Majority Leader. The Long Game was first published in 2016 without Trump's foreword, but the chapter was included in the paperback edition, which became available to retailers in December 2019.
In the foreword attributed to Trump, one passage discusses the many judicial confirmations under the former president, including three justices for the Supreme Court. It also details how then-Senate Majority Leader McConnell helped Trump's 2017 tax cuts get passed on a party line vote.
"The effort to transform the courts is one that will benefit the American people far into the future. It is a legacy of which I am immensely proud and one for which Mitch McConnell deserves great credit," the foreword states. "Confirming judges has been a key part of making the past two and a half years one of the most productive and conservative periods in our nation's history."
The denial from Trump about the book's opening came in a Post profile of McConnell. When asked by the paper about Trump's claim regarding the foreword, McConnell is quoted as saying, "I really don't have anything to add related to him."
Trump has been highly critical of McConnell ever since the senator refused to back false claims from the former president about the 2020 presidential election results. Most recently, Trump on Sunday criticized the bipartisan infrastructure bill passed by the House of Representatives on Friday. In a statement, he attacked Republicans who supported the bill and singled out McConnell.
"All Republicans who voted for Democrat longevity should be ashamed of themselves, in particular Mitch McConnell, for granting a two month stay which allowed the Democrats time to work things out at our Country's, and the Republican Party's, expense!" Trump wrote in the statement.