Trump Announces U.S.-Mexico Border Wall and Immigration, Refugee Plans in DHS Speech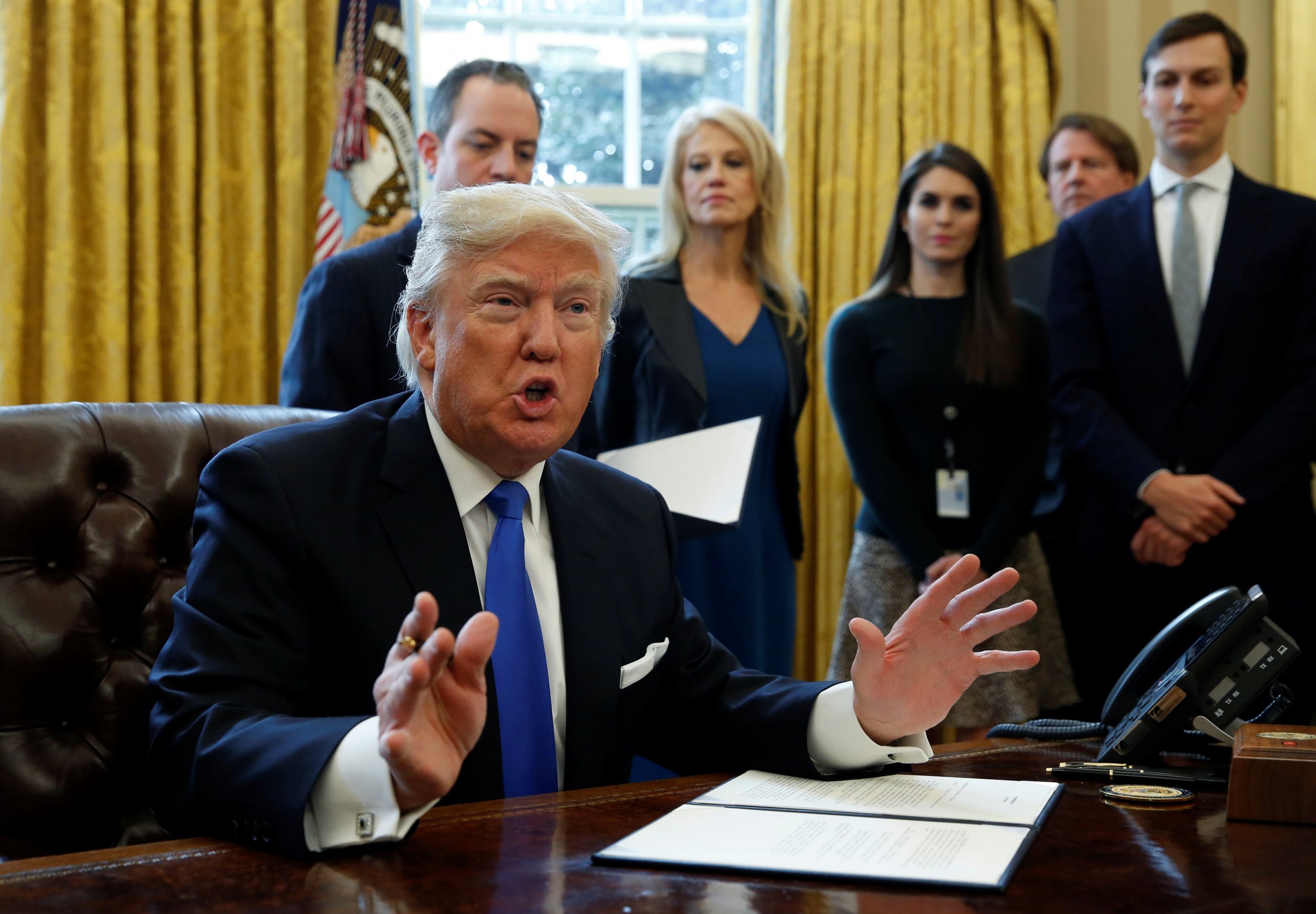 The Department of Homeland Security will seek to restore the "rule of law,"
President Donald Trump said during a speech coinciding with two executive orders regarding the U.S.-Mexico border and immigration policy on Wednesday. Without a mention of Congress, Trump focused on his interest in enforcing "current law" and moralizing the enforcement of those laws, bluntly calling drug dealers and violent immigrants the "bad ones."
According to a draft copy of the order regarding immigrants, called "Protecting the Nation from Terrorist Attacks by Foreign Nationals," as published by The Los Angeles Times (USRAP stands for The United States Refugee Admissions Program):
"The Secretaries of State and Homeland Security, as appropriate, shall cease refugee processing of and the admittance of nationals of Syria as refugees until such time as I have determined that sufficient changes have been made to the USRAP to ensure its alignment with the national interest."
The draft order directed the aforementioned secretaries to "only process and admit a total of 50,000 refugees during Fiscal Year 2017."
In addition to the order on immigration policy, Homeland Security has been called to lead the management of the construction a U.S.-Mexico border wall in consultation with White House staff, Trump said, without describing the source of funding or estimates for the costs of the massive project.
Related: The Environmental Impact of the U.S.-Mexico Border Wall
Between breaks of applause, Trump claimed that DHS employees have not been able to "properly do their jobs," without specifying which laws the department was allegedly neglecting, willfully or not. Trump also mentioned new support which may become available as the department seeks to establish an office to aid "victims of illegal immigrant crime," without specifying an estimated budget for such aid.
"I will be a president, I promise you, for everyone," Trump said in a nod to his 2o16 electoral victory, before ending his remarks by congratulating the department's new secretary, Gen. John Kelly, and wishing him "good luck." Trump quickly shook hands with attendees in the front rows of the crowded room, which appeared to be standing-room only based on the broadcasted feed.
On Tuesday night, Trump tweeted, "Big day planned on NATIONAL SECURITY tomorrow. Among many other things, we will build the wall!" The New York Times reported that Trump's Homeland Security secretary and Retired Marine Corps General John Kelly has publically stated that he believes a border wall would not meet the intended goals of supporters, telling Congress that a "physical barrier will not do the job."
During a confirmation hearing on January 10, Kelly stated, "If you build a wall, you would still have to back that wall up with patrolling by human beings, by sensors, by observation devices."