Trump Vows to Deport Up to 3 Million Immigrants With Criminal Records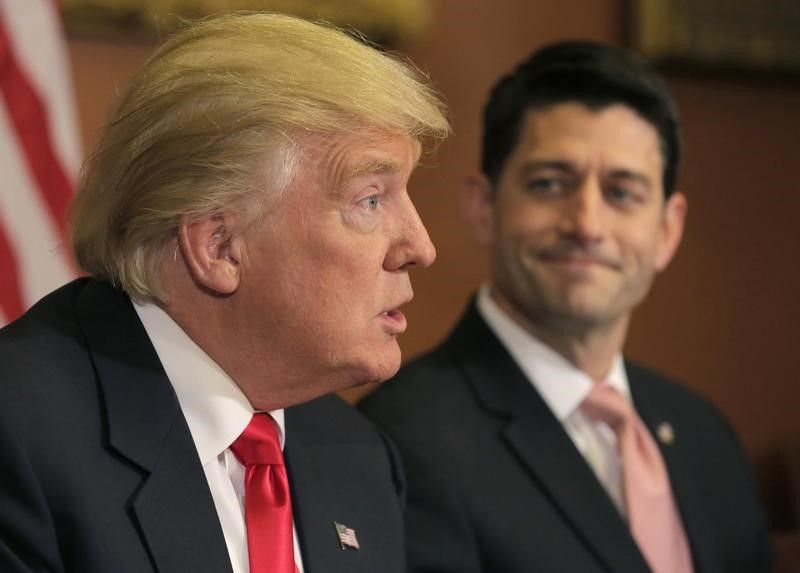 President-elect Donald Trump backed away from his promise to build a wall on the U.S.-Mexican border, saying some areas could instead be "fencing," and added he would move to deport up to 3 million immigrants in the country illegally who have criminal records.
Trump, whose pledge to force Mexico to pay for a border wall was a centerpiece of his White House, said in "certain areas" he would accept fencing instead of a brick-and-mortar wall, according to excerpts released on Sunday of his interview with the CBS program "60 Minutes."
"But certain areas, a wall is more appropriate. I'm very good at this, it's called construction, there could be some fencing," the New York real estate developer said.
Since his Tuesday election victory over Democrat Hillary Clinton, Trump and his senior advisers have signaled he may hedge on some of his major campaign promises once he takes office on Jan. 20, including on immigration, healthcare and appointing a special prosecutor to investigate Clinton.
Trump said in the interview once he takes office he would remove immigrants with criminal records who are in the country illegally.
"What we are going to do is get the people that are criminal and have criminal records, gang members, drug dealers, where a lot of these people, probably two million, it could be even three million, we are getting them out of our country or we are going to incarcerate. But we're getting them out of our country," he told "60 Minutes."
During the campaign, Trump said he would deport the estimated 11 million immigrants in the country illegally, most of whom are Hispanic. Trump said Mexico was sending criminals and rapists into the United States.
Republican House of Representatives Speaker Paul Ryan, who will play a key role in getting Trump's agenda through the Republican-led Congress, backed away from Trump's promise during the campaign of a "deportation force" to round up and deport immigrants in the country illegally.
"We are not planning on erecting a deportation force. Donald Trump's not planning on that," Ryan told CNN's "State of the Union" program. "I think we should put people's minds at ease. That is not what our focus is. That is not what we're focused on. We're focused on securing the border."
Kevin McCarthy, the No. 2 House Republican, said on "Fox News Sunday" the wall with Mexico could in parts be a "virtual" wall patrolled by drones.
"You have to put a wall, it could be all virtual with the UAV airplanes as well, but I think that is doable and one of the first things that needs to be done," McCarthy said, referring to unmanned aerial vehicles, or drones.
'A TRANSACTIONAL GUY'
Senior adviser Kellyanne Conway indicated Trump would be results-oriented as he chooses top aides, prepares his transition to the presidency and gets ready to work with Congress.
"He'll be surrounded by people who want to get things done. Because he's a transactional guy. He's a businessman," Conway said on NBC's "Meet the Press."
Ryan said he agreed with Trump's comments in a Wall Street Journal interview published on Friday that he would keep elements of President Barack Obama's signature healthcare law, known as Obamacare.
Repealing and replacing the 2010 Affordable Care Act was another centerpiece of Trump's campaign. But he told the Journal that after talking to Obama at the White House on Thursday he would consider retaining provisions letting parents keep adult children up to age 26 on their insurance policies and barring insurers from denying coverage to people with pre-existing medical conditions.
"We can fix what is broken in healthcare without breaking what is working in healthcare," Ryan said. "Obamacare is failing. It must be replaced. We're going to do that."
Former New York Mayor Rudy Giuliani, another close Trump adviser, indicated the new Trump administration will have to decide on whether to carry out his campaign promise to appoint a special prosecutor to investigate Clinton's use of a private email server while secretary of state and private family foundation.
"The next attorney general would have to figure that out," Giuliani told ABC's "This Week" when asked if a special prosecutor should be appointed. "We've done that in the past. Or maybe that you want to sort of put that behind you. I don't know...that's a tough decision."
The FBI two days before the election stood by its July finding that no criminal charges were warranted against Clinton in the email probe.