In an interview with 60 Minutes a week after winning the presidency, Donald Trump promised his supporters he would immediately deport up to 3 million people "that are criminal and have criminal records, gang members, drug dealers."
But the numbers for his first fiscal year in office are in, and the president is well below his mark.
According to data obtained by NBC Chicago, Immigration and Customs Enforcement deported 226,119 people between October 1, 2016, and September 30.
That's a 6 percent drop from President Barack Obama's last year in office.
But it's not for a lack of trying: ICE arrested 143,470 people in that same time period, a 25 percent spike from last fiscal year. A large chunk of that increase comes from the rise in "interior removals," or deportations of people who were detained away from the border, which jumped from 65,000 to nearly 82,000 this year, a 25 percent increase.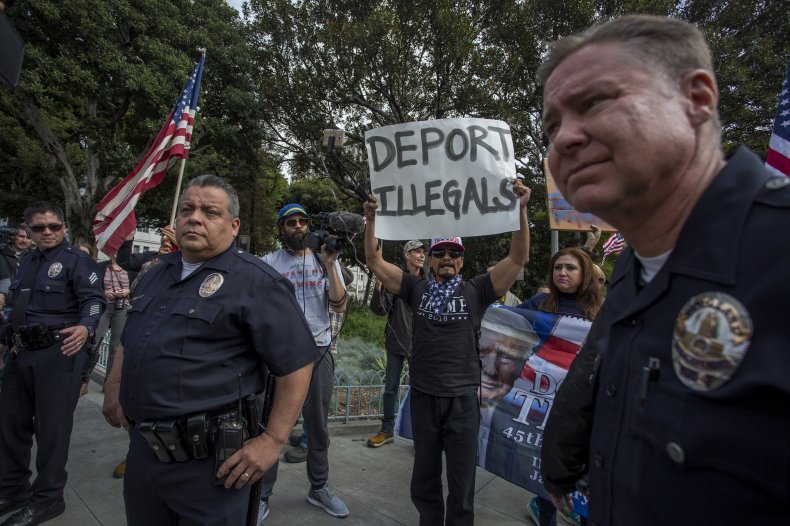 Part of the reason why the Trump administration hasn't been able to deport as many people as it would like is bureaucratic: According to the Washington Post, immigration courts are currently facing a backlog of 630,000 cases, three times as many as there were in 2009.
The data also shows a large drop in border apprehensions. As NBC said: "The Border Patrol made 310,531 arrests during the fiscal year, a decline of 25 percent from 415,816 a year earlier and the lowest level since 1971."
Nearly 60 percent of those arrested by Border Patrol originate from countries other than Mexico.
Border Patrol also says its agents have experienced a rise in assaults: According to their data, employees with the agency were assaulted 847 times, compared to less than 600 each year going back to 2012.
A case of a Border Patrol being supposedly "ambushed" by migrants made headlines in late November. Trump and many GOP immigration hardliners used the alleged attack as an example of why the United States needs to invest more in border security, particularly a wall along the U.S.-Mexico border.
But Culberson County Sheriff Oscar Carrillo, who was present at the scene of the reported "attack," recently told the Dallas Morning News that the injured Border Patrol agents might have been struck by a truck.