Trump in Detroit Calls for a 'Civil Rights Agenda of Our Time'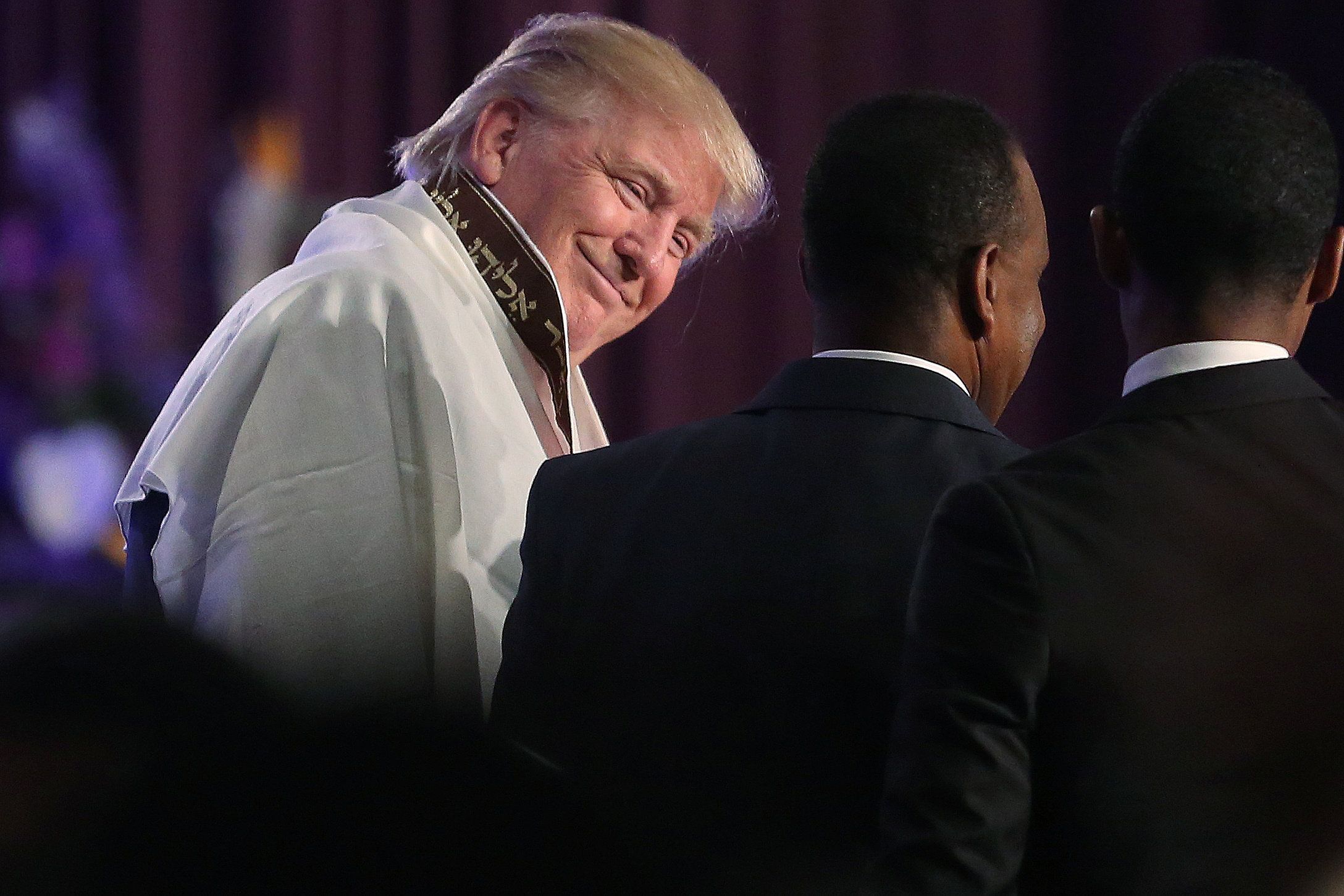 Donald Trump stuck largely to script Saturday in addressing a traditionally black church in Detroit, where he made his pitch in an attempt to woo a portion of the electorate that overwhelmingly favors Hillary Clinton.
The Republican nominee for president gave his first address before a predominantly black audience at Great Faith Ministries and avoided the bellicose language that marked his comments last month while speaking before a largely white audience in Michigan. Protests met Trump in Detroit, where he focused on promoting unity in a stop that the campaign practiced for with scripted questions and answers.
"Our nation is too divided. We talk past each other and not to each other. And those who seek office do not do enough to step into the community and learn what's going on. I'm here today to learn, so that we can together remedy injustice in any form, and so that we can also remedy economics so that the African-American community can benefit economically through jobs and income and so many other different ways," said Trump, according to CNN.
Trump told the congregation that he wanted to "help you build and rebuild Detroit," which has suffered in recent years from population loss, extensive poverty, high unemployment and urban blight. "I fully understand that the African-American community has suffered from discrimination, and there are many wrongs that should be made right," he said, while calling for a "civil rights agenda of our time," according to the Associated Press.
With his aversion to retail politics, Trump has thus far avoided the traditional campaign stops in neighborhoods and at businesses where he would be exposed to different segments of the electorate and hadn't made explicit appeals to black voters. He also earned the ire of many when he seemed to generalize the experience of black America, telling a largely white audience that minority communities in inner cities are marked by "poverty. Rejection. Horrible education. No housing, no homes, no ownership. Crime at levels that nobody has seen," and asked them "what the hell do you have to lose?" by voting for him. Clinton, the Democratic presidential nominee, has tarred Trump as a bigot, and his support from the black community languishes in the single digits.
The Trump campaign didn't want to leave anything to chance in Detroit, with the New York Times reporting this week that his advisers received potential questions in advance and scripted recommended answers for the normally extemporaneous candidate.
His Saturday speech was received warmly from attendees inside the church, according to reports, but he was met with protesters outside who reappropriated Trump's own words to chant: "What do we have to lose? Everything." The Rev. Lawrence Glass told the AP that Trump peddles the "politics of fear and hate" and "minorities of all kinds have much to lose taking a chance on someone like" Trump. Toni McIlwain, who formerly ran a community center in Detroit, said Trump "generalized the total black community. How dare you talk to us like that and talk about us like that?"