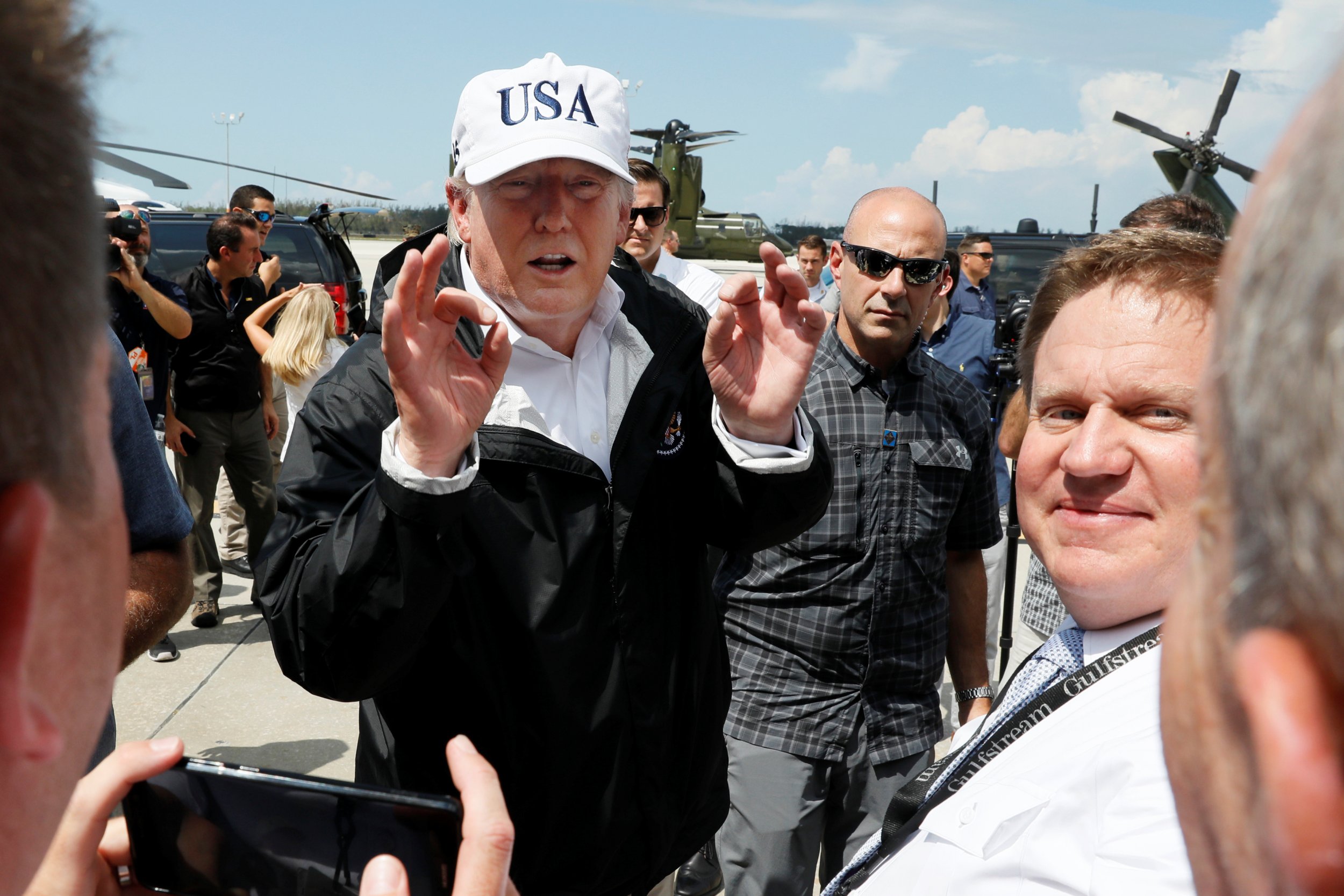 Donald Trump said he didn't know hurricanes could reach Category 5 before Irma, shortly after meeting victims of the disaster, which made landfall in Florida on Sunday.
"I never even knew a Category 5 existed," the president told reporters at the White House Thursday at a reception following his return from Florida, where at least 26 people have been killed by the massive storm, according to the Miami Herald.
Read more: Disney gives $2.5 million to Hurricane Irma relief in Florida and the Caribbean
"It's been a rough time for Florida. But the first responders and the Coast Guard, and to all of the people ... all of the people that worked so hard have done an A-plus job," Trump said.
"And in Florida, you got hit with the strongest winds ever recorded. It actually hit the Keys with a—it was a Category 5. I never even knew a Category 5 existed. And they suffered greatly," he added.
Hurricane Irma was the strongest hurricane ever recorded in the Atlantic basin and kept its speed as a Category 5 hurricane for three days as it wreaked havoc across the Caribbean before being downgraded as it made landfall in Florida.
Just hours earlier, Trump had answered a question on climate change by downplaying the strength of both Hurricanes Irma and Harvey, which hit Texas. Asked whether the severity of the two hurricanes led him to rethink his position on climate change, he said: "Well, we've had bigger storms than this. And if you go back into the 1930s and the 1940s, and you take a look, we've had storms over the years that have been bigger than this.
"If you go back into the teens, you'll see storms that were as big or bigger. So we did have two horrific storms, epic storms. But if you go back into the '30s and '40s, and you go back into the teens, you'll see storms that were very similar and even bigger, OK?" he said.
The strongest hurricane recorded to have hit the U.S. was Hurricane Camille, in 1969, with wind speeds of 190 mph. The deadliest was the Great Galveston Hurricane, in 1900, which killed between 8,000 to 12,000 people, according to records by National Oceanic and Atmospheric Administration.
Climate scientists have said that while climate change is not likely to be a direct cause of Hurricanes Irma or Harvey, it likely exacerbated their effect. Michael Mann, an atmospheric scientist at Penn State University, wrote in the Guardian earlier this week that "Harvey was almost certainly more intense than it would have been in the absence of human-caused warming, which means stronger winds, more wind damage and a larger storm surge."