President Donald Trump tweeted Thursday his intent to pardon right-wing political commentator and filmmaker Dinesh D'Souza.
"Will be giving a Full Pardon to Dinesh D'Souza today," Trump tweeted. "He was treated very unfairly by our government!"
D'Souza pleaded guilty to a federal charge of making illegal campaign contributions in 2014. He was sentenced to five years of probation with eight months to be served in a community confinement center, or halfway house.
Following Trump's tweet, D'Souza joined Laura Ingraham's radio show, on which he expressed his happiness at no longer having to participate in court-mandated community service.
"That's very difficult to do if you're trying to have a productive life," he said. "Or hold down a normal job."
D'Souza has a history of controversial comments. In his 2007 book, The Enemy at Home: The Cultural Left and Its Responsibility for 9/11, D'Souza pinned the September 11 attacks on the World Trade Center on the "cultural left."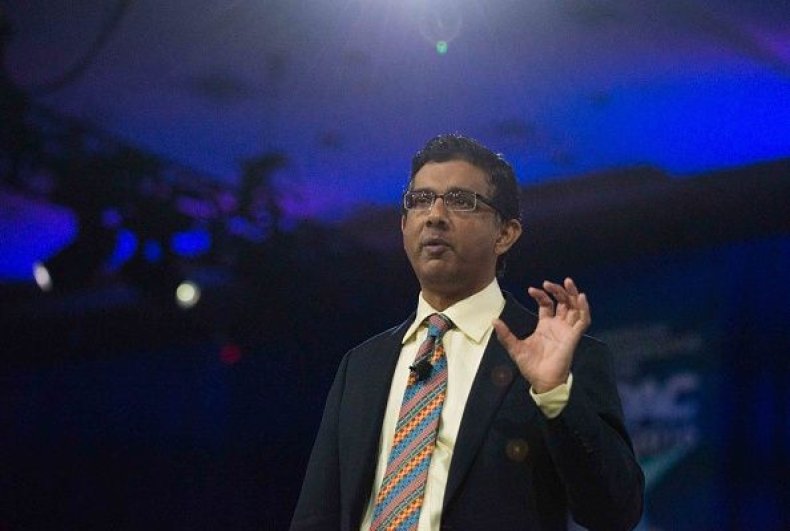 "The Muslims who carried out the 9/11 attacks were the product of this visceral rage—some of it based on legitimate concerns, some of it based on wrongful prejudice, but all of it fueled and encouraged by the cultural left. Thus without the cultural left, 9/11 would not have happened," D'Souza said.
In a 2010 book, The Roots of Obama's Rage, D'Souza linked Obama's "rage" to European colonialism.
D'Souza's films have struck a similar tone. A description of his 2016 film, 2016: Obama's America stated D'Souza "discovers how Hope and Change became radically misunderstood and identifies new flashpoints for hot wars in mankind's greatest struggle."
More recently, D'Souza mocked Parkland, Florida, school shooting survivors in February, tweeting that the defeat of a proposed assault weapons ban was for them the "worst news since their parents told them to get summer jobs."
D'Souza later added his tweet was "aimed at media manipulation" and that he was "truly sorry."
Earlier this month, he wrote an opinion piece for Fox News titled "Rosie O'Donnell should be prosecuted - like I was - if she violated campaign finance law."
"If I—a prominent conservative—can be labeled a criminal for donating too much to a campaign, then far-left, Trump-bashing O'Donnell should get the same treatment," D'Souza said.
Trump, a longtime critic of Rosie O'Donnell, has called her a "slob" with a "fat, ugly face" over the years.