If Trump's Diplomacy Fails, $10 Oil Will Threaten U.S. Energy Independence
President Donald Trump meets U.S. energy company CEOs on Friday after a week of diplomacy to end an oil price war between Russia and Saudi Arabia.
If the administration's efforts, which included Trump calling Russian President Vladimir Putin, fail, U.S. oil prices could fall to $10 a barrel this quarter and stay low until the end of 2020.
Those prices threaten the companies that have used hydraulic fracturing technology to extract shale oil and turned the United States from energy importer to exporter in a decade.
"Our shale producers can't make money below $40-50 a barrel, and if domestic production shuts down, we're back to depending on foreign suppliers for oil," said Kelly Crane, president & chief investment officer at Napa Valley Wealth Management.
The breakeven costs for U.S. shale oil basins range between $40 and $50 a barrel according to data compiled by Reuters.
Analysts polled by Newsweek, expect the international Brent crude price to fall as low as $20 a barrel in the second quarter, and the U.S. benchmark WTI crude to drop to $10 a barrel. All thirteen analysts said that excess supply and weak demand will weigh on oil markets throughout the second quarter before recovering somewhat from the third quarter.
In the second half of 2020 and in 2021, "expect U.S. shale production to decline sharply as capital expenditure levels could be cut up to 50 percent or more, and (drilling) rig counts will continue to fall," Singaporean bank DBS said in its research note.
Such grim projections have added urgency to the Trump administration's efforts to end an oil-price war between the two largest oil exporters in the world—Saudi Arabia and Russia.
Trump meets on Friday with energy industry executives including the CEOs of Exxon, Chevron, Occidental Petroleum and Devon Energy to discuss energy policy, according to an administration official.
Trump placed a call to Putin on Monday, who on Wednesday said he was looking for a solution to "challenging" oil markets.
The flurry of diplomacy had rallied oil markets. During Asian hours on Friday, ICE Brent crude was up, trading around $31.79 a barrel, and WTI crude inched higher at $25.54 a barrel.
Five weeks ago, it was Russian energy policy that triggered a collapse in oil prices. Putin's energy minister ruled out supply cuts proposed by Saudi Arabia, blowing up an agreement between OPEC and Moscow that had capped crude exports from most of the world's biggest oil producers.
While Russia's actions triggered a price war with Saudi Arabia, Putin's real target appeared to be U.S. shale production.
"I think it is pretty clear that the Russians want to hit U.S. shale," ING's head of commodities strategy, Warren Patterson, told Newsweek.
"They have always been reluctant to extend or make deeper cuts, and one of the key reasons for this is the fact that they are giving market share away to the U.S."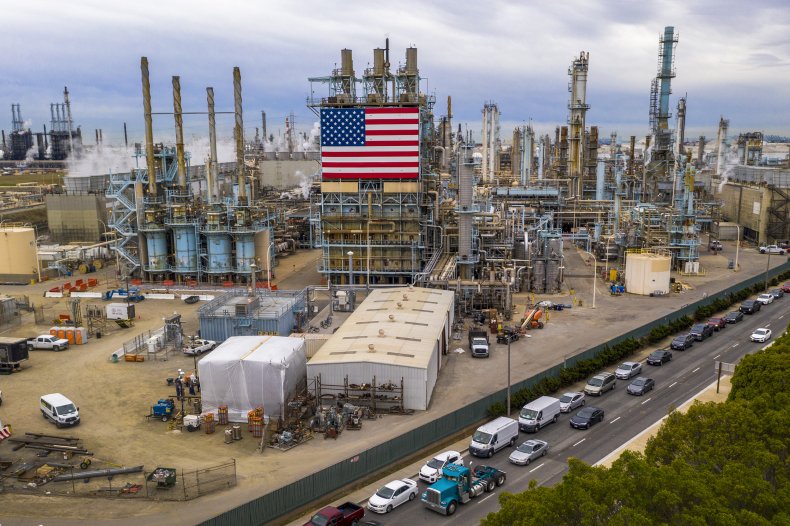 The price war coincided with the coronavirus pandemic that has savaged the economies of China, the United States and Europe. Demand for oil plummeted just as Russia, Saudi Arabia and other major producers flooded the market with crude.
"We've never seen demand fall this much or this quickly," said Robbie Fraser, senior commodity analyst at Schneider Electric.
"Under normal circumstances, Saudi Arabia's plan to flood the market would trigger a strong demand response as governments and individual consumers take advantage of a sudden fall in prices. But that buffer isn't there when you have much of the world on lockdown due to COVID-19."
Suvro Sarkar, regional energy research at DBS Bank, expects global oil demand to tumble by 10 million barrels per day in the coming weeks. That decline is equivalent to almost the entire daily crude output of the United States.
Despite the dire outlook, oil markets have latched on to signs that a Saudi-Russian detente is on the cards. Trump, who had previously threatened to intervene in the dispute with sanctions, played up the prospects for a deal on Thursday.
Russia's Deputy Energy Minister Pavel Sorokin said last week that Russia had projected oil would fall to $30 per barrel. Moscow needs to sell its Urals crude at about $40 to balance its budget. Urals are trading at about half that price.
Saudi Arabia's fiscal position is even more precarious, needing around $80 per barrel to avoid running a budget deficit. And while the Saudis have shown no sign of backing down, and ramped up oil sales in April, the Russians have not.
"The fact that Russia is holding off from increasing production could be seen as a positive development, as it increases the likelihood that they would be willing to resume discussions with the Saudis," ING said in its research note.
Bill Powell in Washington contributed reporting to this story.