Trump Directed Diplomats to Work with Giuliani on Ukraine, Aid Shouldn't Have Been Withheld 'For Any Reason,' EU Ambassador Says
Gordon Sondland, President Donald Trump's U.S. ambassador to the European Union, told lawmakers Thursday morning that he was directed by Trump to work with his personal attorney Rudy Giuliani on Ukraine policy matters.
Sondland told House impeachment investigators behind closed doors that he was initially unaware of the intentions of Trump and Giuliani to pressure newly elected Ukrainian President Volodymyr Zelensky to investigate former Vice President Joe Biden—a political opponent of Trump's—and that foreign military aid should not "have been delayed for any reason."
Sondland's testimony represented a sharp break from Trump, who heavily pushed for Giuliani to be involved in diplomatic discussions with Ukraine, despite the personal attorney having no official government role and the move being against the wishes of Sondland and other top officials. His remarks also sharply broke with Trump in the president's move to delay Ukrainian aid. But he said Trump maintained the position with him there was "no quid pro quo" extended to Zelensky regarding the hundreds of millions of dollars in foreign military aid to fend off Russian aggression.
Trump's phone call in July with Zelensky suggested, and Democrats have asserted, that the aid was withheld in hopes the foreign leader would promise to probe the business dealings of Biden's son, Hunter, with a Ukrainian energy company, Burisma.
Newsweek subscription offers >
"We were also disappointed by the President's direction that we involve Mr. Giuliani. Our view was that the men and women of the State Department, not the President's personal lawyer, should take responsibility for all aspects of U.S. foreign policy towards Ukraine," Sondland said in his prepared opening remarks obtained by Newsweek, which can be viewed in full at the bottom of this story.
"Inviting a foreign government to undertake investigations for the purpose of influencing an upcoming U.S. election would be wrong," he added.
"Withholding foreign aid in order to pressure a foreign government to take such steps would be wrong. I did not and would not ever participate in such undertakings. In my opinion, security aid to Ukraine was in our vital national interest and should not have been delayed for any reason."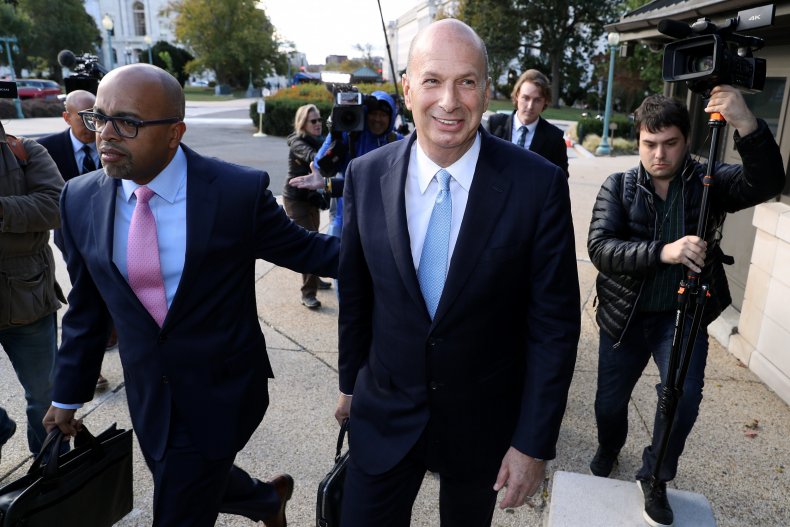 Newsweek subscription offers >
A key witness in Democrats' impeachment probe who was named in the whistleblower report about Trump's call with Zelensky, Sondland has been under intense scrutiny after text messages revealed by impeachment investigators suggested that the EU ambassador was aware of Trump and Giuliani's efforts to have a foreign country investigate a 2020 political foe.
However, Sondland noted he was unaware of any push by Trump or Giuliani to have Zelensky investigate Biden or his son, Hunter, until media reports surfaced and a partial transcript of Trump's call was released. Sondland did not recall "taking part in any effort to encourage an investigation into the Bidens" or have conversations with any government officials about the Bidens.
"Mr. Giuliani emphasized that the President wanted a public statement from President Zelensky committing Ukraine to look into anticorruption issues," the EU ambassador told lawmakers. "Mr. Giuliani specifically mentioned the 2016 election (including the DNC server) and Burisma as two anti-corruption investigatory topics of importance for the President."
His private testimony came despite efforts by the State Department, at the direction of the White House, to block him from answering lawmakers' questions. A congressional subpoena compelled Sondland's appearance. His attorneys told the committees conducting the impeachment inquiry that their client wishes to turn over subpoenaed documents to support his testimony, but that the White House and State Department are preventing him from doing so due to some of the information potentially being protected under executive privilege.
Sondland said he was first directed by Trump, who was skeptical of Zelensky's promise to tackle corruption in Ukraine, to contact Giuliani in May regarding his concerns. The directive was handed down at the disappointment of Sondland, Energy Department Secretary Rick Perry and former U.S. special envoy to Ukraine Kurt Volker. The group believed, according to Sondland, that Trump and Zelensky should arrange a phone call "promptly and without any pre-conditions."
"It was apparent to all of us that the key to changing the President's mind on Ukraine was Mr. Giuliani," Sondland said.
Volker told impeachment investigators earlier this month that Giuliani was partially responsible for Trump's negative view on Ukraine and hindered the United State's ability to support their newly-elected government.
Sondland's text messages with Volker and acting U.S. Ambassador to Ukraine Bill Taylor have been scrutinized as evidence that the group was aware of Trump and Giuliani's efforts to have Ukraine pledge an investigation into the Bidens, potentially in exchange for a White House visit and roughly $400 million in aid. But Sondland explained to lawmakers he believed the only precursor for a White House meeting between the two world leaders was a "public embrace of anti-corruption reforms," an ask that was consistent with "Western reforms" that did not raise red flags.
The EU ambassador also offered praise for ousted U.S. ambassador to Ukraine Marie Yovanovitch, who testified to lawmakers last week she was forced out by Trump because of "unfounded and false claims by people with clearly questionable motives" who had the president's ear, including Giuliani.
"I found her to be an excellent diplomat with a deep command of Ukrainian internal dynamics, the U.S.-Ukraine relationship, and associated regional issues," Sondland said. "I was never a part of any campaign to disparage or dislodge her, and I regretted her departure."
Trump Directed Diplomats to Work with Giuliani on Ukraine, Aid Shouldn't Have Been Withheld 'For Any Reason,' EU Ambassador Says | Politics