Trump's Disapproval Rating Almost 10 Points Higher Than Obama's In October 2012
President Donald Trump's disapproval rating is almost 10 points higher than former President Barack Obama's was at the same point in the 2012 election cycle, polling data shows.
The FiveThirtyEight presidential popularity tracker put Trump's average disapproval rating at 54.3 percent as of Thursday night, and showed his approval rating hovering at just under 43 percent.
But when Gallup pollsters surveyed American voters at the same point in October 2012, they found Obama had an approval rating of 50 percent and a disapproval rating of just 45 percent—a 9 point improvement on Trump's position today.
The former president's net approval rating of 5 percentage points in the week's leading up to his re-election was also notably better than Trump's current net disapproval rating of 11.3 points.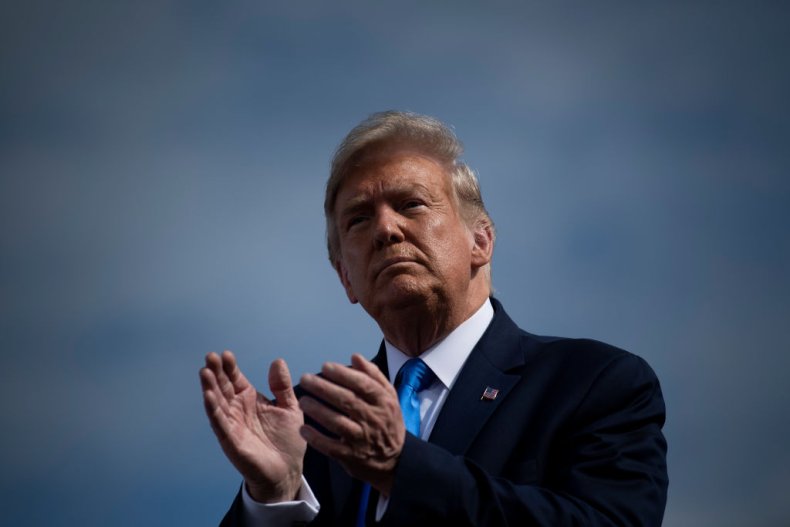 A few individual polls have found a narrower gap between Trump's approval and disapproval ratings among U.S. voters.
One tracker survey from Rasmussen Reports found that 47 percent of likely voters approved of Trump's record thus far, while 51 percent disapproved. Another poll released by Fox News earlier this month also showed the president with a 47 percent approval rating and a slightly larger 52 percent disapproval ranking.
But several polls have also found Trump's net disapproval rating to be wider than the FiveThirtyEight average, including an AP-NORC poll that put support for the president at 39 percent and disapproval of his record at 61 percent.
A separate released by YouGov earlier this week found 15 percentage points separated Trump's 57 percent disapproval rating and his approval ranking among registered voters.
The president's poor popularity polling appears to be reflected in head-to-head surveys putting him against Democratic presidential nominee Joe Biden.
According to the FiveThirtyEight national poll tracker, Biden leads Trump by more than 10 points among countrywide samples of U.S. voters. At the start of October, the challenger's lead over the president was 2 points lower, standing at a little more than 8 percentage points.
A 2020 election forecast model from The Economist has given Biden a roughly nine in ten chance of winning the electoral college, and a staggering 99 percent chance of winning the popular vote.
By comparison, the newspaper's model estimates that Trump has a 9 percent chance of winning a second term in the White House when voters go to the polls in a few weeks' time.