Trump Discussing About '10 Different Elements' for Next Stimulus Package
President Donald Trump has his eyes set on a payroll tax cut, but it's only one of "probably" 10 different elements legislators might include in the next economic relief package.
On Monday, Trump and other administration officials met with Senate Majority Leader Mitch McConnell and House Minority Leader Kevin McCarthy in the Oval Office. The meeting predated discussions with Democrats over the next coronavirus relief bill that the White House wants to incentivize economic growth.
One way of pushing companies to rehire laid-off employees and keep current employees is through a payroll tax cut, Trump said. He told reporters that such a measure was "very important" to him and that the White House is working toward including it in the next legislative package.
"I think, hopefully, we'll get there, but we're talking about a lot of things, not just the payroll tax cut," Trump said.
White House deputy press secretary Judd Deere told Newsweek a payroll tax holiday is a way to provide "relief to hardworking Americans who have been impacted by the virus." It's a measure Trump has championed since March, and Deere said the president believes it "must be part of any phase four package."
Officials shared few definitive details about the upcoming package, but Trump said "probably a total of 10 different elements" are being discussed.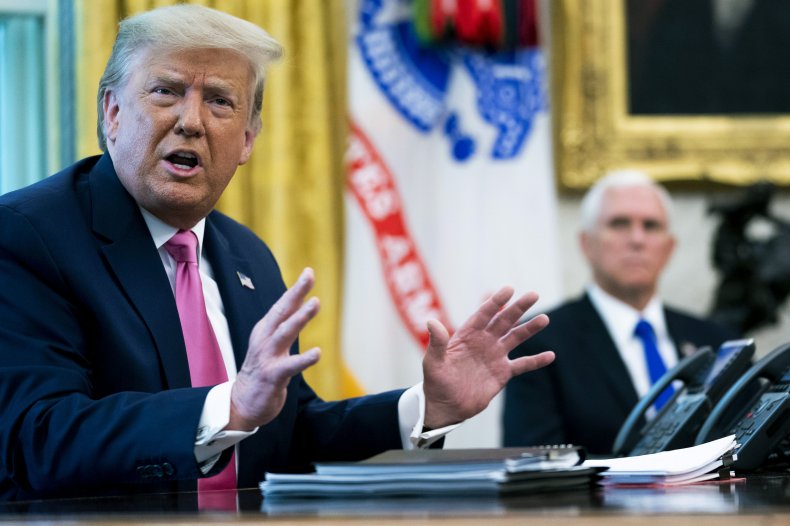 One of those elements will tackle the high levels of unemployment, according to Treasury Secretary Steve Mnuchin. Expanded unemployment benefits are set to expire at the end of the month, raising concerns that people put out of work by the pandemic will be unable to pay their bills.
Mnuchin said the Trump administration is "committed" to passing legislation that protects unemployed Americans before the end of July, although it's unlikely to be a replica of the benefits contained in the Coronavirus Aid, Relief and Economic Security (CARES) Act. Under that unanimously passed legislation, people filing for unemployment benefits receive an additional $600 per week, and some Americans have been earning more while unemployed than they did when they took home a paycheck.
That won't be the case this time around, according to Mnuchin, because it disincentives people to return to employment. In the spirit of getting people back to work, the treasury secretary said there will also be tax credits for businesses and personal protective equipment.
"So these are the priorities, as well as liability protection," Mnuchin said. "We want to make sure that frivolous lawsuits don't prevent schools, universities and businesses from reopening."
McConnell called liability protection a "theme" of the upcoming relief package, saying there's no need for an "epidemic of lawsuits on the heels of the pandemic."
On the GOP side of the aisle, the package will target "kids and jobs and vaccines," according to officials, and a lunch briefing with Republicans is scheduled for tomorrow. However, passing a bill also requires support from the Democrats, and McConnell said, "We'll begin to talk with them as well."