Trump Dismisses Rumors He Suffered 'Series of Mini-Strokes' After CNN Analyst Floats Theory
President Donald Trump dismissed rumors that he had a "series of mini-strokes" as "fake news" on Tuesday morning, after CNN political analyst Joe Lockhart floated the theory on Twitter on Monday.
"It never ends! Now they are trying to say that your favorite President, me, went to Walter Reed Medical Center, having suffered a series of mini-strokes. Never happened to THIS candidate - FAKE NEWS," Trump tweeted.
"Perhaps they are referring to another candidate from another Party!" he said, in what appeared to be a not so subtle dig at his Democratic opponent, Joe Biden. There is no evidence or credible reporting to suggest that Biden has had a stroke.
The president's tweet came after Lockhart, who served as White House press secretary to President Bill Clinton, floated a rumor that the president had a stroke as a question in a Monday tweet. "Did @realDonaldTrump have a stroke which he is hiding from the American public?" the analyst wrote, tagging the president.
Just minutes before the president dismissed the rumor on Tuesday, Lockhart followed up on his Monday question with more information. "We are starting to get to the bottom of the ridiculous explanation from the White House that@realDonaldTrump took an unannounced trip to the hospital to do half of his annual physical. It turns out the VP was put on standby to temporarily take over Presidential duties. More soon," he hinted.
A source in the White House confirmed to Newsweek that Trump's tweet was a response to Lockhart's posts.
Lockhart's tweets came after news media reported on a new book set to be released by New York Times reporter Michael Schmidt. The book, Donald Trump v. the United States, alleges that Vice President Mike Pence was "on standby" to take over in case Trump became incapacitated during an unscheduled visit to Walter Reed National Military Medical Center in November 2019. At the time, the White House said the president was getting an early start on his annual physical, which had not been scheduled for a few months.
Schmidt's book reportedly claims that Pence was "on standby to take over the powers of the presidency temporarily if Trump had to undergo a procedure that would have required him to be anaesthetized." Although there has been significant speculation about the visit, the president's doctor, Sean Conley, said everything was normal.
"Despite some speculation, the president has not had any chest pain, nor was he evaluated or treated for any urgent or acute issues," Conley wrote in a memo a couple of days after the visit. "Specifically, he did not undergo any specialized cardiac or neurologic evaluations." Conley described the visit as a routine "interim checkup."
Many Trump critics have jumped on multiple videos of public remarks in which the president appears to struggle to pronounce words or communicate a complete thought, seeing evidence that he may have had a stroke. But the White House and Conley have dismissed this speculation.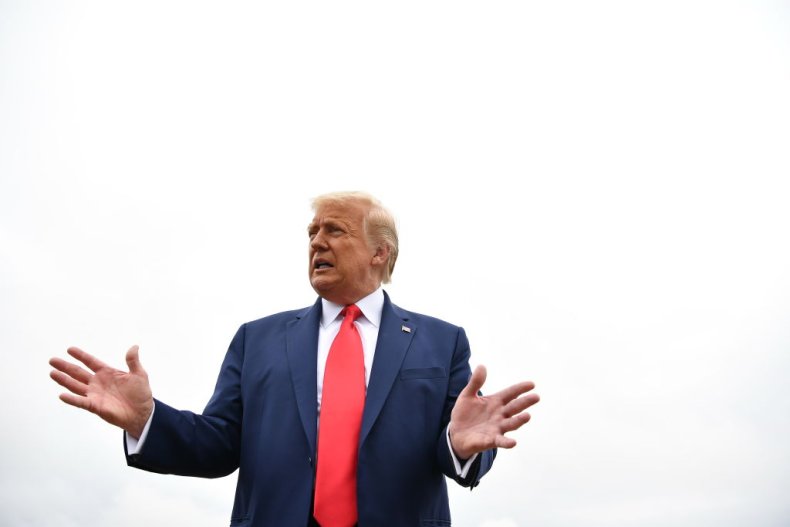 Critics of Biden have suggested Trump's opponent suffers from "cognitive decline." To back up their claims, they have cited videos of the former vice president struggling to get his point across or misspeaking. In some instances, Trump supporters have manipulated videos of Biden's infamous gaffes to suggest that the Democratic nominee is struggling mentally. Biden and his campaign have dismissed these claims as baseless partisan attacks.
Concerns from both sides about their respective candidate's health and cognitive abilities have been spurred by Trump's and Biden's ages. Trump is 74, Biden 77. Both men would break the current record for the oldest individual to be sworn in as president.
Ronald Reagan holds that record, as he was 73 when he took the oath of office in 1985 at the beginning of his second term. In January 2017, Trump became the oldest person to take the oath before a first presidential term. He was 70.
This story has been updated with additional information and background.